2 more bodies recovered, death toll now 19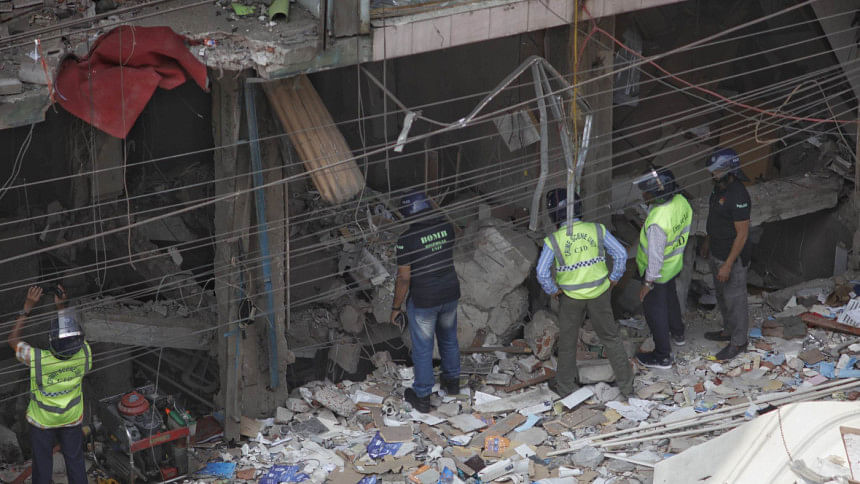 The death toll from yesterday's deadly blast at a Gulistan building rose to 19 as rescuers found two more bodies this afternoon.
Akhtaruzzaman, assistant director of fire service and civil defence, told The Daily Star that the two bodies were recovered from the basement of the seven-storey building.
The deceased were identified as Momin Uddin Sumon, 48, and Robin Hossain, 20. Momin was the owner of Anika Agency, a shop at the building, and Robin was an employee of the shop.  
Their bodies reached the Dhaka Medical College Hospital around 5:00pm today. Family members of the two victims said they were at the building when the explosion happened. 
Describing how the bodies were recovered, Akhtaruzzaman said they had noticed that flies were swarming to one particular area. Then, with the help of search and rescue dogs, they realised that there were bodies in those areas. 
"It took over an hour to recover the bodies."
Around 3:30pm firefighters resumed the rescue operation after getting instructions from engineering sections of respective departments, said Md Zahir, senior station officer at Postogola Fire Station.
The explosion took place around 4:45pm yesterday near a BRTC bus counter. 
A five-storey building on the south side of the Gulistan BRTC counter, housing a sanitary shop on the ground floor and Brac Bank office on the remaining floors, and a seven-storey sanitary market building next to it, were affected by the blast. None of the buildings collapsed.
Deputy Director of Fire Service Dinomoni Sharma told the media that the explosion took place in a building at 180/1 Holding, North South Road.
A bus parked on the opposite side of the building was also damaged due to the blast.