Top 5 stories to know today
Give us 5 mins to catch you up with all the news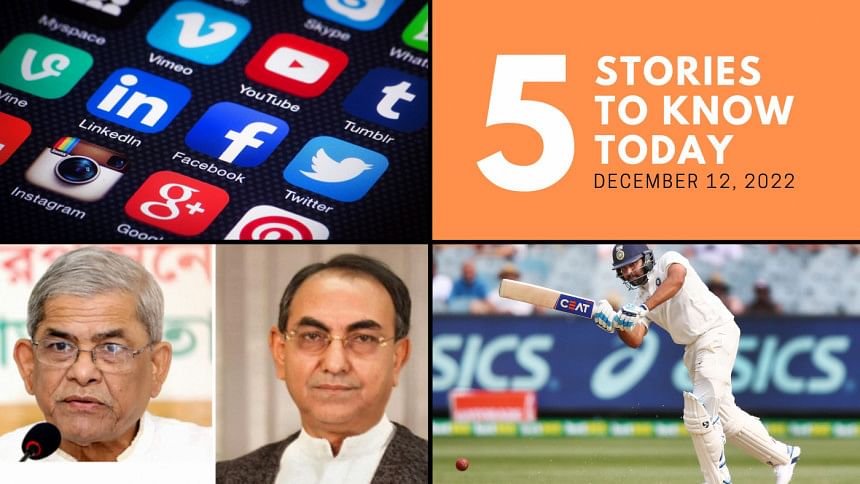 It's semi-finals week, but not only in the football field. Obaidul Quader has announced the fixture for BNP vs Awami League. "Quarter finals are over, now semi-final will be held, and the final game will be held during the national election," he said today. The first event in the political "semi-final" phase is BNP's rally at Nayapaltan tomorrow. Here's what else you need to know. 
1. Bangladesh-Argentina relationship takes a new step: Argentine Embassy and Bilateral Relations 
This World Cup, die-hard Argentina Bangladeshi fans have really caught global attention. Once the official Twitter account of Argentina's national football team tweeted about Bangladesh with the following message: "Thank you for supporting our team!! They are crazy like us!" a unique relationship has blossomed. Now, in a tweet on Saturday, Santiago Cafiero, the foreign minister of the Argentine Republic, revealed the plan to reopen the embassy in Bangladesh, attaching a tweet of himself with FM Momen. The Argentine foreign minister also mentioned, in another tweet that in 2021, Argentina's exports to Bangladesh totalled USD 876 million, an all-time high. Read more 
The Foreign Ministry gave a statement to Merco Press:  "With the reopening of the Embassy and its consular section, we seek to exploit the potential of the bilateral relation, mainly in the commercial aspect, which has a wide potential for growth, seeking to diversify trade and the Argentine exportable offer. Likewise, to promote cooperation in the sports, satellite, humanitarian aid, and disaster management fields." We love to see it. 
2. BNP leaders' Fakhrul and Abbas bail rejected 
A Dhaka court today rejected bail petitions of BNP Secretary General Mirza Fakhrul Islam Alamgir and standing committee member Mirza Abbas in a case filed over the December 7 clashes between police and BNP men in the capital's Nayapaltan area. The defence lawyers were the BNP leaders said they were not involved in the Nayapaltan incident and the cases were filed to harrass them. But the prosecution opposed the bail petitions saying activists had carried out subversive activities as directives from high-profile leaders, including Fakhrul, Abbas and several others. The leaders were sent to jail on charges of provoking party members to launch an attack on police in Nayapaltan area. 224 other BNP men were also denied bail. 
3. Government increasing censorship on social media 
The government's request to social media giants for removing anti-government or critical content is increasing. The government made 707 requests to Google to remove videos from YouTube, including 445 video removal requests for Defamation and 175 video removal requests for Government criticism, according to the Transparency Report published by Google from July-September 2022. The government also asked Facebook for information on 1,171 users this year, according to the Transparency Report published by Facebook-parent Meta for the first half (January to June) of 2022, and sent a whooping 659 requests for the data to Facebook over the 6-month period. And for the more recently popular social media platform, TikTok, the government of Bangladesh made 86 request to remove 1,923 video content and 80 accounts. TikTok responded by removing 659 videos and 6 accounts from its platform. Read more
4. Digital Bangladesh to become Smart Bangladesh by 2041 
Happy Digital Bangladesh Day. The PM has now announced that her government will make the country developed by 2041 — "Smart Bangladesh" — an initiative to make the whole society "technologically smart." Several studies found that, by 2041, Bangladesh is bound to move forward from a labour-driven economy to an advanced knowledge-based economy. This monumental vision can only be ensured if we can meet the goal of having a population with a per capita income of US $12,500, up from the present level of US $2,824. With that in mind, policymakers have developed a 14-point-action plan to build Smart Bangladesh. Read more  
5. Bangladesh-India test series: Key Indian players ruled out for injuries 
The test series are set to begin on Wednesday. Captain Rohit Sharma, injured, is out for at least the first match in Chattogram, and fast bowler Mohammed Shami and all-rounder Ravindra Jadeja playing no part in the series. The five-day games form part of the ICC World Test Championship. India are fourth behind Australia, South Africa and Sri Lanka, having won six of their 12 matches. Bangladesh are in last place with one win and one draw from their 10 matches. They have also not won a Test at home since February 2020 and have never beaten India anywhere in Tests. Read more about the stakes