5 Top Stories to Know Today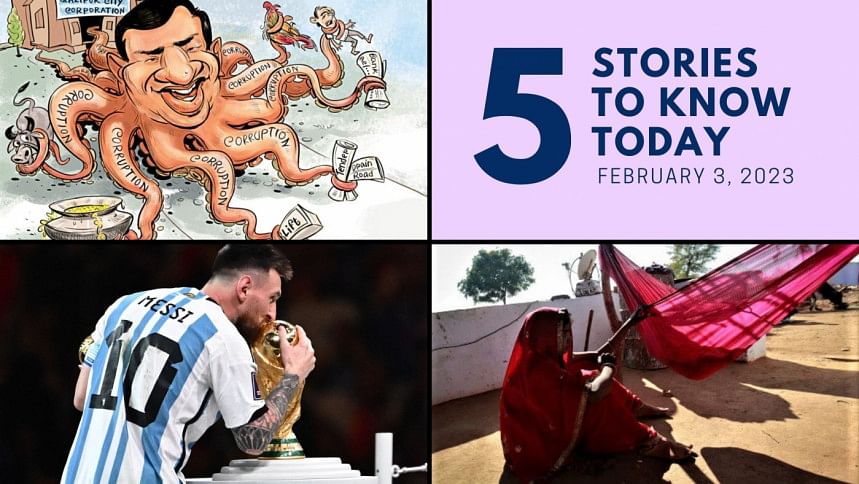 If you've missed all the other latest headlines today, worry not — we got you covered! Here's a quick round-up of what's going on today.
Bangladesh ranked 73rd in the world democracy index with a score 5.99, India ranked 46th jointly with Poland with a score of 7.04 while Norway was on top with a score of 9.81.
In the region of Asia and Australasia, Bangladesh ranked 15th while neighbouring India ranked 8th, according to the latest edition of the Democracy Index published by Economist Intelligence (EIU).
The report also revealed that the long decline of global democracy has somewhat stalled in 2022.
Suspended Gazipur City Corporation mayor Mohammad Zahangir Alam and associates left imprints of corruption everywhere -- from major public operations like distribution of GCC grants, sand-filling, widening of roads and cleaning of sewer lines to small-scale activities like catering for the devotees at Bishwa Ijtema.
They did not sit out even when it came to the money earmarked for the celebration of Bangabandhu's birth centenary.
Police in India's Assam have arrested more than 1,800 men for marrying or arranging marriages to underage girls, launching what the eastern state's chief minister said on Friday was the start of a sustained crackdown on the practice.
Marriage under 18 is illegal in India, but the law is openly flouted.
After hoisting his first World Cup trophy with Argentina in December, Lionel Messi said that tournament would be his last, but now it appears he's open to the possibility of playing in the 2026 event.
Argentina coach Lionel Scaloni would love to see the superstar -- who is one of only six players to compete in five World Cups -- suit up for the next World Cup, which will be held in the United States, Canada and Mexico.
Beleaguered Indian tycoon Gautam Adani denied today that his rise to become Asia's richest man -- a title he has lost in a phenomenal stock rout -- was due to Prime Minister Narendra Modi, as shares in his conglomerate slumped again.
His listed units' combined market capitalisation has collapsed by more than $100 billion since US short-seller Hindenburg Research -- which makes money by betting on shares falling -- released an explosive report last week.
It accused Adani of accounting fraud and artificially boosted its share prices, calling it a "brazen stock manipulation and accounting fraud scheme" and "the largest con in corporate history".
Critics say Adani's close relationship with Modi, who is also from Gujarat state, has helped him win business and avoid proper oversight.