5 Top Stories to Know Today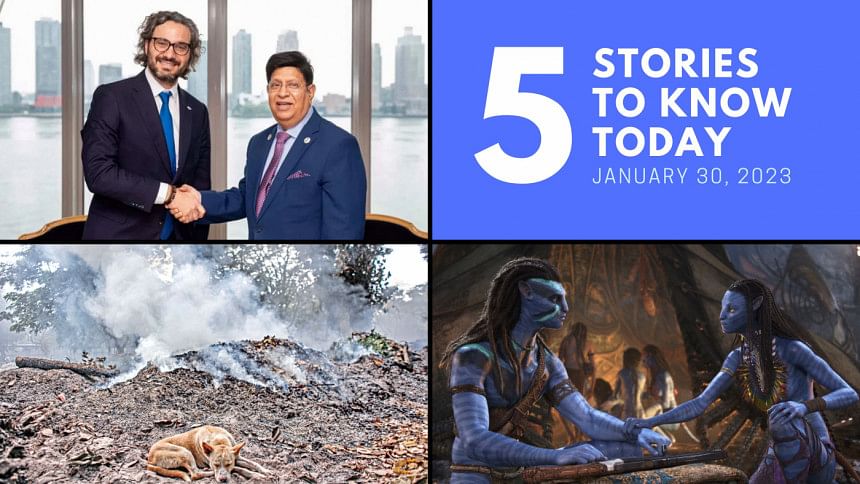 If you have missed out on the news updates, then do not worry. Just scroll down and take a look at the important stories all in one place.
Argentine Minister of Foreign Affairs, International Trade, and Worship Santiago Andrés Cafiero is likely to visit Bangladesh on February 26 or 27. During his visit, Cafiero may open the Argentine embassy or consular in Bangladesh.
The minister also said Bangladesh also wants to open an embassy or consular in Argentina but could not say when it would happen.
Gulshan-2 is the noisiest neighbourhood, while Shahbagh's air is the most polluted.
Besides, Buriganga river, used to be known as the lifeline of Dhaka, saw a marginal improvement in water quality during the monsoon of 2022. It remained severely polluted the rest of the year.
The data was revealed in a validation workshop titled "State of Dhaka's Environment Report", organised by Waterkeepers Bangladesh at Dhaka Reporters Unity yesterday.
Seventy-four per cent of entrepreneurs of small and medium enterprises (SME) across eight divisions of Bangladesh were directly affected by corruption while doing business.
According to the study's respondents, the use of bribes and political influence to gain favours were the two most common forms of corruption in Bangladesh.
India's Adani Group has issued a detailed riposte to a Hindenburg Research report that sparked a $48 billion rout in its stocks, saying it complies with all local laws and had made the necessary regulatory disclosures.
The conglomerate led by Asia's richest man, the Indian billionaire Gautam Adani, said Sunday that last week's Hindenburg report was intended to enable the US-based short seller to book gains, without citing evidence.
Adani Group's response comes as its flagship company, Adani Enterprises (ADEL.NS), pushes ahead with a $2.5 billion share sale. This has been overshadowed by Hindenburg's report, which flagged concerns about debt levels and the use of tax havens.
"Avatar: The Way of Water" claimed the No. 1 spot on the domestic box office charts for the seventh weekend in a row with an additional $15.7 million, according to studio estimates.
It was a quiet weekend overall, notable mostly for the Hindi language blockbuster "Pathaan" that broke into the top five and the post-Oscar nominations rereleases of films like "Everything Everywhere All At Once" and "The Fabelmans."