5 Top Stories to Know Today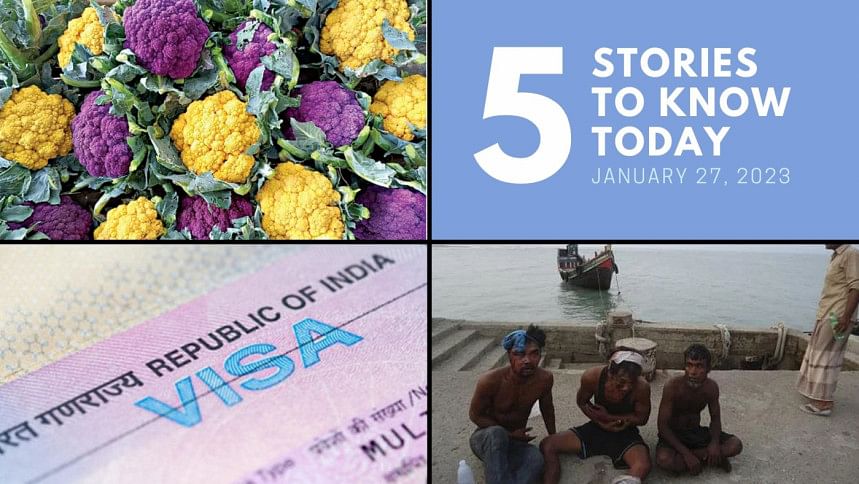 If you are looking to get updated on the latest top news, then look no further. We have got you all covered here.
Only one person was convicted in a human trafficking case in Bangladesh in 2020. The number of people convicted in trafficking cases was nine in 2019, up from four in 2018, said a report of the United Nations Office on Drugs and Crime.
Dhaka division saw the highest 40 percent of human trafficking cases filed in 2020, followed by Khulna (22 percent) and Chattogram (17 percent).
A total of 373 people were arrested in 2020 while the number of arrestees was 199 in 2019 and 688 in 2018, said the report titled "Trafficking in Persons in Bangladesh".
Prime Minister Sheikh Hasina will inaugurate 25 development projects completed at a cost of Tk 1,317 crore in Rajshahi city and across the district on Sunday (January 29).
She will also lay foundation stones of six new development projects there to be constructed at a cost of Tk 376 crore, including the new Tathya Bhaban Complex in the city.
Visa Application Facilitation Centre has been inaugurated at the Indian Visa Application Centre at Jamuna Future Park in Dhaka.
The centre will provide an online visa application form filling-up facility, according to a statement of the Indian high commission.
Ever since online visa applications became mandatory, there have been requests for such a Visa Application Facilitation Centre, where applicants who do not possess a computer or an internet connection can go with their passports/documents and use the online visa application form filling-up facility and get their applications printed.
For the first time in Bangladesh, the Department of Agricultural Extension (DAE) has succeeded in growing coloured cauliflower on an experimental basis.
And seeing as coloured cauliflower provide good yields while also being slightly more nutritious than the traditional variety, local buyers are showing a keen interest in the crop.
According to sources at the DAE office in Mymensingh, a total of 60 farmers from 60 upazilas across six districts in the region were provided the necessary seedlings, pesticide and advice for cultivating coloured cauliflower.
A truck-sized asteroid that suddenly loomed out of the darkness a few days ago -- with the Earth in its sights -- sailed harmlessly past us on Thursday, space scientists said.
Despite what we've seen in movies like "Armageddon", no global mission to blow it up or knock it off course with nuclear weapons was required.
Instead, Asteroid 2023 BU whizzed past without incident and back out into the blackness of space.