India successfully launches Chandrayaan 2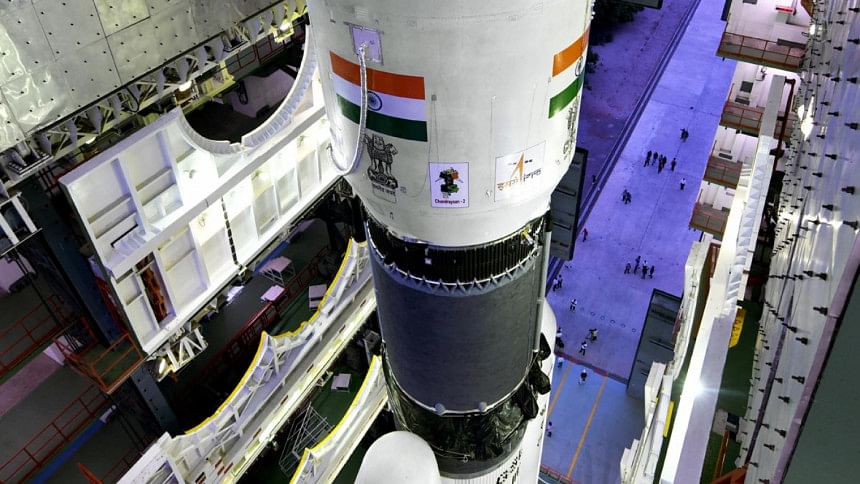 India's most ambitious unmanned mission to the moon was today successfully launched, six days after the previous lift-off had to be halted due to a technical snag.
India's heaviest rocket Geo Synchronized Launch Vehicle Mark III, carrying the 3,850 kg Chandrayaan 2, a three-component spacecraft comprising an orbiter, lander and rover, blasted off from Indian Space Research Organization's space port in Sriharikota, an island in Andhra Pradesh at 2:43 pm local time.
About 16 minutes later, the 43.43m rocket released the 3,850 kg Chandrayaan-2 into the orbit, reports our New Delhi correspondent. 
The ejection of the Chandrayaan-2 into the Earth orbit marks the successful accomplishment of the first phase of the ambitious mission that will take about 48 days to land on the moon surface.
"I am extremely happy to announce that GSLV Mark 3 successfully injected the Chandrayaan 2 into orbit. It is the beginning of a historical journey for India. We fixed a serious technical snag and ISRO bounced back with flying colours," ISRO Chairman K Sivan said.
The mission will traverse 384,000 km before landing on the moon's south pole, an unexplored region of the celestial body, on September 6, to explore lunar soil looking for possible presence of minerals, helium, a source of energy, and revalidate the findings of traces of water thereby India's first lunar mission in October 2008.
Chandrayan 2 is also expected to make significant findings of the origin and evolution of the solar system, including the earth and the moon.
The previous launch attempt of Chandrayan 2 was stopped about an hour before its lift-off on July 15 after a technical snag was discovered in the rocket. The glitch was with the critical cryogenic stage, the last such stage space vehicles enter just before they are about to launch.
The launch of the nearly Rs 1,000-crore Chandrayaan-2 put India in an exclusive club of four countries after the US, Russia and China to make a soft landing on the moon.
The launch of Chandrayan 2 took place at the end of a 20-hour countdown that started at 6:43 pm on Sunday.
The three-component mission will undergo 15 crucial manoeuvres before landing on the moon, ISRO said.
While the orbiter will orbit the moon for about a year, the lander is expected to make a soft landing between two craters on the lunar surface before the rover comes out of the lander and conducts experiments.