Human Capital Index: Bangladesh outshines India, Pakistan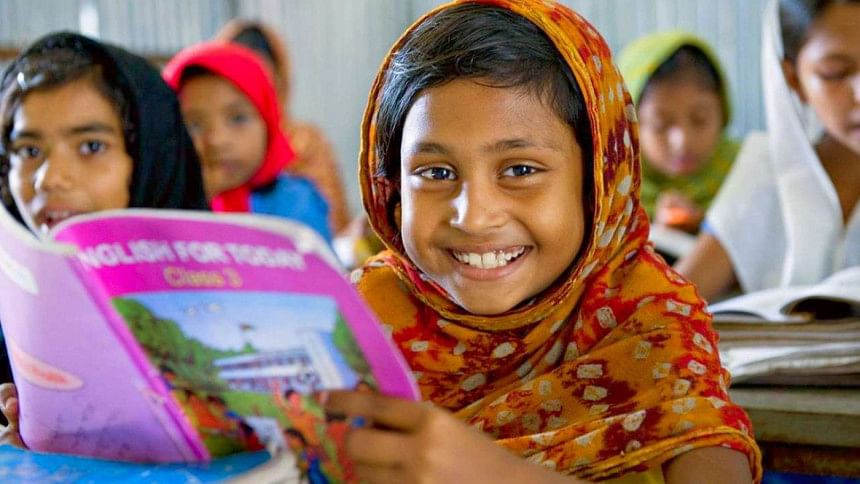 A child born today in Bangladesh would be more productive than his peers in India and Pakistan, as the country fared better than its larger regional competitors in a new World Bank ranking. 
Bangladesh has outpaced both the South Asian average and the lower middle-income average in all criteria, except for stunting, in the first Human Capital Index (HCI) prepared by the World Bank. 
Students in Bangladesh scored 368 on a scale of 625, with the highest representing advanced attainment and 300 representing the minimum attainment.
Additionally, Bangladesh ranked 106th among 157 countries that were used by the WB for the list. Sri Lanka topped the list among South Asian countries, with a ranking of 72. Nepal was placed at 102, India at 115, Afghanistan 133, and Pakistan 134.
The HCI reflects the productivity as a future worker of a child born today, compared with what it could be if he or she had full healthcare access and complete, high-quality education, on a scale from zero to one, with one as the best possible score.
It said a child born in Bangladesh today would reach only 48 percent of their full potential unless they enjoyed complete education and full health.
In India, a child will be 44 percent productive and in Pakistan 39 percent.  Sri Lanka tops South Asian countries with children reaching 58 percent productivity, followed by Nepal with 49 percent.
In Bangladesh, stunting (impaired growth and development of children) and quality of education holds back a child from achieving their full potential, the WB report said.
The index, launched yesterday at the World Bank-IMF Annual Meetings in Bali of Indonesia, shows that 56 percent of children born today across the world will lose more than half their potential lifetime earnings because governments are not currently making effective investments in their people to ensure a healthy, educated, and resilient population ready for the workplace of the future.
The rankings, based on health, education and survivability measures, assess the future productivity and earnings potential for citizens of the WB members, and ultimately those countries' potential economic growth.
Singapore topped the list, followed by South Korea, Japan and Hong Kong, while African countries fared the worst in the rankings, with Chad and South Sudan taking the two lowest spots.
According to the report, in Bangladesh, 97 percent of children are likely to survive to the age 5 and about 87 percent of 15-year olds are likely to survive to the age 60.
This statistic is a proxy for the range of fatal and non-fatal health outcomes that a child born today would experience as an adult under current conditions.
Furthermore, a child who starts school at the age of four will complete schooling by their 18th birthday. The country performs well in gender equity. A girl has a higher human capital than a boy.
But, with about 36 percent children stunted, there is no room for complacency.
About the healthy growth, the WB said 64 out of 100 children were not stunted. However, some 36 out of 100 children are stunted and at risk of cognitive and physical limitations that can last a lifetime.
AB Mirza Azizul Islam, a former adviser to a caretaker government, told The Daily Star that through this report Nobel Laureate Amartya Sen's remark on development of Bangladesh had come true as Bangladesh was ahead of India in the HCI.
Bangladesh performed better than India and Pakistan due to growth acceleration and improvement of health and education sector in the last few years, said Islam.
It is also a contribution of women empowerment as the female involvement is increasing in income generating activities, he noted.
A country score of 0.5 means that individuals -- and the country as a whole -- are forgoing half of their future economic potential. Calculated over 50 years, this translates into deep economic losses: a 1.4 percent annual loss in GDP growth.
The study report gives policymakers compelling evidence that delivering better outcomes in children's health and learning can significantly boost the incomes of people -- and of countries - with returns far into the future.
Human capital -- the knowledge, skills, and health that people accumulate over their lives -- has become a key factor behind the sustained economic growth and poverty reduction rates of many countries in the 20th century, especially East Asia.
In a statement, World Bank Group President Jim Yong Kim said, "For the poorest people, human capital is often the only capital they have."
"Human capital is a key driver of sustainable, inclusive economic growth, but investing in health and education has not gotten the attention it deserves. This index creates a direct line between improving outcomes in health and education, productivity, and economic growth. I hope that it drives countries to take urgent action and invest more and more effectively in their people.
"The bar is rising for everyone," Kim added.
"Building human capital is critical for all countries, at all income levels, to compete in the economy of the future."
On the World Bank's statement, Finance Minister AMA Muhith said: "Over the last decade, our government has consistently improved human capital and created better opportunities for our population. We have reduced child and maternal mortality, and the fertility rate."
He said Bangladesh was among a few developing countries to have achieved gender parity in school enrollment. This progress is reflected in the Human Capital Index.
About the performance of Bangladesh, Qimiao Fan, country director of the WB for Bangladesh, Bhutan, and Nepal, said: "Bangladesh's strong track record of poverty reduction and development shows that with the right policies and actions, further progress is possible."