Military drills in Taiwan Strait
Taipei accuses Beijing of simulating invasion
China calls on US to 'rectify mistakes' amid rising tensions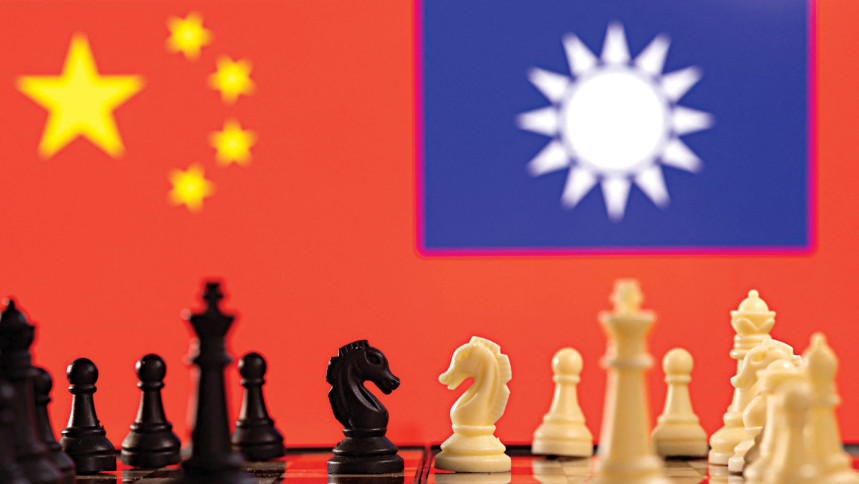 Taiwan officials said Chinese aircraft and warships rehearsed an attack on the island yesterday, part of Beijing's retaliation for a visit there by US House Speaker Nancy Pelosi that has also seen it halt talks with the United States on issues including defence and climate change.
Pelosi's brief visit this week to the self-ruled island that China regards as its territory infuriated Beijing and prompted military drills that are unprecedented in scale around Taiwan and have included ballistic missiles fired over the capital, Taipei.
Taiwan's defence ministry said multiple Chinese ships and planes conducted missions in the Taiwan Strait yesterday, with some crossing the median line, an unofficial buffer separating the two sides, in what the Taiwan military described as a simulation attack on the island.
"They were judged to be conducting a simulation of an attack on Taiwan's main island," it said.
The ministry said later that Taiwan scrambled jets to warn away 20 Chinese aircraft, including 14 that crossed the median line. It also detected 14 Chinese military ships conducting activities around the Taiwan Strait, the ministry said in a statement.
China's Eastern Theater Command said it had continued to conduct sea and air joint exercises north, southwest and east of Taiwan. It said its focus was on testing the system's land strike and sea assault capabilities.
The Chinese exercises - centred on six locations around the island - began on Thursday and are scheduled to last until midday on Sunday.
Beijing says its relations with Taiwan are an internal matter and that it reserves the right to bring the island under its control, by force if necessary. Taiwan rejects China's claims saying only Taiwan's people can decide their future.
Pelosi arrived in Taiwan late on Tuesday in the highest-level visit to the island by a US official in decades, despite Chinese warnings.
US Secretary of State Antony Blinken, meeting with his Philippine counterpart yesterday, said Washington was "determined to act responsibly" to avoid a major global crisis.
The environment became the latest victim of the geopolitical jousting a day earlier, as Beijing said it would withdraw from a series of talks and cooperation agreements with Washington -- most notably on climate change and defence cooperation.
China should not hold talks on issues of global concern such as climate change "hostage", Blinken said, as it "doesn't punish the US, it punishes the world".
China's foreign minister Wang Yi told a media briefing on Friday that Blinken was spreading "misinformation", adding: "We wish to issue a warning to the United States: Do not act rashly, do not create a greater crisis".
UN Secretary-General Antonio Guterres warned the two superpowers must continue to work together -- for the world's sake. "For the secretary-general, there is no way to solve the most pressing problems of all the world without an effective dialogue and cooperation between the two countries," his spokesman Stephane Dujarric said.
With tensions over Taiwan having risen to their highest level in nearly 30 years with an elevated risk of military conflict, experts told AFP the latest downturn in relations between the two superpowers could be long-lasting.
The suspension Friday of bilateral military and maritime dialogue while China continues its military exercises was "particularly worrisome", said Bonnie Glaser, a China expert at the German Marshall Fund.