Ratri Diprohor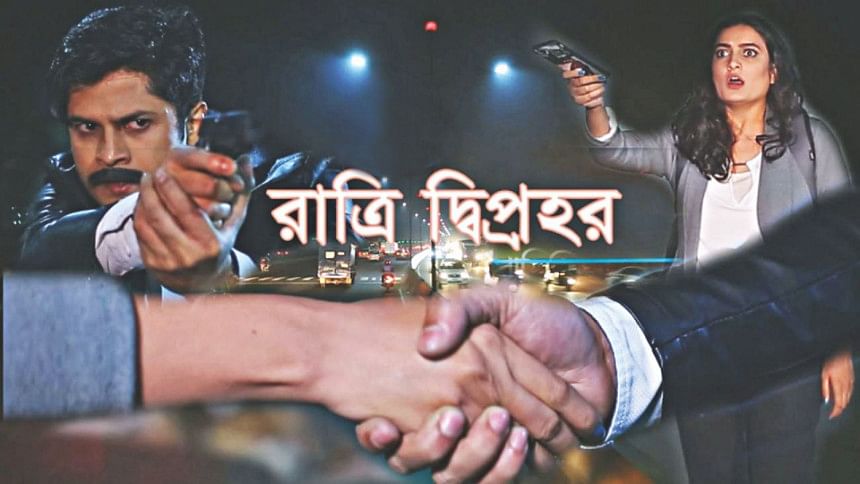 Channel: RTV
Script: Arindam Guha
Directed by: Shahin Sarkar
Cast: Aparna Ghosh, Niloy Alamgir
Othoi (Aparna Ghosh) is a foreign university student who has just returned to Bangladesh, intending to surprise her family and boyfriend with a sudden visit. Her plans are thwarted when she is randomly left behind by a taxi-driver near the Banani highway in the middle of the night, leaving her no way to get home by herself. As she waits for her boyfriend to come pick her up, her only option is to wait in the scary streets filled with suspicious individuals and rumored criminals. The drama continues, showing how she comes across a stranger intending to help her, and how she deals with the rather deadly situations that follow.
For all intents and purposes, Ratri Diprohor has proved itself to be much different than any other Bangla dramas or telefilms we are used to. First and foremost, the whole story occurs in the span of barely an hour, and happens entirely in one place at nighttime. While this may seemingly make the premise of the story quite limited, it actually ends up creating a very unique atmosphere that works towards building suspense for the plot progression. The story eventually unfolds as the stranger following Othoi turns out to be an undercover cop named Biplob (Niloy Alamgir) who was pursuing an infamous criminal living around those parts. As the chase escalates to its final scenario, Othoi is held hostage by the criminal as he is cornered by the cops, but thanks to Othoi's quick thinking and Biplob's shooting skills, they are able to apprehend the wanted villain. The dreadful night ends on a good note for the lost girl and her unlikely companion.
Aside from the commendable use of suspense and setting, the acting of Aparna Ghosh and Niloy Alamgir can't go unnoticed. Aparna in specific played the role of an awkward, paranoid woman quite well, while Niloy did his best in ensuring the viewer doesn't figure out his disguise before the final plot twist. However, the first few scenes were very monologue-heavy, which somewhat diminished the initial suspense of the drama. But with steady interaction between Othoi and Biplob, the plot development started to pick up and managed to end in an excellent fashion. At the end of the day (or night), Ratri Diprohor was definitely a fun watch. Anyone looking for a natok with rather dark overtones and good buildup of suspense, Ratri Diprohor might just be for you.
Recommend the writer something to review at [email protected]