Dekha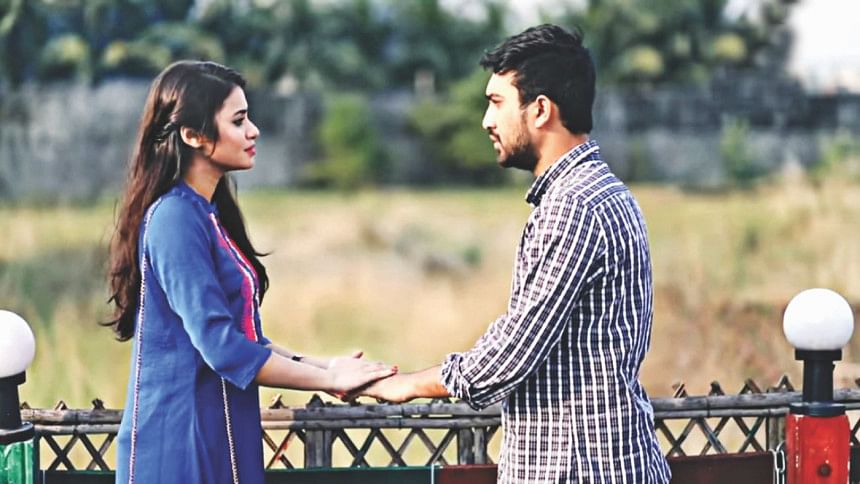 Channel: Maasranga TV
Script and Director: Mohon Ahmed
Cast: Farhan Ahmed Jovan, Tasnuva Tisha, Sk Rayhan Abdullah
Romantic stories are dime a dozen in Bangla dramas and the desire for an exception constantly arises in regular viewers. While modern tales attempt to break the mold through unconventional plot twists and over-the-top story progressions, this serial in particular managed to be… Just about the same. The name of this telefilm has about nothing to do with the overall story, as viewers would fail to see how the concept of "sight" has anything relevant to do with what is going on. The story in itself is very simple and needs only a few sentences to fully explain. Shovon (played by Jovan) is a young man from the village looking to build a life in the city, who falls in love with the girl he had a crush on. Out of the blue, he is diagnosed with kidney failure and being unable to cope with the newfound disease, he pushes his beloved aside. However, his girlfriend (played by Tasnuva Tisha) refuses to back down and decides to stay with him as he fights the deadly ailment.
Despite being a typical story with an emotional yet not too impressive plot twist, Dekha had its own charm that kept me going. Jovan's portrayal as a struggling country boy trying to make it into the city was done quite well, and Tasnuva Tisha also managed to play the role of a loyal girlfriend quite successfully. But at the end of the day, I wish I could say there was something especially unique about this telefilm. While the simple yet entertaining approach in storytelling was enjoyable, the buildup of the romance felt sudden and forced, which is a shame since that was a central element in the overall story. A bit more screentime could have been used to develop the relationship between the two main characters, because they seemed to have good chemistry with each other. A runtime of 39 minutes definitely didn't do justice in fleshing out the character development segments.
The small runtime was also ineffective in truly showing Shovon's feeling as he was struggling with the revelation of his kidney failure; we only get a glimpse of his inability to deal with the news and his sudden decision of not wanting to involve his girlfriend in his own pain. Again, that's a shame because the telefilm could have been a lot better if such crucial aspects received more attention. However, one character that deserves mention was Shovon's friend and dormmate (played by Sk Rayhan Abdullah), who was a constant support of Shovon through thick and thin. If there's any truly positive element in this story, it was definitely this guy. Nonetheless, at the end of the day, Dekha was a run-of-the-mill romantic Bangla drama that we are all used to, even though it did try to be a bit different by incorporating a good balance of emotion and entertainment into the mix.
Recommend the writer something to review at [email protected]