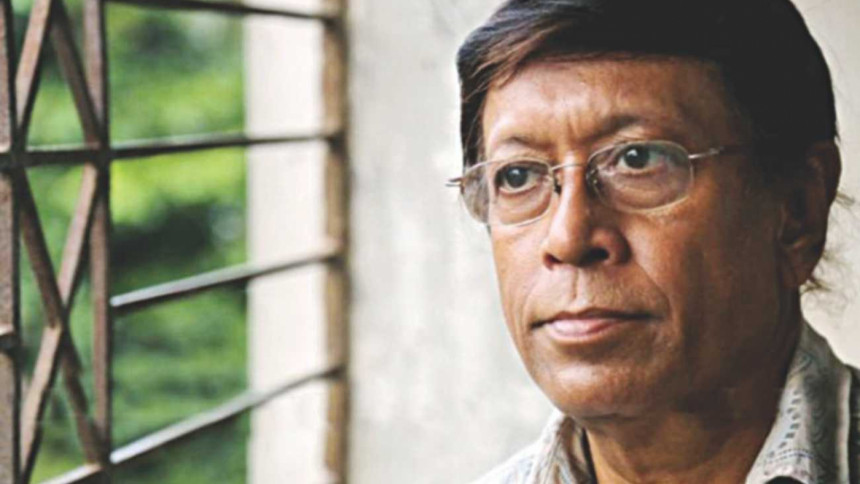 (Continued)

25th March 1971. We left our old DOHS house just fifteen minutes before midnight. When we reached our maternal grandparents' house in Dhanmondi, the shocking night started. Mid April, 1971, we were in India, where our father was assigned the duty of Head of Naval Commando and later as the Director of 'Mukti Joddha' training camp. We were given residents in Kalyani, in the district of Nodia. My sister Rimi and I were recruited by the children's fund as volunteers to look after the children in the three huge refugee camps in the Nodia district. Our pickup time was five in the morning and we were dropped off at seven in the evening. Our guide was a British lady, my great friend Carolyn Adams. That was an amazing experience – but that's a different story. 
One evening, sometime in June 1971, on our return from the refugee camp, we found Lucky bhai sitting on the floor, being fed by our mamoni. It was music time again! Lucky bhai told us about Shadhin Bangla Betar Kendra's happenings, the songs being created, the lack of proper recording equipment's and yet such enthusiastic creations being carried out! So many stories to share! And from then on he became a frequent visiting family member, bringing in stories of music creations, stories of Indian music maestros, whom we loved to listen to, whom we actually thought of as unreal dream beings! Lucky bhai was friendly, accepted by them because of his amazing musical talent! Then one evening he came with brilliantly wonderful news! He had been requested by H.M.V to prepare songs for recording which will be released during the Golden Era of Bengali songs with meticulously trained artists and brilliant composers. Those songs are still our heart-thieves even today. 
What an achievement for young Lucky bhai and even a younger Bangladesh which was fighting for its land! Lucky bhai brought in two records; one record with two songs by Shree Gorachand Mukkhopadhya and the other with two songs sung by Shreemati Banosree Sen Gupta. But since we did not possess any record-player during our refugee days, we could not listen to the records right away. Soon the songs started being played on the all India Radio, Calcutta (Kolkata) and we were so proud to listen to Lucky bhai's compositions on Indian Radio Station! We returned to Dhaka on the 28th of December 1971, our old D.O.H.S house was totally vandalized in our absence. Five Panjabi Colonels were based in our house, we were told.
All the paintings and photographs including one of Bidrohikobi Kazi Nazrul Islam, our books, our records and almost everything were intentionally broken and lay shattered and thrown all over our back garden lawn. Only Kobi Guru Robi Thakur's photograph had survived and didn't leave its space on the wall. His beard saved him. Slowly life in Bangladesh was picking up a new story. Cultural activities gained a new freedom, a different force in this newly born Bangladesh, and Lucky bhai with his unique style, an extremely musical in-depth that he acquired or was gifted with, started a very busy new musical journey. Our house in OLD DOHS witnessed amazing creations of Lucky bhai, songs we still sing in Bangladesh and many songs left unrecorded, many recorded but lost. Sad, but at that period of time, concerts started, and Lucky bhai got busy with live concerts, with me and Happy singing along there. Lucky bhai started his record collections from embassies and Happy and me, happily, luckily kept learning and venturing into more new music.
My first grown-up song recording for Bangladesh Betar Dhaka was in 1973. "Hoyto Ami Amay Chara Kaukey Bhalobashini" was written by S.M. Hedayat and composed and arranged by Lucky Akhand. Then on we had many recordings, especially in Dhaka Radio Station, Studio-6, which used to be a big auditorium cum studio. Lucky bhai recorded six beautiful songs and me, Happy and Lucky bhai's sister Jesmin, sang duets with Lucky bhai and also did harmonization and humming. In this recording, the musicians who accompanied Lucky bhai belonged to a band called 'Brightning', a very famous band, born before Bangladesh and probably the first band of the kind. Fantastic musicians! Unfortunately all the band members settled abroad soon after. 
Lucky bhai brought Ustad Akhtar Sadmaniji for my classical training in 1972. In 1976 I left for Shantiniketan. My Dhaka trips were limited and my musical journey with Lucky bhai thinned out. But, we were always in touch and I did sing a lot of his beautiful songs. He would call and share his new creations and I always felt surprised by the brilliance of his creations! Yes, me, Happy and Lucky bhai, a trio who loved music and the bonding of music. 
Now begins the difficult part of the analysis. What happened to these rare musicians, who walked, talked, and ate music? What derailed a musician like Happy to bid such an early goodbye to this world? Why a prolific and enthusiastic composer cum singer like Lucky bhai became lazy and had to be pushed to go out and record his wonderful creation? Is it only their personal lives' problem and lack of discipline? Is it the politicized atmosphere of our cultural world? Or is it our ignorance of how to understand, respect, preserve and nurture these rare beings which in turn makes them lose respect in existence?
I miss that simple uncomplicated music world. But, I again feel grateful to have met Lucky bhai and Happy in this lifetime. In my mind I can see Happy making percussion effects with a spoon and glass, with tiny pebbles in a glass jar, with a comb and my hair clip. I can hear Lucky bhai singing, "Aaj achi, kal nei, obhijog koriona, odhorer ei hashi muche felona…"
By Shampa Reza