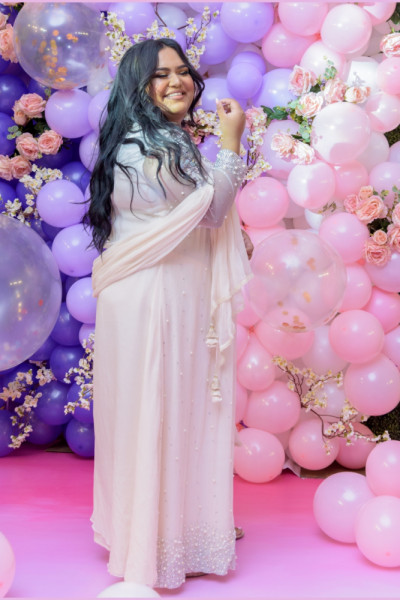 'Instagram' famous celebrity Nabela Noor's arrival, and her meet and greet event beckoned in social media celebrities on September 14, at the Lakeshore Hotel. The event, which was organised by 'Emerald Events', had a Q&A session, followed by a photo session, where Nabela's fans and followers lined up to meet and take photos with her and her husband, Seth. Post-event, Nabela talked about her love for fashion, makeup and body positivity.
What is your style mantra?
Wear whatever you want, however you want, unapologetically.
Do you follow the work of any Bangladeshi makeup artist?
There's a lot of talent breeding in Bangladesh, and I love following and supporting Bangladeshi makeup artists. When I discovered Saad, he was very young, and I wanted to do all that I could to support him. I shared his work, so that people would get to know him. Raisa Naushin is also another makeup artist that I think is amazing. My makeup for the meet and greet event was done by Navin Ahmed, who is extremely knowledgeable and kind. There's so much talent emerging, and I want to do my part to help them grow.
Who is your favourite makeup artist in Hollywood?
I'm lucky to be friends with many incredible makeup artists. My current favourite is Makeup By Mario.
What is your regular everyday and party look like?
On most days, you will catch me in full coverage foundation and a strong highlighter. I also love a strong outlined lip with a beautiful ombré in the centre. I'm a big fan of the 90's inspired look it creates. At parties, my entire look is just amplified; I add glitter to my eye makeup, opt for a deeper ombré lip, and use a stronger highlighter.
What is your favourite accessory?
I love wearing jhumkas. I often add them to any look, especially in America. I'm all about adding that desi flair to my look. It makes me feel like me!
Which fashion trend do you dislike?
Fashion is subjective; I don't believe in chastising anyone for their choices. But, personally, some fashion choices that I wouldn't redo are wearing patterned jeans, like the floral ones. But, fashion is constantly evolving. Maybe in a year's time, I might start wearing them again.
What fashion trend is your favourite?
I love layering clothes. Now that we're approaching fall in America, it's nice to layer cardigans, kimonos etc. I also love layering necklaces to create a staggering effect, and it looks really cool.
What would be a fashion message you would give to the readers?
I never want to fit society's definition of a beautiful body to wear crop tops or any such outfit. Take risks and don't wait for a special occasion to wear that amazing dress. Wear it now! Don't worry about your weight before choosing what you to wear. Feel confident in your skin and wear clothes that make you feel that way. Wear them unapologetically.