JYOTIKA JYOTI
Jyotika Jyoti made a name for herself as an actor at a very young age. She gained recognition after starring in her debut film, 'Ayna'. In a recent interview with Star Showbiz, Jyotika shared her outlook on fashion and the entertainment industry.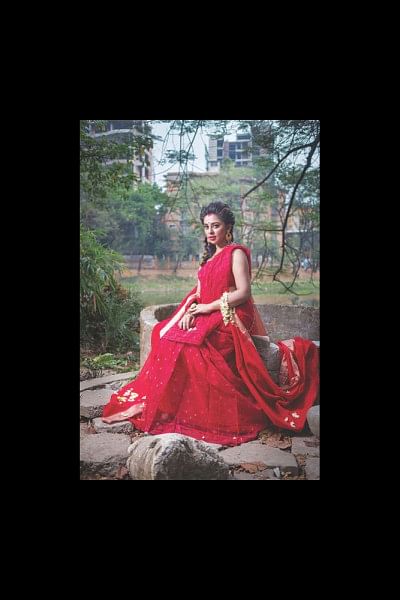 What is your style mantra?
I prefer wearing clothes that are simple and comfortable. I like wearing colourful clothes, but usually go for monochrome outfits.
Who is your favourite icon in Bangladesh?
My icon is definitely Sheikh Hasina. She always handles situations with grace, and she is the sole reason people have a positive outlook on Bangladesh, despite certain setbacks. I also admire Mashrafe Mortaza.
Who is your favourite icon in Hollywood?
I admire the works of many people, but no one in particular comes to mind. I believe that icons don't necessarily have to be within the
entertainment industry, but can be people from different sectors. I really look up to Angelina Jolie. She balanced her career and her family, whilst fighting bravely against cancer. She is also involved in several social activities. I find her work really inspiring.
Who is your favourite fashion designer?
I don't have a favourite designer or brand. However, I really like Bibi Russell's work as it focuses on our country's culture and tradition.
What is your regular everyday wear?
For an everyday attire, I opt for casual and comfortable clothes, like shirts or tops, paired with leggings. I also like wearing dresses.
What is your general party-wear like?
I have a fascination for gowns. However, if it's a traditional event, I usually drape myself in a Saree. I dress according to the event, and keep in mind who are going to be present there.
What are your favourite accessories?
I'm not very interested in fashion trends, but I have recently developed a taste for wristwatches. I also pay special attention to my shoes and earrings, as those are two of my favourite accessories.
What fashion trend do you dislike?
Fashion trends are always changing and evolving. I don't dislike any specific trend, but I do believe that one must follow the trends which suit them, rather than following them blindly.
What fashion trend would you say is your favourite?
I personally don't follow the fashion trends anymore. However, when I was younger, I did keep up with them; the short kameez trend, for example. I am a fan of skirts and gowns, so I like it when those are in fashion. Other than that, I really like the unique haircuts and hair colours that are popular now. I find them very interesting.
What kind of look are you going for this 'Pohela Boishakh'?
I always wear a Saree on Pohela Boishakh as it is a traditional event. However, nowadays, red and white Sarees are not a must. People experiment with different colours, and go for a trendy, modern look, while keeping the festivity and tradition alive.
What would be a fashion message you would like to give to the readers?
I would like to ask the readers to experiment with different trends, but to make sure they flatter them. One should always keep in mind the event they are going to, and thereby, dress accordingly.