Animesh Aich
After making film like 'Zero Degree' and winning the 'Bangladesh National Film Award' for 'Best Art Direction' for the film 'Gueriilla', Animesh Aich has established himself as a well-known director in Bangladesh. In an interview with Star Showbiz, he talks about his journey as a director and about his love for directing.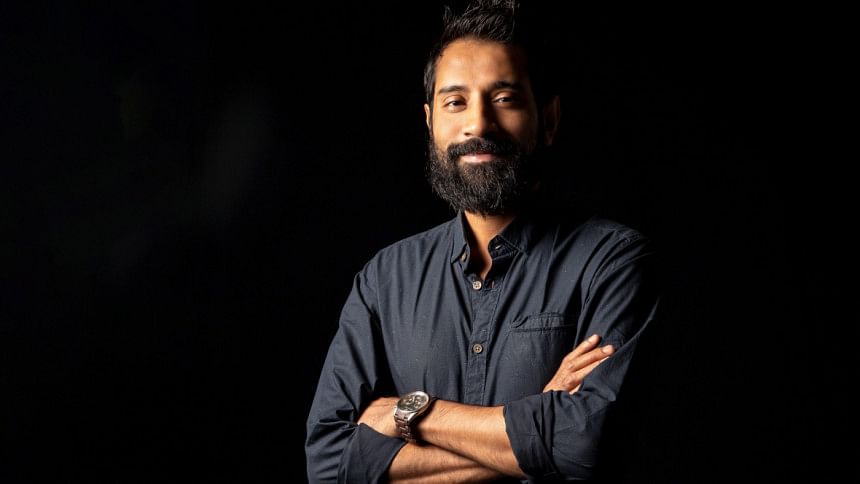 Tell us something about yourself.
I don't quite know what to say about myself. I'm a Bangladeshi – that is my identity. I studied sculpting at Charukola Institute of Dhaka University. I started theatre with a group, named Prachyanat. I've directed three films and several TV dramas. I'm currently working on both, along with writing my own novels. I've already published two of those. I also write short stories sometimes.
What was your first project?
My first official project was a television drama, titled Kufa. It was released back in 2003, and received notable praise and awards.
What inspired you to start film direction?
I used to draw pictures back in the day. I sometimes imagined what it would be like if I were able to make the still images move. I was also involved in theatre, so movement played an important role in my life. That was one source of inspiration for me. There's also a place called Jolchobi, where several filmmakers, like myself, Mostafa Sarwar Farooki, Tarek Shahriar and Nurul Alam Atique, among others used to gather to talk and work. I drew inspiration from there.
Can you tell us about some of your acting ventures?
I'm not an actor by profession; I just played small roles here and there. I only did those to get the feel of acting; I wanted to know what actors feel when they're in front of the camera. I last acted in Debi. I think I'm decent at acting, but I'm not willing to pursue it.
What are the struggles you had to face in your career?
There were many struggles, but I guess that's normal in this field. Everyone who's a filmmaker had to face many difficulties. Still, I consider myself fortunate that my first fiction received praise and appreciation. My work gained recognition within a very short time. So, I can say that I didn't have to face many struggles as luck favoured me.
Which project did you enjoy doing the most?
I enjoyed making all of my projects. Perhaps Holud, a drama, was the most interesting to make. It was released seven or eight years back. It might be available on YouTube now. I tried storytelling in a different way in Holud. It was a good experience.
Do you have any upcoming project the readers should look forward to?
Yes, of course. I'm currently working on a film, but the shooting hasn't begun yet. I'm also doing a children's series. The script is in the works now. Additionally, I started my own YouTube channel. I'm developing a lot of content for it.
What are the qualities necessary for an aspiring director?
I would suggest to be honest in your storytelling. You shouldn't try to replicate another's style. Be unique in what you do. You have to be true to yourself in order to earn respect, prosperity and appreciation.
Any message for the readers?
I wouldn't call it a message, but I would request you all to appreciate good Bangladeshi audio-visual projects, instead of promoting vulgarity.