Shaadi Mein Zaroor Aana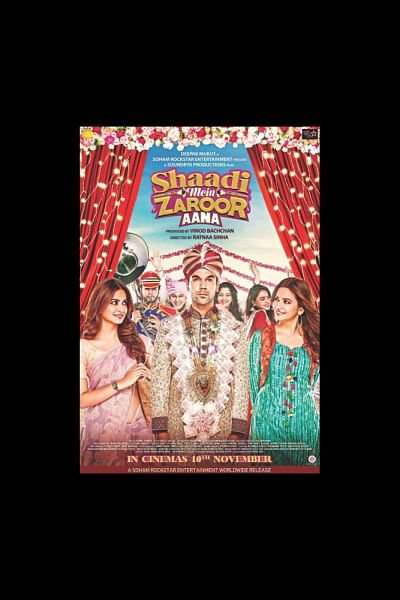 Director: Ratnaa Sinha
Screenplay: Kamal Pandey
Cast: Rajkumar Rao, Kriti Kharbanda
Strength: Acting
Weakness: Storyline
Runtime: 137min
Rating: 7/10
PLOT: The film starts with Aarti Shukla (Kriti Kharbanda), a small town educated girl falling in love with Satyendra, the man her parents fixed her marriage with. Sattu (Rajkumar Rao) works as a clerk in the excise department of the government. This, along with his upper-class family, impresses both Aarti and her conservative family. However, when all seems to be going well, things take a wrong turn as, on the day of the wedding, Aarti runs away due to her fear of becoming a typical housewife and losing her ambition of becoming an IAS officer.
REVIEW: Films featuring social issues seem to have become the new trend in Bollywood. Although this movie deals with issues like bribe, dowry and gender equality, the story is pretty repetitive especially for those who have recently watched Badrinath Ki Dulhaniya. However, the film does give an insight into the life of a middle-class girl who often has to fight with both her own family and in-laws to live her dreams. It also shows how sexism is rampant in the rural parts of India through social conditioning, like where a boy simply feels superior due to his parents' constant pride of having a son and demanding an outrageous amount of dowry for simply letting their son marry a chosen girl.
The story has all the elements of a typical Bollywood film but the only difference is the performance of Rajkumar Rao. Most big-budget romantic comedies in Bollywood these days have mediocre actors playing the leads with very basic acting. However, Rajkumar Rao is an actor that will take the audience's breath away with his acting. The dull story becomes worth a watch simply because of Rajkumar Rao's amazing performance as the simple, humble government clerk who merely wants a wife. Later in the story, Rao transforms into a man that no longer believes in love and wants revenge for the social humiliation caused by Aarti; a performance that is simply remarkable. Aarti Kharbanda complements Rajkumar Rao's acting with her refreshing charm. All the supporting actors also did an amazing job of portraying life in a small town. For those who want to reminisce the 90's with a modest family drama, Shaadi Mein Zaroor Aana is definitely worth a watch.
Reviewed by Amira Amin