Life's Lyrics
Epar Bangla, Opar Bangla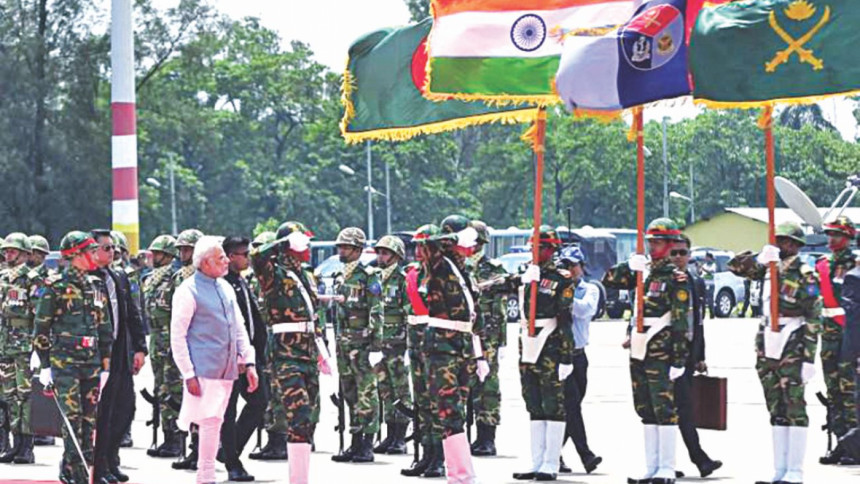 As part of Indian PM Narendra Modi's visit a leading TV channel included the names and short interviews of luminaries who came to Bangladesh from West Bengal and vice versa. Those who hailed from East Bengal were noted personalities like Sunil Gongopadhay, actress Suchitra Sen and Shomlata (A singer from Faridpur). Among those making their way to East Bengal was Professor Emeritus Anisuzzaman and the family of Abbasuddin Ahmed.
Many years back I had read the beautiful autobiographical account of Sunil Gongopadhay titled 'Amar ordhek jeebon'. Although it was meant to be autobiographical , the writer hid himself and his family as main characters and provided detailed treatment of the politics of India, whereby on the 14th of August 1947, the country known as India had been divided into India and Pakistan. The description is very thorough and well researched and coupled with his brilliant writing style, has been one of the finest ever and in my opinion, even rivals history books. His story was that of the plight of an average Hindu family who were suddenly uprooted from the comfort zones of their ancestral homes, their livelihood and friends, and turned into a life of refugees set in the metropolis of Calcutta. The harsh life there, his father's failing health, financial struggles of the family, and the struggles of a writer could well be that of an imaginary character who had left their home in the partition of 1947. When I was reading Sunil's account, I was often reminded of similar narratives from my father, former Chief Justice Mustafa Kamal and son of Abbasuddin Ahmed.
He always recalled his life with his parents in Kolkata, his Ballygunge school, the roles of poet Kazi Nazrul Islam and Abbasuddin Ahmed during the riots of India where one wrote the songs and the other sang on truck tops, "Mora ek e brinte duiti kushum hindu musalman". I had heard about the beauty of Cooch Bihar, the princely state of West Bengal where the Maharaja often came on clandestine visits and gave reviews of gardens maintained by his wards. It seemed like a dreamland and some accounts of 'A Princess Remembers', by Gayatri Devi, matches the description given by my late father. They left all of that, especially Abbasuddin, who left behind his seat of fame in Kolkata and settled in East Pakistan. My aunt Ferdausi Rahman and her mother were horrified to have their horse carts bound with layers and layers of material when they went to schools or colleges. Another phase of struggle started for this family when Abbasuddin fell ill with an incurable disease when all three of his children were students. As I read Sunil, it seemed I had grown up with the counterpart. I had visions of their lives in Kolkata and in Dhaka after the partition. I had listened to them so many times that I could almost repeat verbatim.
Then, a book by Professor Emeritus Padmabhushan Anisuzzaman, 'Kal nirobodhi', was released, where he wrote about his life before and after the partition of India. As I leafed through the pages, names, events, places, and families mentioned there all seemed familiar and once again I felt that this was a complimentary story of a man who came to these parts from West Bengal. His father practiced homeopathy and the indecision of migrating to East Pakistan was settled by the strong will of his mother. Professor Anisuzzaman's family was well placed in Park Circus, India. He mentions the names of people who frequented their homes, his father's closeness with A K Fazlul Huq, including the lady who brought their car and treated him to ice cream etc. in spite of the fact that young Anisuzzaman pronounced kolutola as "kolulota". Among them was the sister of Mrs. M Rahman, the lady who was like a mother to poet Kazi Nazrul Islam. Then comes the time of riot and his eye witness account of a Hindu man being killed in his own home, all brought forward the deep rift between the two communities.
People who have migrated to this either Bengal have similar experiences of being uprooted and having to start all over again, gaining new experiences in the process. 
The writer is an academic, 
Nazrul exponent and writer.