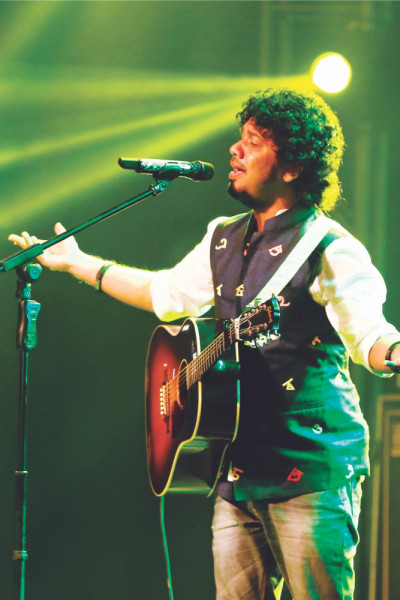 Papon is arguably one of the most popular singers in India at the moment. Trained in Indian Classical, Borgeet and Folk music, his versatility earned him a chance to become a playback singer. In this interview, he talks about the Dhaka International Folk Fest, his musical journey and much more.
You're known in Bollywood for romantic and melodious songs. Yet you somehow keep experimenting with folk, why is that?
Folk is in my blood. My father used to say that one should never forget his roots, and I have always kept that in mind. There is no kind of music closer to the roots than folk music, and I find that to be true even now. I have done a lot of different genres, and still continue to do so, but can never find a better place to rest my soul than inside the realm of folk music.
How do you rate your career in playback singing?
I always say that my playback career happened by "accident" (laughs). This accident has been happening for quite a while. When it comes to playback, the songs are made to complement the cinema and I have to work according to that. A lot of songs have become very popular, so I often get the opportunity to sing more and more based on these songs. I will say that it helped me mould myself as a singer over and over again, and I am a lot more versatile than I would have been.
Tell us about the beginnings of your musical journey. Did you have to struggle a lot?
I did not have to struggle per se, as my father, Khagen Mahanta was one of the leading singers of Assam. Many have called him a 'devta' of music. My mother is also a devoted music lover, and all my friends are die-hard fans of music. I have become an artist by simply following my destiny. My father always guided me on how to become a proper artist, while I have trained relentlessly to do so. Albums, television programs and my songs in films have all contributed to whatever I am right now. However, I will say that there is a lot of struggle behind each and every creation of mine, the kind of struggle that is needed to give these creations a life. I keep on engaging in that struggle without expecting anything in return.
You have participated in the Dhaka International Folk Fest before. How do feel about this arrangement?
The truth is, there isn't any bigger folk concert than the Dhaka International Folk Fest. I feel proud to be a part of this arrangement. The variety of musicians I have the honor to share the stage with makes it a great experience whenever I come here. The sound of Baul and Murshidi are particular favorites of mine.
I heard that you are making an album consisting of only Ghazal songs. Why the sudden attraction towards the genre?
I have always loved ghazal. I have grown up listening to greats like Ghulam Ali Khan and Jagjit Singh. You can say that this album is a result of my inner hidden desires. What's the fault in trying something new? Besides, I'm not doing it for fame or money. I don't expect anything in return for the album either as I am doing this entirely for myself.
By Sadi Shahnewaz