THE SUCCESFUL SINGER
Oyshee has made her mark in the music industry ever since she released her debut album in 2015. Now, after winning the 'National Film Award' for best song, she talks to Rafi Hossain in this interview about the song which got her the 'National Film Award', and also about which artist inspired her the most.
Rafi Hossain: Welcome to Uncensored with Rafi Hossain. Today, we are here with Oyshee. Oyshee, congratulations on winning the 'National Film Award' for the best song in a film. The song was composed by Emon, right?
Oyshee: Thank you so much, bhaiya. It still feels surreal to think that I actually won the National Film Award. The song I did was for the movie Maya: The Lost Mother, and it was composed by Emon Chowdhury and the lyrics were written by Masud Pothik. It's a huge honour to win the award. I thought that for me, it's more important to focus on my work, and that if I work hard, awards will come in the future. So, when I heard that I won the award, it came as a big shock to me. When Emon Bhaiya first sent me the demo for the song, I thought that it was going to be a challenging project as Emon bhaiya put in all the proper emotions in the track. I tried my best to convey all the right emotions while singing the song. After making it, I was very happy with what we created.
Rafi: What sort of music do you enjoy making the most?
Oyshee: I think that music is something that really depends on the mood of the person making it. That is the case for me. There will be times when I feel like making a certain form of music, but in other times, I will feel better making another kind. But, overall, I always feel happy making folk songs at any moment. I connect to folk songs, so I think that's why it has a special place in my heart.
Rafi: Was this project the first song you did for a film?
Oyshee: No, I actually first did a song for a film in 2016. Since then, I have been fortunate enough to have been able to sing in almost forty movies. I pray that I will be able to sing in more movies in the future. 
Rafi: That really is quite impressive. A lot of artists start their careers with the hope to do playback songs in movies one day. Were you like that?
Oyshee: Definitely, and I think that every artist dreams of this. I always wanted to see my favorite actors lip-sync to my song in a movie. 
Rafi: What is the major difference you think is between doing playbacks and releasing just audio music?
Oyshee: I think that even though both these media are completely different, they are connected because of the music. When making audio CDs, I think that there is a bit more freedom. I can make whatever I want and feel like making. But, when I'm making a song for a movie, I have to keep in mind what the actor is like. I have to channel someone else while doing it. They are both very different, but I really enjoy both types.
Rafi:  Do you get more positive feedback for your audio songs or your playback songs?

Oyshee: I would say that I get positive feedback from both equally. I have done songs for forty movies, but not all of these songs have been released so far. The amount of audio songs I have released is much higher than that. So, since the amount released is higher, the response I get from audio albums is also more. But from all the songs for films that I have released, I have received a lot of praise from the audiences. 
Rafi: How did you learn singing?
Oyshee: I first learnt singing from my mother. While living in Rangpur, I learnt singing at Rangpur Shishu Academy. After moving to Noakhali, I learnt at the Noakhali Moumachi Kachikachar Mela. After that, I learnt from Hafiz Uddin Bahar sir, and now I am learning from Sujit Mustafa sir.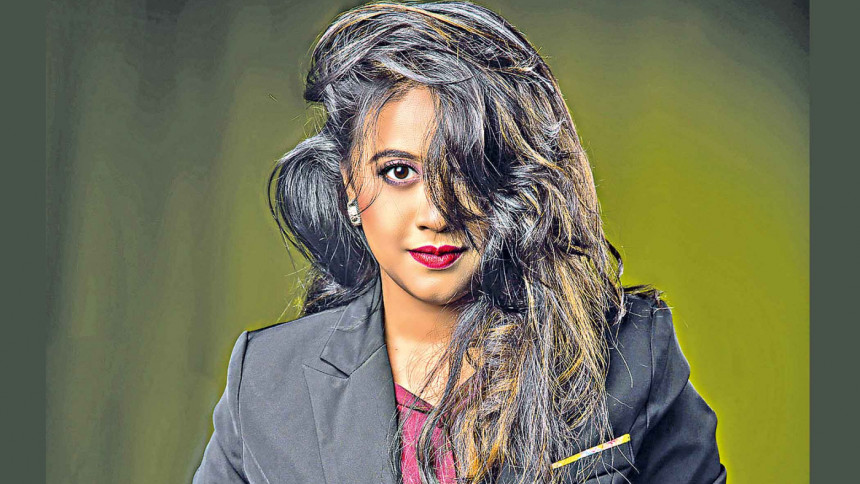 Rafi:Which Bangladeshi artists inspire you the most?
Oyshee: There are a lot of artists I have looked up to. All of us that come into music try to follow them and try to be like them. There are plenty of artists that I have been inspired by since I was very young. My biggest inspiration was Runa Laila madam. She is an idol for me, and I have always been inspired by whatever she does. Aside from her, there are others who have inspired me throughout the years. I am also a big fan of Abdul Hadi sir. I loved listening to Ferdousi Rahman and Shahnaz Rahmatullah ma'am. I cannot name everyone who has inspired me, but there are several others. 
Rafi: Oyshee, thank you for giving us time today. We hope that you will go further with your career. Do you have any final message for the readers?
Oyshee: Thank you for having me here today, bhaiya. I would like to thank The Daily Star for always being there by my side since the beginning of my career. I consider myself very fortunate for that.  Even at the start of my career, I received more support than I could ever have imagined. I plan on going on making more music in the future, and I hope that everyone who listens to my music will stay with me and keep on supporting me.