An odyssey of music
Sohini Alam is a British-Bangladeshi singer with a musical portfolio consisting of a collection of folk, patriotic, modern and traditional Bangla songs, although she specialises in 'Nazrul Sangeet'. In this interview with Rafi Hossain, Sohini shares stories from her life and talks about important topics in respect to today's society.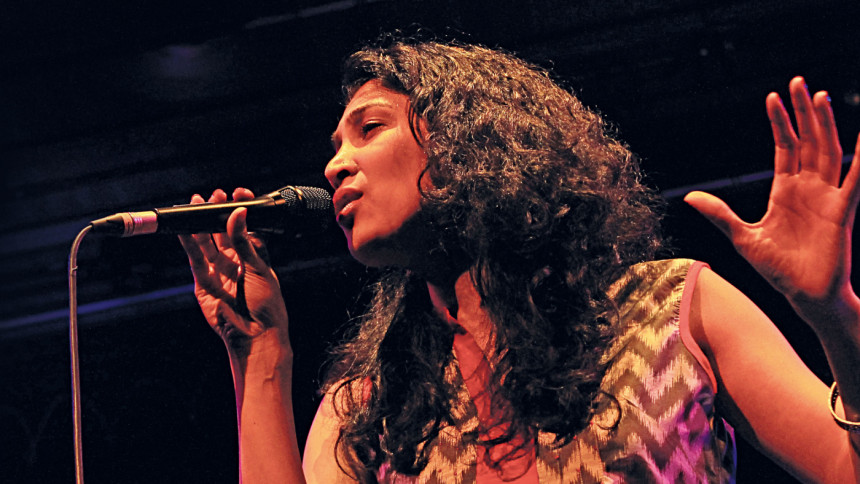 Rafi Hossain: Welcome to Uncensored with Rafi Hossain. Today, we are here with the British-Bengali singer Sohini Alam. You come from a very musically inclined family. Are your family members your primary teachers?
Sohini Alam: I initially started learning music from my mother in London. Then, I learned from my aunts.
Rafi: Did you want a career in music ever since you were a child or were you persuaded by your family?
Sohini: The short answer to both the questions is yes. Being a part of a family like mine, one can't simply not be involved with music. There was always music in the house. People even came to our house to learn music. My mother taught music outside as well, and took me with her at times. So, I was always involved with music, but I was also not given any option other than to be a musician. Having music so readily available in my life, I didn't realise how important it was to me at that age. I even made it clear that I don't want a career path in this, unless I fail in college or university. But, here I am, a singer. My aunt always says that who is born to be a musician will be a musician no matter what.
Rafi: Can you tell us about your childhood?
Sohini: I was born and raised in London. When I was nine, I came to Bangladesh and lived there for some years. I then went to the US, then back to London. A story I would like to add to this is when I was seven, I decided that I won't be doing singing classes anymore and do dancing instead. My mother agreed and enrolled me in a dance class. After the first class, I realised that dancing was not for me. No matter what music was, I was at least gifted in it. That's when I learned its true importance.
Rafi: Your family is a very classical-music oriented family. How did they react when you told them that you wanted to start a band and how did you deal with their reactions?
Sohini: The dealing aspect was easy since I didn't ask anybody's permission. The one thing about my family is that even though they work with traditional music and taught me similarly, they are very progressive. They always taught me that my music is mine and I get to decide how I want to present it. My youngest aunt's philosophy is that we should learn the basics properly first and then decide if we want to sway further away from them. So, I allowed my songs to be inspired from several genres.
Rafi: Did you start with 'Lokkhi Terra' before establishing your own band, 'Khiyo'?
Sohini: I started working with both of them around the same time in 2006. I was introduced to Kishon Khan, and he offered me a place in Lokkhi Terra which was already an established band. Around the same time, I also met Oliver Weeks, and started working on our own music. I also joined another band, GRRRL.
Rafi: If you were already with 'Lokkhi Terra' why did you decide to start your own band?
Sohini: Actually, I already had talks of some projects with Oliver at that time. The thing is, Lokkhi Terra is the brainchild of Kishon, and I was simply the vocalist there. In Khiyo, however, I decided the music with Oliver, along with the bandmates. Khiyo is totally different from Lokkhi Terra and so was GRRRL. I have also worked as a solo artist for some projects, like for State of Bengal's Sam Zaman. However, I prefer Khiyo the most since I love collaborating with people and exchanging ideas.
Rafi: Can you talk a little about 'GRRRL'?
Sohini: GRRRL is an electronic band. This is a project of a charity organisation, In Place of War. They take artists from countries who have been involved in wars to show that there is an existence outside of war. This is one of their many projects. We initially started with a project named Voices of Revolution, but it was such a difficult project, we decided to condense it in the following year. GRRRL has six female members: AWA, vocalist and rapper from Zimbabwe; Lei Di Dai, vocalist from Brazil; AFRODEUTSCHE, singer from Ghana; MABE, DJ from Venezuela; Laima Leyton, music director from Brazil; and me. We met up in London and worked together for two weeks, after which we went on tour and presented the songs we worked on. After the tour, we went back to our own countries, and then met up again for a new project. It's a still on-going project. This band is a way to portray feminist ideas in a fun way.
Rafi: Are you a feminist?
Sohini: Absolutely!
Rafi: It is seen that some people hesitate to answer this question. Why do you think that is?
Sohini: I think this is because there is still a debate on what feminism actually means. To me, to believe that women have equal rights as men is feminism. Some may say that feminism preaches that men and women are not the same, but no one is saying that. What I'm saying is that a woman working in a particular field should get the same pay as a man working in the same field. Feminism is not just going out and getting a job. I can be a homemaker and a feminist, but I have to be the one to choose what I want to do. No one gets to have a say in this except me. This is feminism to me.
Rafi: How did you start your own company?
Sohini: I had professionally started in music around 2006-2007. Then, around 2013, my friends Leesa, Filiz, Caitlin, and I decided to start a company. We had started working in theatre and were called for different plays where we worked on several projects together. During that time, we felt that if we did those projects ourselves, we could've presenting them a little differently. So, we decided to start Komola Collective to work on our own projects.
Rafi: How did you get associated with Akram Khan?
Sohini: When I was a child, my mother used to teach singing in Bangladesh Centre while his mother would teach dancing there. I have known him since then, but I didn't know his proper name. When I came back from the US, he was already a renowned dancer. My friend took me to one of his shows, Zero Degrees, and I was truly mesmerised. I still hadn't realised that it was him. Once the show ended, I saw his mother and she immediately recognised me, although it had been around twenty years. That's when it dawned upon me that he was the same man I knew. She suggested that we get reacquainted, but I felt that it wasn't the right time. When he was working for Desh, Leesa Apa was working as his consultant. She suggested hiring Jocelyn Pook. She also suggested hiring me to sing. I sang two songs for Jocelyn, and she sent them to Akram to see if he likes them. He loved them and decided on using them. Then only I informed him that it's me who had sung those songs because I wanted to work with him on my own merit, not through connections. He was very happy to know that it was me. He later offered me to sing live in his shows for Until the Lions for the next three years, and I agreed immediately. I also worked on Father with him and recently, I've worked on some projects with him for his 20th anniversary. I'm a part of his company now. The company is amazing, and the members are incredible. I love working with them.
Rafi: Are you planning on releasing anything soon?
Sohini: I love the concept of albums, so I'm trying to release an album from Khiyo next year. I hope we can accomplish this. I might not be able to release albums for every project. The record label I'm working with, Ark Music, releases a lot of music in the world music scene. We don't hear a lot of Bangladeshi music there, but I'm trying to change that. We could do that with Khiyo as our songs had listeners from many countries. By working with Akram, I could sing a Bangla song all over the world in front of large audiences. It made me feel very accomplished. This new album with Khiyo will feature a lot of ordinary Bangla songs. We founded Khiyo to present traditional Bangla music in new ways, but with time, we decided on introducing some ordinary songs as well.
Rafi: You released a rendition of 'Amar Shonar Bangla'. How did you find the courage to this? And how did you handle the controversy?
Sohini: When I made it, I didn't realise that it was something of courage. I was working on a play then with Leesa Apa based on Of Blood and Fire by Jahanara Imam. She suggested that singing Amar Shonar Bangla in a particular scene would help to portray it beautifully. Oliver and I were in agreement. So, we recorded a part of it for the scene. While doing so, we realised that it sounded quite nice, so we decided on recording the whole song and uploading it. I thought that only our friends would listen to it. I couldn't have ever imagined it gaining so much traction. I was in Bangladesh when everything went down. I was bombarded with messages asking me if I was okay and if I was handling it well. I was afraid at first. I decided to give some interviews to clearly establish that there were no ill intentions behind this and we didn't want to stir any controversy.
Rafi: The world is in a state or instability and societal despair. Where do artists stand in this? Can music be used as a form of protest and how effective is it?
Sohini: I think that we should protest in whatever way we can. We have seen these things for a long time, but we have tolerated them and kept quiet. The time for being quiet is over now. We should no longer tolerate the injustices we see. Everyone should start speaking up against these. Everyone has their own way of speaking up. So, they should protest in whichever way they feel comfortable. However, protesting isn't the ultimate way of creating change. We have to educate the people. If we're talking about rape, we only discipline the women on how to dress, how to act, when to go out, learn self-defence, etc. While this should be done for their protection, we should also educate the men on what behaviour is acceptable. I think that associating with women would be beneficial to these men because it would demystify women for them. It's natural to be fascinated by what we don't know, but that fascination should not be turned to something harmful. We should learn to give equal respect to both the sexes. I think this situation should be tackled by educating both sides.
Rafi: Do you have a final message?
Sohini: Thank you for being here. I appreciate each and every one of you. I had a great time talking today. I hope to come to Bangladesh soon and present my songs to you and also see the wonderful works done by the artists here. Thank you for having me here today.