A CLASSIC TALE
Prestigious Rabindra Sangeet singer Mita Haque began her journey into music at a very early age. A former student and now teacher of the famous Chhayanaut Sangeet Vidyayatan in Dhaka, she has won hearts of classical music lovers all over the country with her soulful performances. In this exclusive interview with Rafi Hossain, she talks about how she came to be and what it is like being a Rabindra Sangeet devotee.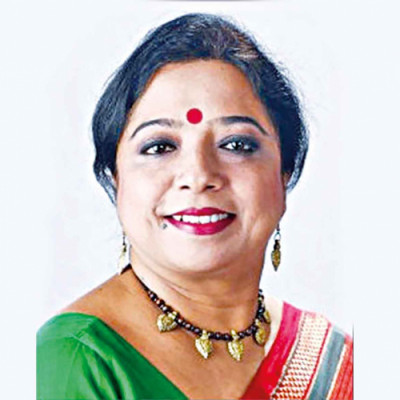 Rafi Hossain: Welcome to Uncensored with Rafi Hossain. Today, we are here with one of our favourite Rabindra Sangeet singers, Mita Haque. We are very happy to have you here with us. Many many congratulations on winning the 'Ekushey Padak'.
Mita Haque: Thank you so much, and thank you for having me here today. I want to thank The Daily Star and the readers as well. 
Rafi Hossain: Is it correct that Wahid Bhai played a large role in bringing you where you are today?
Mita Haque: Yes, definitely. He practically held my hand and brought me to the spotlight. He made me the person I am today. He helped me unlock the parts of me that were previously not as apparent. I understood my love for music, my specific genre of music, vision of life and love for my homeland through his teachings. Although I'm his niece, he considered me his own child. His vision was similar to my father's. Both my parents also supported me immensely throughout my journey. My father was very protective of me growing up, and didn't allow me to do certain things. However, Wahid Kaka talked to my father and broke me out of those constraints. He took me to Mymensingh for the first time to visit Nuru Kaka, a regular practitioner of Bangla music. Wahid Kaka took me to numerous remote places to visit and I realised how little of the world I knew. 
Rafi Hossain: Do think that we're quickly losing people like Wahid Bhai?
Mita Haque: Absolutely. We need to keep them alive, their words and teaching alive, with the deeds we do. Those illustrious ones that have died, I doubt we can find anyone similar in the generations to come. Such visionaries who had lived during our war of liberation had paved the path of our victory; at least I like to think so. 
Rafi Hossain: How and when did you associate yourself with Chhayanaut?
Mita Haque: This is quite an interesting story. When I was little, I used to listen to Chhayanaut's rehearsals at Wahid Kaka's house. I was amazed listening to those and decided that I wanted to sing too. So, I would sing some songs that I knew while the others would accompany it with their instruments. This was my first interaction with Chhayanaut. My parents would also take me to their events and performances. Once I was enrolled in Chhayanaut, I did a few classes before becoming complacent. Then, my father attended a performance of Abha Alam and was mesmerised. He requested Wahid Kaka to find a music teacher for me. He found a tabla player for me who was also a very knowledgeable singer and had a melodious voice. I didn't go to study at Chhayanaut anymore, but I would go to visit a lot. Perhaps, my musical education didn't stem from the institution, but I was taught by its people. Wahidul Haque and Sanjida Khatun taught me music. I was taught to sing the songs of many renowned singers. Many such singers held workshops there too. I used to attend those workshops, so my bond with Chhayanaut isn't only skin deep. At some point, I joined as a teacher there. I used to teach a few classes in the past, but I only teach one now.
Rafi Hossain: You have also sung many group songs at the beginning, correct?
Mita Haque: I have sung many. I used to do Khelaghor and later go to Rabindra Sangeet Sammelan Parishad. Those simply mean collective music. When I did Khelaghor, I went to attend the International Children's Festival in Berlin in 1974 with Panna Bhabi as our team leader. Perhaps, my favourite memory of that place is when teams of other countries would wave at us and say, "Hello Bangladesh. Sheikh Mujibur Rahman." It was wonderful to hear his name on the lips of children and realise just how far his fame had reached. Unfortunately, we stayed there for a mere eighteen days: we could neither attend the inauguration nor stay until the end because the rest of the children wanted to go back home. 
Rafi Hossain: That is a very big achievement to have sung in an international event. Do you have any other memory you look back to similar to this?
Mita Haque: When Bangabandhu was awarded the Julio-Kuri Award, many children's organisations were going to honour him. I was given the honour of reading the certificate to him, but I was very short back then. So, a couple of people lifted me up towards his chest and I read it to him. This is a very happy memory.
Rafi Hossain: How did get introduced to Jubo Da?
Mita Haque: I heard that there is this person at Nagorik who sings and acts very well. Then, one day, I went to my grandmother's place and he was there. So, my grandmother introduced us, but we didn't see each other after that. Then, we saw each other again at Jatiyo Rabindra Sangeet Sammelan Parishad and we talked a little. That night, I watched a drama of his, and was mesmerised by his acting and the drama as a whole. Then, we decided to sing at Wahid Kaka's house one morning, and basically, that is how it happened. I could understand that he was interested in me by his actions, but he never directly told me anything. I was also quite confused whether or not to accept him. I was encouraged by others to say yes. One day, I called him and invited him to my birthday to sing with us. That's when it was finalised, but we never directly said anything. We started spending time together after that, and got married in 1985.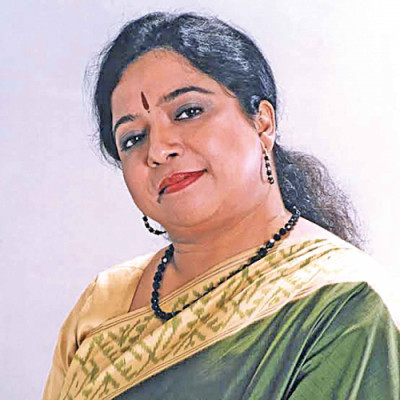 Rafi Hossain: Early in life, you must have seen music and Rabindra Sangeet through the eyes of Wahid Bhai, but later, learned to see it through your own eyes. Can you talk about that?
Mita Haque: Wahid Kaka definitely made me view such things in a certain way. When he used to teach me a song, or read the lyrics from a Rabindra Sangeet and tell me the meaning, it almost felt like I could see Rabindranath in front of me telling me these things. After growing up, I find myself seeking a safe haven in Rabindranath and his songs.
Rafi Hossain: Your grasp of Rabindra Sangeet is non-paralleled. Do you have a specific type of songs you like to sing the most?
Mita Haque: I generally like all kinds of Rabindra Sangeet. Up until a certain age, I loved singing songs of worship the most. I still love it. When I attend an event where I have to sing all the songs, I usually start with songs of worship or songs of the homeland.
Rafi Hossain: Sometimes, we hear someone sing something perfectly, but it still fails to touch our hearts. Why do you think that is?
Mita Haque: If a singer sings every note perfectly with a melodious voice, the only reason it wouldn't touch the audience is that it failed to touch the singer in the first place. If they understand the story in the song and present the song with that understanding, it will definitely resonate within the audience. They have to feel the song and fall in love with it.
Rafi Hossain: Rabindranath had a unique view of life. Do you think his work leaves an impression on the artists who expertise in his art form?
Mita Haque: It should leave an impression, and I think it does, at least to some extent. Imagine a banker who is extremely devoted to Rabindranath and Rabindra Sangeet. He learns the songs by heart and completely immerses himself in Rabindranath's works. However, he can't financially sustain a family like that, so he lives alone. If he were to work harder to support a family, he wouldn't be able to be as devoted to Rabindranath. Real life doesn't allow for that to happen. Family life and utter devotion to Rabindranath don't go hand in hand. If one wants such, they need to be in a group where they can discuss their likes and experiences in this regard.
Rafi Hossain: Do you have any unfulfilled desire?
Mita Haque: I want to teach my students everything I, myself, have learnt and will learn before I depart. I get so many requests from Kolkata to take online classes, but I can't because of my physical condition right now. I have some kidney damage which requires me to do dialysis. I want to see my younger brother in a good place and see my daughter happy. Finally, I want to keep on being a teacher for as long as I can.
Rafi Hossain: Do you have a parting message?
Mita Haque: I want to encourage all to think about our country. There is chaos and lawlessness all around, so I would request everyone to be good citizens and maintain the rules and regulations of our country. I would also like to add that we should all take care of our neighbours. 
Rafi Hossain: Thank you once again for giving us your time today.