PORI IN LOVE
Thousands of hearts were broken when Dhaliwood's most sought after actress Pori Moni publicly announced her relationship with RJ Tamim Hasan on Facebook.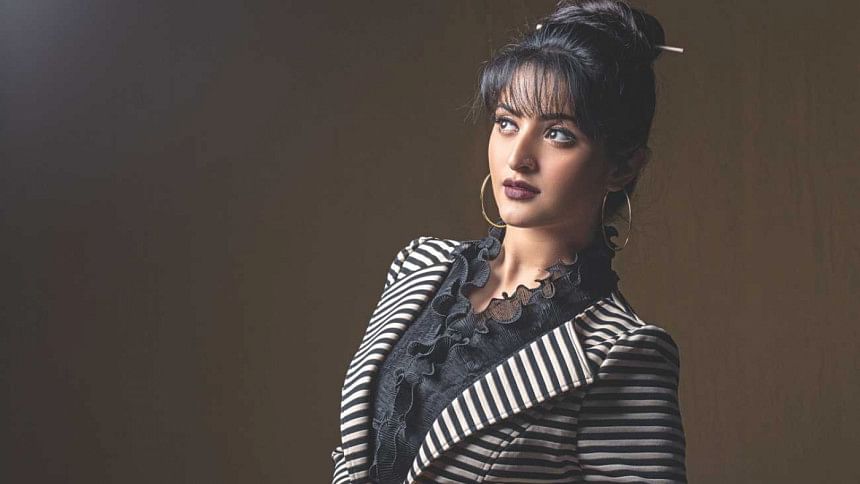 Seems like Pori Moni is not single anymore! How does it feel to be in love?

The feeling is incomprehensible; it's like nothing I've ever felt before. But at the same time, it's a part of my life now. 
When can we expect you to get married?

(Laughs) Let me fulfill my love life first! It's really too soon to say anything about that. I need to experience love to its fullest before thinking about tying the knot. 
You have been busy with countless film offers ever since you debuted. How does that make you feel? 

I am just grateful that producers, directors and the audience have so much faith in me. I have always given 100 percent in whichever role I have worked in, and have been rewarded for it. When I act, I try my best to make that character feel real.
Is "Pori Moni" your real name, or do you use this name for cinema?

(Laughs) Why wouldn't it be my real name? My grandmother's name was Pori Bibi, and I have been named Pori Moni inspired by that. I have been asked numerous times by some producers to change my name, but I would never do that.
Does the tag "Pori Moni" get a lot of hits? What's your secret behind staying relevant?

People tend to react to negative content more. However, I am elated that whenever something like that comes up, I can overshadow it with all the good work I do. I have gotten so much love from my fans, and I feel like I have a responsibility to give back to them. I do that via my films.
What do you consider before you sign a film?

I'll be frank. I had been misguided a lot in the beginning of my career because I had signed films without thinking twice. Now that I am moderately experienced, I am a lot pickier about my films. I believe presentation matters a lot in a film, and that depends on the cameramen and the director. If they are skilled enough, you won't look vulgar even in a bikini. Just take our neighboring country as an example. If someone's legs look fat in a poster, it has to be edited in a way that it does not look too uncanny. I always try to choose projects that take care of the subtle things.
Who are your idols in the world of films?

Shabana ma'am and Shabnur Apu are my idols. Suchitra Sen is my other dream idol. Whenever I sit in front of the mirror I wish I could dress up like her; be like her, if possible.
---
---
What roles do you want to play as in the future?

I really want to play the role of any female character in Rabindranath Tagore's novels. I have read almost everything he has written. My bookshelf is full of his writings. I even start my day with Rabindra sangeet. 
Could you tell us something about you no one else knows?

I sometimes cook at home, and I can cook just about any Bangladeshi dish. I can also cook Chinese.
What is your opinion regarding the film industry so far?

In the two years of being a part of this industry, I have seen many people who kept cinema houses running with their words alone. Nowadays those people can't be found anywhere. I don't ever want to cause any misunderstanding. I want to keep on moving forward with love from everyone. I won't ever let pride get the best of me.
Interviewed by 

Zahid Akbar

Transcribed by

Sadi Mohammad Shahnewaz