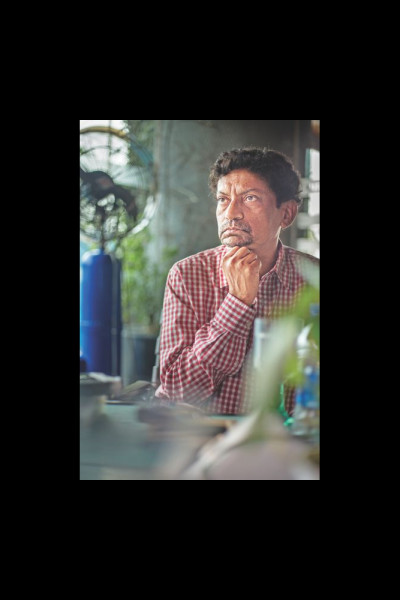 Recently, at the official release of "Shankhachil" in Dhaka, the event was graced by the presence of the director, Goutam Ghose. Showbiz was granted an exclusive one-on-one with the director and we are delighted to bring his views to our readers.
After the much anticipated release of "Shankhachil", what is your opinion about the audience's reaction?
The audience for "Shankhachil" was quite large and given the fact that today's audience will not dedicate their full attention, unlike the good ol' days, because of the constant urge of checking their smartphones for notifications, I was stunned to observe the pin drop silence, which indicated that their focus was on the big screen and not on the screen on their palms. I have tried to portray an allegory through the film, inspired immensely by true events. I hope it will continue to entertain the audience. 
Who has conducted the photography for this film?
Usually I do the photography myself, but in this case, it was my son Ishaan Ghose. I decided to grant him the responsibility since he put in every drop of blood, sweat and tear behind this project. After working with me for the last few years, this was his debut under my supervision.
With your array of artistic skills with the camera, directing and acting, which of them tends to draw your attention the most?
Acting is not my thing, even though I have tried my luck at it. However, I prefer to bring out the "actor" in others through my direction and I very much enjoy that. Ever since my first film, I have always dealt with the photography and direction. I believe they both go hand in hand. Thus, even before a scene is shot, I can picture it as a photograph and that in turn helps me direct it.
Despite the current popularity of international films, why do you think Bengali films, and cross border co-productions, are not gaining enough attention in the circuit?
In this ocean of cinema, Bengali film is a small fish. In order to survive and swim with the big fishes, and perhaps morph into one, there are certain things that need to be taken into account. We the film makers, have to look at the concept of Bengali film as a whole, not Indian- Bengali or Bangladeshi-Bengali, but as one window of Bengali cinema. Another problem in co-production is the currency, which cannot be exchanged officially and that poses a critical threat. Both the producers want to spend based on their individual regions (Kolkata and Dhaka), but a script cannot be built upon that as a foundation. I have experimented with that theory in "Padma Nadir Majhi" by allocating the shooting locations between both the Bengals, so as to disperse the cost. Such was the case for "Moner Manush" and "Shankhachil" as well. Even though I have managed, it is not always feasible. We should create a common kit so as to exchange the cash by both parties to cover the costs equally. If that can be established, I believe we can avail from the immense potential Bengali cinema possesses.
The major success behind Hindi cinema is because they release their movies in theatres worldwide to satisfy the needs for the large expatriate Indian communities in most major cities, thereby allowing more exposure to the foreigners as well, which is likely to fetch higher revenues. Of course, certain procedures and regulations must be met, but if we could abide by and proceed likewise, I can predict a brighter future lingering at the horizon of Bengali cinema.
Interviewed by Rafi Hossain & 
Narrated by Minam Haque