What Dhaka Lit Fest 2015 Offered
Dhakaites, while still immersed in the mystique of folk music, had another treat to feed their hunger for arts and literature. Dhaka Lit Fest 2015 united all kinds of readers. The spacious Bangla Academy premises wholeheartedly embraced not only the readers but also over 60 authors and thinkers from 12 countries.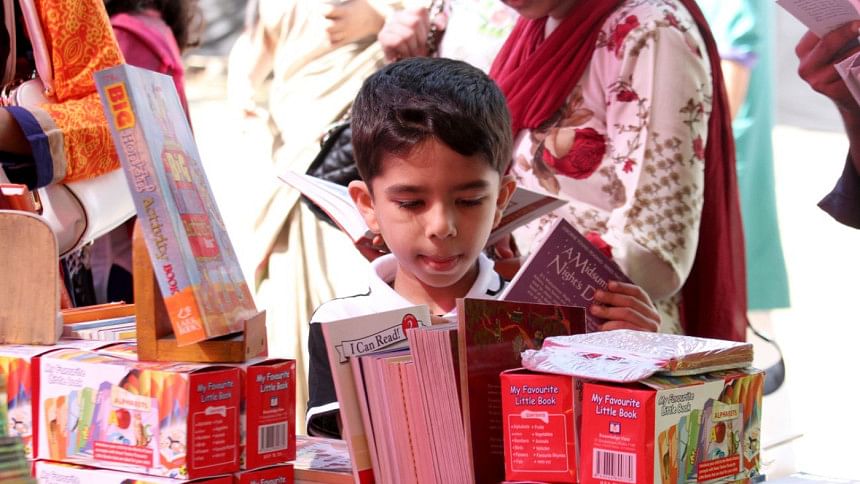 Better than Fiction 
After being in literary heaven for three days (November 19, 20, 21), I can't help but go over a few sessions which garnered huge appreciation from the attendees. On the first day, a session on Rabindra Nrityodhara left me mesmerised. Choreographed by Sharmila Banerjee, the session highlighted the evolution of the dance form created and nurtured by Rabindranath Tagore. Through simple lyrical representation, as Tagore preferred, talented artists led us through the journey.
Being a feminist at heart, my most favourite session of the entire festival was A Conversation between the Sexes – presided over by WOW founder Jude Kelly and veteran journalist Jon Snow (who, contrary to popular belief, knows a great many things). Their admirable sense of humour engaged the audience in fundamental discussions about equality and the changing circumstances, confronted the issues of men having to carry the societal pressure of being the "superior one" which results in depression/suicides and addressed the outcome of equality. Jude Kelly explained that equality is feared by many due to the flawed notion that women will "take over" the higher positions in power structure whereas, as she said, equality should arise as natural justice without the expectation of a world where things will be better because of women entering the power structure.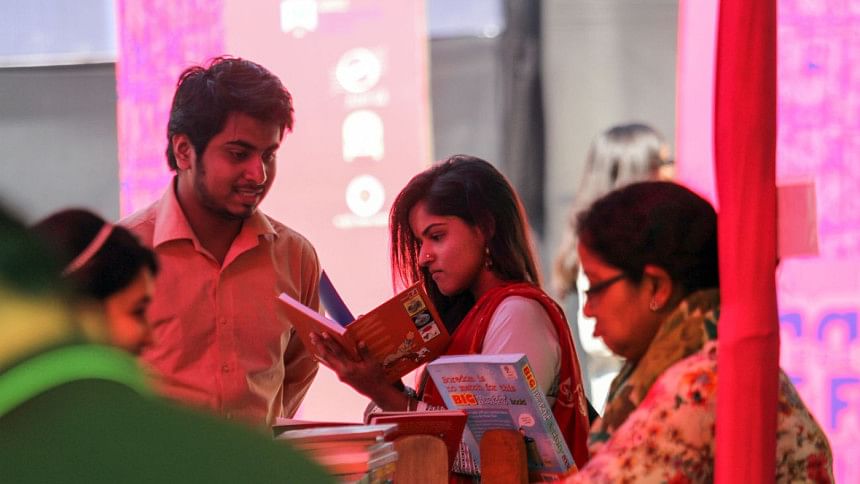 The second day of the festival was equally remarkable if not more. I had gotten used to bumping into writers, journalists and musicians by then. At A Multiverse of Ideas, four authors from four countries graced the stage. Cuban science fiction writer and rock star, Yoss, broke the lit-nerd stereotype by showing up in his full-fledged rock star attire (camouflage pants, sleeveless black tee, boots and bandana, in case you were wondering). The writers told us why they feel compelled to write about alternate universes when we ourselves are so close to having a technological utopia. Lively discussions were had on subjects ranging from dystopia, post-apocalypses, magical realism, hidden allegories and how science fiction had existed since the era of George Elliot and Jonathan Swift. "As people grow up, they become prejudicial against made-up stories and prefer those which are closer to real life whereas the latter ones are also made up in a sense," said novelist Marcel Theroux about the acceptance of science fiction among adults.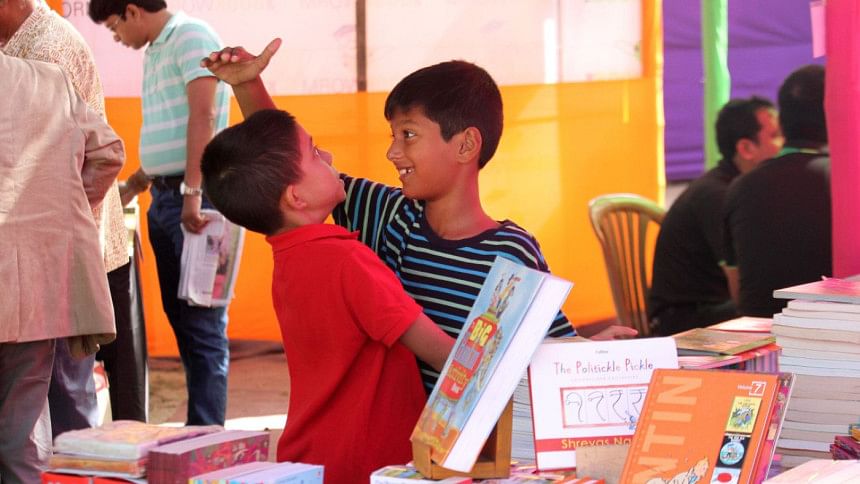 In another session that day, the readers enjoyed an eye-opening speech by Chinmoy Guha on the "impossible project" every translator undertakes when they sit to transform one language into another while struggling to preserve the author's originality. "Even though they make foreign literatures accessible to the world, they are never recognised or loved by readers," Chinmoy Guha described the tragic fate of these underrated literary figures.
Diverse discussions by panellists from home and abroad were on the menu on the last day of DLF as well. In Gandhi before India, subcontinent's leading historian Ramachandra Guha charged up the entire audience through an animated dialogue about Mahatma Gandhi's morals and ideals.
I got to enjoy another session called Feminism: The Next F Word by the brilliant Jude Kelly who was accompanied by Shobhaa De, Urvashi Butalia and Tasaffy Hossain. The panellists explained that feminism was never intended to create hostility towards men but to simply neutralise the power structure which holds men on the highest positions. Urvashi Butalia rightfully concluded that our feminism is much different than that of the West's, it's home-grown and doesn't abide by theories.
There comes two times every year when you're allowed to show off your bibliophile side proudly. While Ekushey Boi Mela exclusively highlights our local writers and publications, DLF focused on converging viewpoints from the writers of various cultures and geopolitical realities. Leaving the booklovers craving more, the festival adorned with great music besides literary debates, clearly entitles the organisers to have a round of applause for perfectly pulling off a Herculean task.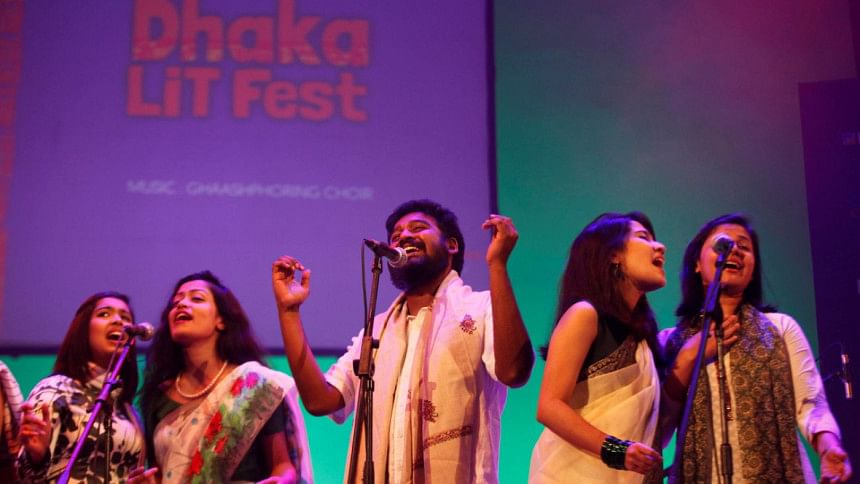 ---
Rediscovering the Inner Bookworm

AANILA KISHWAR TARANNUM
Conducted in various sessions with renowned cultural activists, journalists and literary personalities, this event helped me gain valuable insight on a range of topics, and it even made me interested in finding out more about things that I had previously given very little thought to. I went to my first session on the second day, where authors Ikhtisad Ahmed, Mahesh Roy and director Sandip Roy discussed all there is about short stories. Being a devoted fan of short stories, I loved this discussion on how stories should leave the reader with a lingering feeling of incompleteness – and that is when you know that a story is good.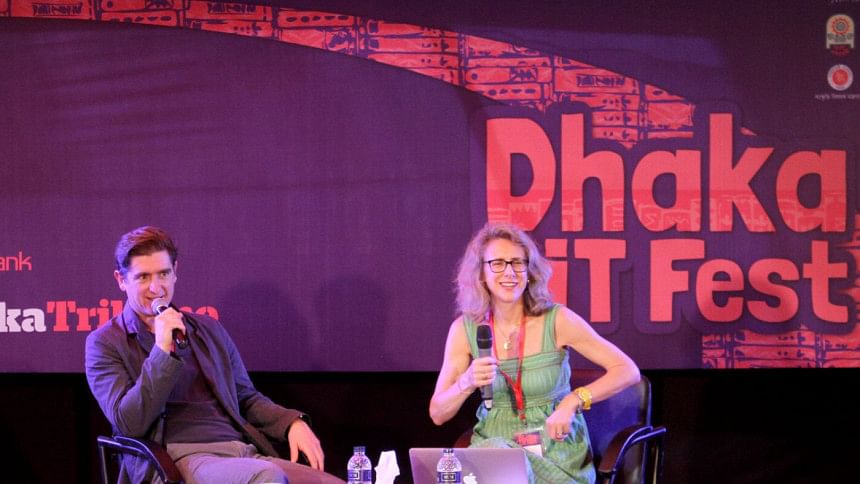 Following this I attended another talk on one of my most favourite areas of literature – Sufism. This was a session with Farrukh Dhondy and Arvind Mehrotra, who respectively translated the poetry of Rumi and Kabir. Mehrotra exudes an aura of aged brilliance, and the audience was stunned by his enchanting narration of the mystical poet Kabir's life and his recitation of the poetry written by a man who was obsessed with death. Dhondy, a charismatic man who first felt the need to translate Rumi's transcendent works after he came across a horrible American translation, explained how Sufism is about closeness to God, about a battle against one's own spirit. He read out the most remarkable, yet lesser known works of Rumi; and I was not surprised (only very sad) that his book had been sold out already.
A panel consisting of Jude Kelly, Nishat Majumdar (the first Bangladeshi woman to climb Mt. Everest), journalist Munni Saha and entrepreneur Sabrina Rahman was in session as part of the Women of the World Festival. Four remarkable women, each successful in their respective fields, told stories of how they became what they are today.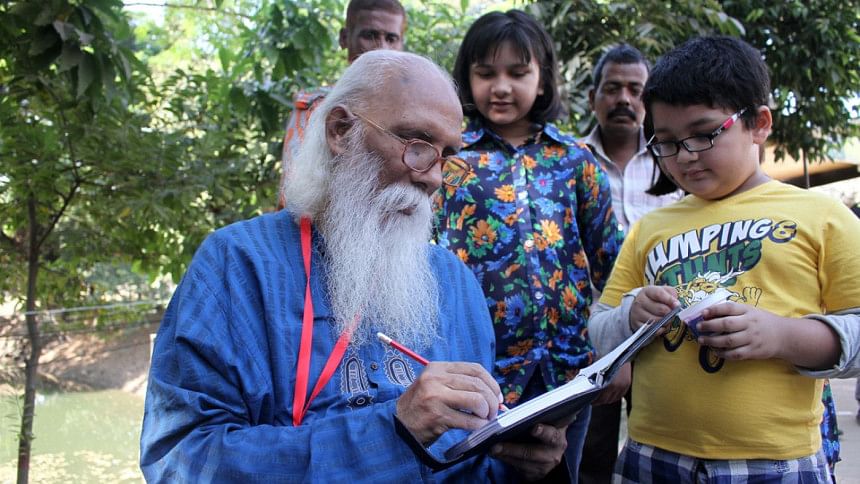 "I had a harder time overcoming the battle against myself, because at one point I'd started believing that I wasn't good enough," said Majumdar. Their struggles against our societal and cultural setting are stories of every Bangladeshi girl. As the day rolled into twilight, Armeen Musa's soulful music and poetry kept the visitors enthralled.
On the final day of the festival, British journalist Jon Snow talked about his lifetime of experiences in the field of journalism, shared his views on current world affairs, and how journalism has evolved.
"I personally feel that this is the golden age of journalism. Technology has given us the resources to make sure that news reaches every person in this world within minutes of being filmed," he said. When asked if he thinks that journalists should be emotionally detached from the stories they report, he replied, "No, I feel it's important that one never loses touch with his humanity. It is important to cry. It is okay to cry."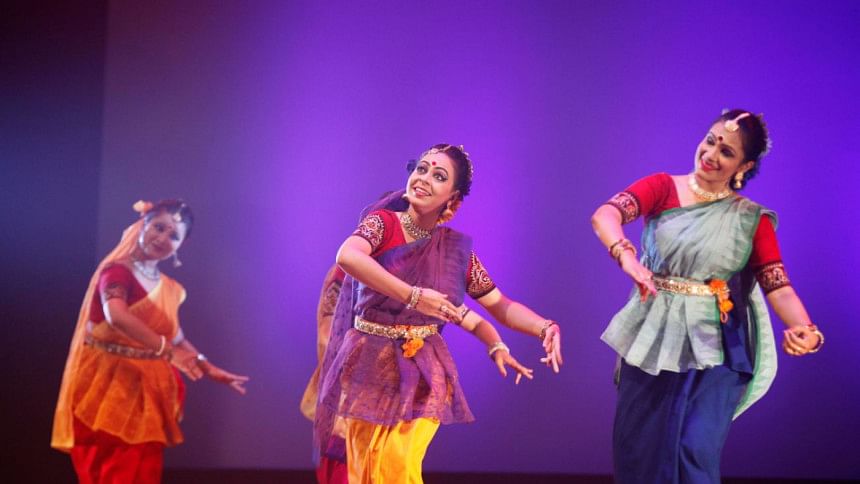 What I truly loved about Snow was his humour – he didn't mind Game of Thrones jokes, rather made those jokes himself. He made a point to mention that he has, indeed, interviewed Kit Harrington, the fictional Jon Snow and said, "You know nothing" to him.
"Ampersand: A Spoken Word Performance" was the last session I attended at the festival. Having heard so much praise about this group of poets, this one was a highly anticipated piece, and I was not at all disappointed. Each poet brought to the stage different poems on different themes, each of them brought a unique style of recitation. They put a lot of heart into their work, and all of their efforts paid off, as they received wide acclaim from the crowd.
While DLF could have attracted even more people had there been more sessions involving Bangla literature, there's always next year. For a person who finds literature to be the one pure source of joy in this world and could keep talking about books without ever getting tired, Dhaka Lit Fest was a truly wonderful experience.
Dhaka Lit Fest 2015 was produced by Jatrik and hosted by Bangla Academy. Dhaka Tribune was the title sponsor and City Bank was the platinum sponsor. The Ministry of Cultural Affairs was the special partner of the event.