Old School Cool: Anime Version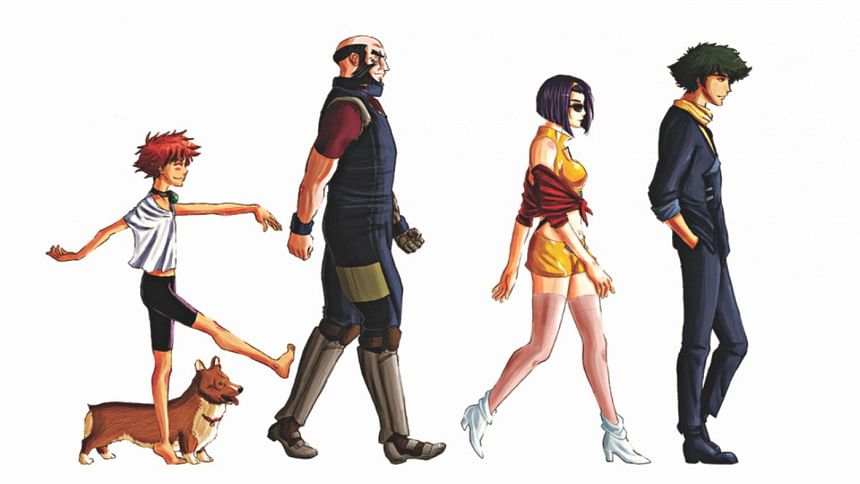 A lot of us, 90's kids, grew up with the infamous Cartoon Network's Toonami and Adult Swim. They had all kinds of shows that we hold dear to this date; some for the sake of nostalgia and some for their utter greatness. Whether you watched them on Cartoon Network or not, here are some widely acclaimed anime classics that you should feast your eyes upon at least once in a lifetime. 
Cowboy Bebop 

Directed by Shinchiro Watanabe and animated by Studio Sunrise, Cowboy Bebop was one of the first ever animated series to embrace the Neo Noir style in all its magnificence. Set in a world where humans have colonized the stars, the 26-episode series tells us about the bizarre and hilarious space adventures of Spike, Faye, Jet and Ed, a group of bounty hunters. The main plot, however, mainly focuses on Spike Spiegel's past and his fight against its ghosts. Heavy with jazz, blues and rock n' roll, the show explores intricate themes of existentialism and other branches of philosophy. It's a classy and delightful approach towards space and music, bundled with some amazing characters and stories that stay with you forever.  
Trigun 

If anything rivals Cowboy Bebop as a space anime, it is Trigun. Though unlike Cowboy Bebop, it does not entirely take place in space itself. The story follows Vash the Stampede, who has a huge bounty on his head because of the havoc he wreaks wherever he goes. As two insurance officers pursue Vash to prevent him from demolishing important buildings and structures, they become a part of his adventure and soon begin to admire his personality. The story eventually unfolds the mystery of Vash's enigmatic existence that links to a distant past of the people living on the planet Gunsmoke.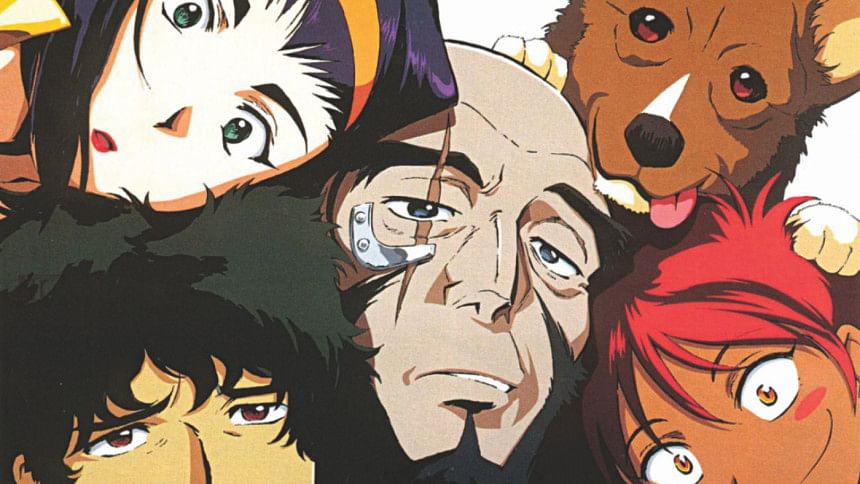 Neon Genesis Evangelion 

This controversial 80's masterpiece was directed by Hideaki Anno and animated by Gainax, a studio renowned for making complicated shows. As the title suggests, this series is heavy with religious symbolism and ends in a very ambiguous way. It is set in a post-apocalyptic world where humans are constantly attacked by mysterious beings called "Angels." Shinji, a 14-year-old boy is forced by his father to pilot an Eva, a robot designed by NERV - an organisation that defends the world from the Angels. As a psychological thriller, the show ventures deep into the labyrinthine mental condition of each of the characters and the story takes insane turns as it nears its end. Because of surprisingly low budget, the show itself could not put forward the desired ending and the plot was continued into a sequel movie, called the "End of Evangelion". 
Rurouni Kenshin

Adored as a historical classic all over the world, Rurouni Kenshin or Samurai X reflects on the journey of Himura Kenshin, a former Samurai assassin who now abhors killing and vows not to kill. He wanders around Japan, helping people as a part of his journey of redemption. As Kenshin's past and future merge, he's forced to battle against more obstacles for his friends' and country's future. Unfortunately, the anime was cancelled before it could catch up with the manga. I would recommend picking up the manga after being done with 70-ish episodes of the series. 
Yu Yu Hakusho

Written by Yoshihiro Togashi, the man behind another legendary series called "Hunter x Hunter" and animated by Studio Pierrot, Yu Yu Hakusho is one of the earliest gems of the Shounen world. Full of demons wandering around the streets in 90's clothing, Spirits bringing back the dead to the living world, Pacifier-sucking rulers and the early 90's vibes, Yu Yu Hakusho is a classy tribute to your childhood fairytales and ghost stories. It is a must-watch for all retro anime lovers out there.
Serial Experiments Lain

Different in every way possible from all the anime mentioned above, Serial Experiments Lain is a wonderful and celebrated take on the genre of avant-garde in the media of animation. It centres on Lain, a lonely teen and computer genius who slowly uncovers the messed-up secret behind her own existence. This cyberpunk horror is comparatively unpopular among ordinary viewers, but deserves more popularity for its unique art style, soundtracks, animation and its deep exploration of virtual reality and consciousness - which sparks terror and amusement in you at once.
The writer is a student of Viqarunnisa Noon College, Dhaka.