Never too old for Disneyland - Paris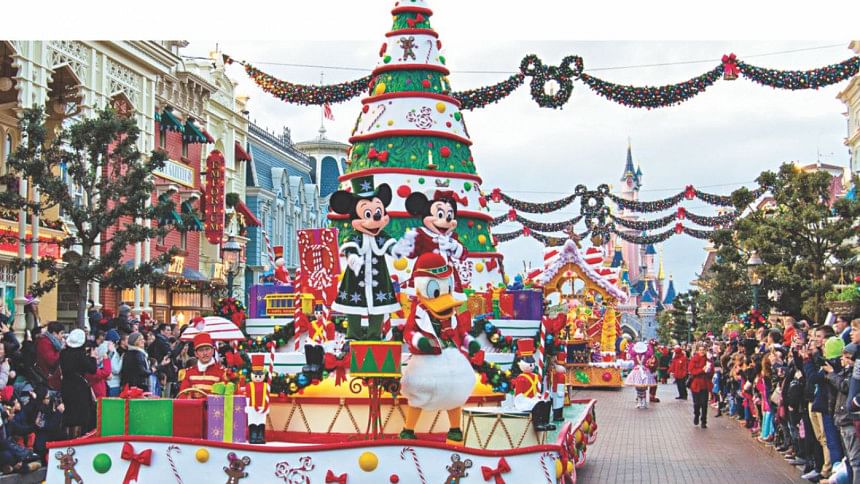 Holidays are a time of happiness. During winter at the end of year, when the warmth of family and friends take us back to childhood, it's also a time of magic. And magic, as everyone knows, is done best by Disney.   
I'd known this since my first visit to Disneyland Paris as a 6-year-old. But it was nice to have that faith reaffirmed, 18 years later, on my trip to Disneyland Paris on Christmas Day this winter. 
I'd remembered walking into Disneyland with awe all those years ago, amazed at all the colour, movement, music – the sheer magic around me; this time was no different, if not better. Mickey welcomed me with arms wide open, standing atop a bright purple plaque at the gates bearing the Disneyland emblem. 
After going through brief but stringent security inspections, I walked into the vast Main Street USA lined on either side by festive-looking shops, arcades, bakeries and ice cream salons. The iconic Mickey-shaped garlands hung covering the street and a thistle-adorned Merry Christmas greeting crowned the entrance. 
I'd left Disney village and Disney Studios behind me by then and gone into the park. Gardens making up the shape of Disney characters lay covered in gleaming white snow; fairy lights and candy-canes sprinkled the sides of streets and statues of Minnie Mouse posed here and there. Every corner rang with cheerful music. The Sleeping Beauty Castle, Eiffel Tower to Disneyland's Paris, rose up in view, making me believe once again that I'd entered a kingdom that manufactured happiness. 
I couldn't wait to enter the castle that told Sleeping Beauty's story with its many rooms, displays, and glass-painted windows. Stopping short at the entrance, however, I noticed what they'd added to it – a smaller, sinister looking entry-way at the foot of the castle that seemed to lead into darkness. A wooden sign hanging beside it read "La Tanière du Dragon" or "Dragon's Lair". That's right. An underground dragon.
The lair was dank and dark with narrow, twisting passages. Inside it, a gigantic dragon lay behind a pond that glowed green beneath stalactites and stalagmites. With eyes that glowed a dirty yellow, a head and spiked wings that rose and fell and a mouth that opened ominously (unfortunately not to breathe fire), the dragon sat tied down with the shackles from its defeat at the hands of Prince Philip.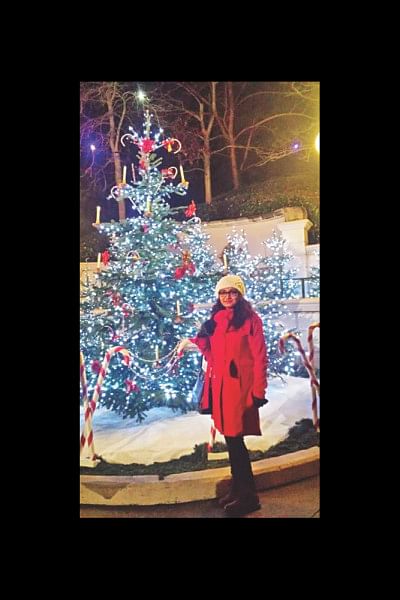 Disneyland Park is divided into 4 lands, each with its own set of themed rides and attractions: Fantasy-land, Adventure-land, Frontier-land and Discovery-land. I went on to explore more of Fantasy-land, full of attractions like Meet Mickey, Alice's Curious Labyrinth, the Princess Pavilion, Mad Hatter's Teacups, Pinocchio's Voyage, Dumbo The Flying Elephant, etc. 
Peter Pan's Flight took us on a ride that soared above London's rooftops, amid black skies that genuinely seemed to dance with a thousand stars and through pirate ships with evil jeering men. "It's A Small World", my personal favourite was a boat ride through the oceans of the world, where children (dolls) from every culture and country sang in unison, each with their own instruments and clad in their traditional clothes. The entrance and exit welcomed us and bid us farewell in every language – including "Shagotom" and "Biday" in Bangla. Using a song that we're all familiar with from toys or jingles, and attractions that burst with more colours and shapes than I could've imagined, the ride conveyed a beautiful message – that though in different beats and words, we all sing the same song - it's a small world after all.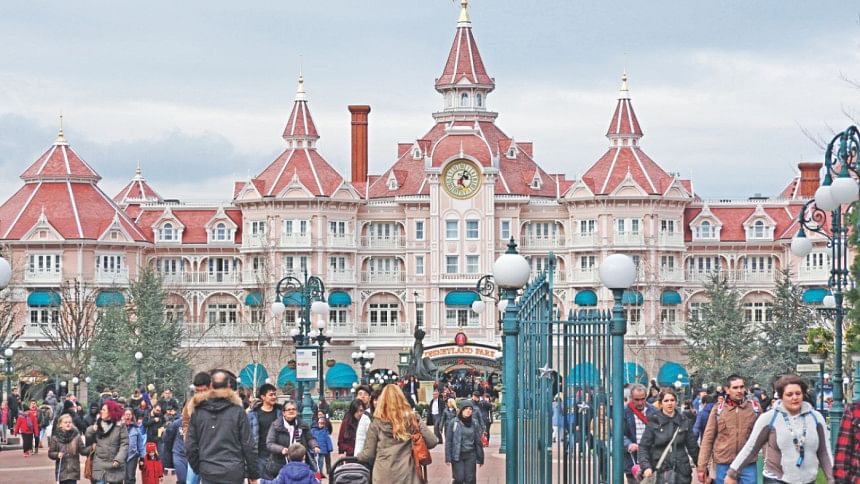 Adventure-land, as the name suggests, is a place for those with a taste for thrill. Despite its many attractions like Robinson Crusoe's Cabin, Aladdin's Enchanted Passage and Indiana Jones' Temple of Peril, the Pirates of the Caribbean ride takes the crown. Taking its passengers through a themed area that actually feels like an ominous bay waiting to be attacked by pirates, the ride splashes its way through dingy waterways and tunnels that drop and slope up, where glittering treasures lay in abandon atop trunks, prisoners cackle from behind bars and pirates fight with enemies and mates. 
Frontier-land hosts scarier attractions, such as the coalmine containing a dangerous roller coaster known as The Big Thunder Mountain. But I went for the Phantom Manor instead. Passing through rusted fountains and wild, overgrown trees, I entered the dilapidated mansion as wolves howled far away. We gathered in a Victorian-looking room where the lights went off and a maniacal laughter rang out as the floor began to descend. Taking my seat for the actual ride, I made the mistake of making eye contact with the spooky man guarding the entrance. He stared as my seat approached him; a split second before the ride began, he held my seat, bent close to my face and let out an eerie cackle. The train of chairs made its way through the haunted mansion, swinging precariously from side to side and turning upwards altogether when we descended into lower storeys. Frightening beings of every kind – beheaded villains, vampires, witches and beastly creatures – cackled and screamed along with ghastly music. We seemed to fly from floor to floor; before exiting, we passed a line of mirrors that showed glowing skeletons hugging the backs of each of our chairs. 
Disneyland takes days to cover, and my one-day trip was far too short to visit everything. I missed out on the more sci-fi based rides of Discovery-land, as well as the attractions of Disney Studio. 
Once the sun set, the park sparkled with twinkling lights. The turrets of the castle shimmered with blue glitters that seemed to dance; rooftops and garlands strung across the streets lit up in gold. An hour after the Christmas parade that got an excited "Peter!" and "Simba!" from nearly every child present, the crowds gathered at the Main Street USA that boasted a gigantic Christmas tree. Dancers appeared on stage, performing to Christmas carols and when the music (and excitement) reached its crescendo – the three most eagerly awaited attractions finally made their appearance.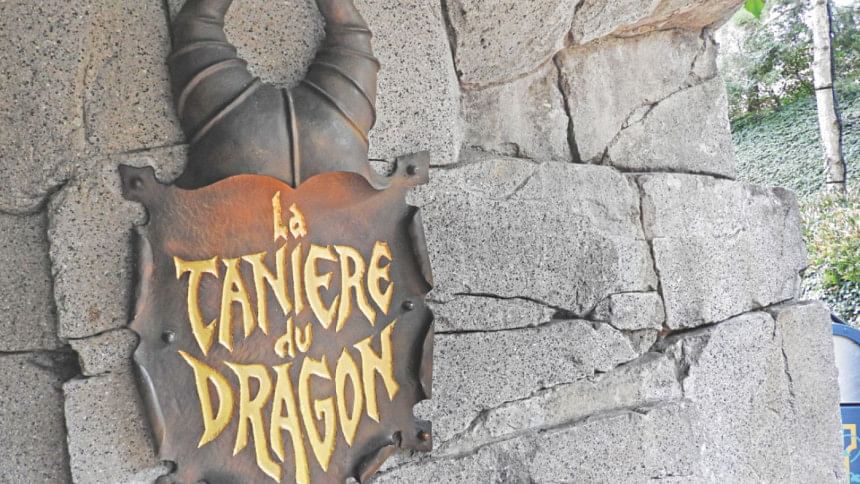 Mickey and Minnie danced onto the stage set in front of the Christmas tree. They jumped, they sang and they called out to the audience, as kids and grown-ups alike screamed in joy. But it seemed that there was more to come! Mickey announced the arrival of our guest of honour – and who might that be? With a jingling of bells and his jolly "Ho ho ho", Santa Claus climbed the stage to wild applause. Mickey, Minnie and Santa held hands and lit up the Christmas tree, screaming "Merry Christmas!" in unison. A chorus of Jingle Bells rent the air. The back of the Christmas tree flared up in a shower of sparks and – with the kind of magic only Disney is capable of - snow began to fall. 
If you think that was the highlight of Disney's Christmas celebrations, you're wrong. The entire park seemed to prepare for Disney Dreams. Gates closed up, children climbed their fathers' shoulders and a crowd of thousands gathered in front of the castle. At 10 pm sharp, the castle lit up with a laser show I'll remember for the rest of my life. 
Olaf appeared to conduct Disney Dreams, wondering out loud "What does a real holiday celebration feel like?" In answer, every Disney character burst forth one by one to sing and dance against the walls of the castle, before an unimaginable kaleidoscope of lights spelt the word "PEACE" on the castle. When the show neared its end, the music and colours reached their peak. The sky exploded in a shower of fireworks that drenched the entire park in brightness. 
Disneyland Paris bid us adieu as the fireworks continued to sparkle. Dazzled speechless, a throng of thousands made its way back to the gates, back to the real world. It had been a long and tiring day – my muscles were in agony from the endless walking and my hands and feet were numb from the biting cold and the lunch I'd had in the rain (a story for another day). Yet, it was the most magical twenty-four hours of my life, and I'd relive them a thousand times if I could.
Sarah Anjum Bari is a ravisher of caffeine and prose, with a heart that lives in Parisian cafes. Reality checks to be sent in at [email protected]