TV's Best Sci-fi Right Now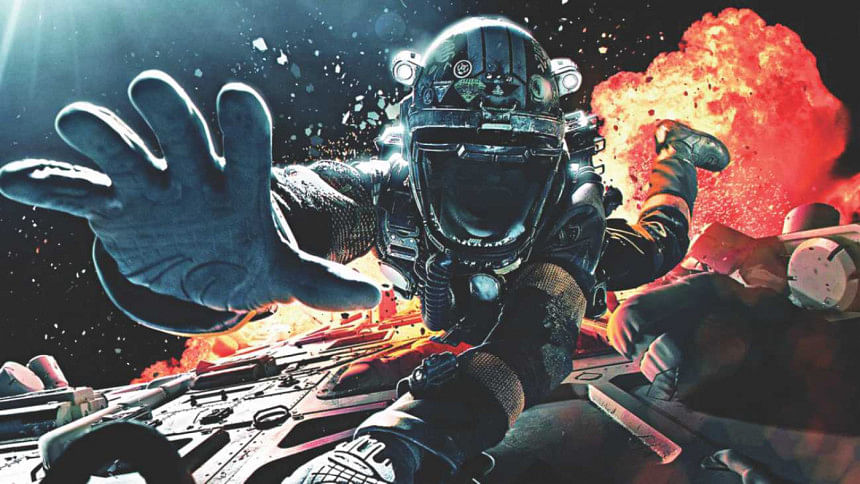 There is little in The Expanse's cold open of a lone woman in a spaceship having a nightmarish encounter that indicates it is the start of something remarkable. This show from Syfy is that rare thing: a respectful TV adaptation of hard, intricate science fiction. It's also pretty damn good.
The set-up is straightforward and by the standards of science fiction amusingly mundane. In the nearish future the UN has formed a world government, but unfortunately has steadily antagonised its Martian colonists to the point where the two planets have been on the brink of war for generations. Caught between these powers are the inhabitants of the many small moons, space stations and asteroid belts – collectively these space dwellers, living without gravity, are the Belters. 
A sci-fi story that takes place exclusively in our solar system – and that too in the closer planets? No one skipping from system to system in an afternoon? That's the philosophy The Expanse adheres to. Real physics triumph over handwaving, and this permeates throughout the series from its surface aesthetics (no artificial gravity, people use magnetic boots) to its actual plot. There is a skill to wringing tension and drama out of gravity, velocity and orbital patterns, and the writers of The Expanse have it in spades.
The commitment to realism creates a setting that feels alive, and characters who feel grounded in the world. This is partly a show about fancy technologies and concepts in physics, yes, but these elements are there to produce the political context – which in turn breeds the characters and plot. The Expanse definitely has some of that Game of Thrones appeal with its tricky, opportunistic politics and likable cast.
The Belters are deformed, disenfranchised and resentful of being treated like the solar system's proletariat. Most of our main cast are drawn from their ranks and are caught in the struggle, by choice or happenstance. Identity and allegiance are crucial: lead character James Holden is a suspect character because he hails from Earth, and the deadbeat cop on the trail of the missing girl is regularly vilified as 'welwala': a Belter whose heart is drawn towards the interests of the planets, with their gravity wells. We meet Earthers who side with the Belters, Earthers who would do anything to defend their home, Martians trained from birth to defend their barren homeland, and more space accents than you can shake a stick at. 
Admittedly the series starts off a bit slow as it establishes the world; this pays off in a big way by the end of season one when everything suddenly clicks into place, but it can be a bit of a drag up to that point. By the time the second season rolls in, the plot is chugging forward and the actors have really gotten into the skins of their characters. It's worth binging before the season finale on the 20th (in Dhaka time).
Zoheb Mashiur is a prematurely balding man with bad facial hair and so does his best to avoid people. Ruin his efforts by writing to [email protected]