Deshi Ballers hosts 3x3 Basketball Tournament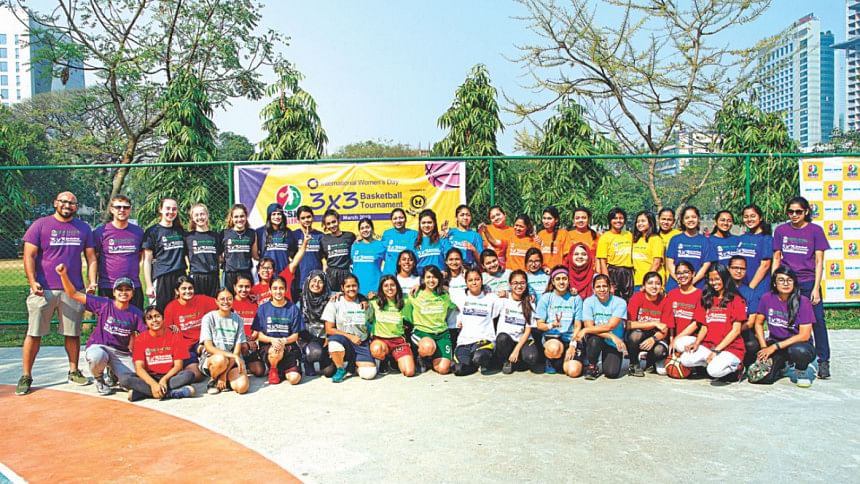 Deshi Ballers International Women's Day 3x3 Basketball Tournament was held on March 9, 2019 at Gulshan Youth Club in Dhaka, hosted by Deshi Ballers. The event was sponsored by Save and Serve Foundation, with print partner SHOUT, The Daily Star; radio partner Colours 101.6 FM; and event partners Studio Dorset and Tanvir Ali Photography.
This year, the event welcomed a total of 12 teams, with a maximum of 4 members per squad to battle it out for the champion's title. The teams included women of ages 13 and above, starting from school students to working women and mothers. All passionate about playing basketball.
"Unlike last year, we received an overwhelming response from players. Within two days of opening registration, we reached our cap of 12 teams and we didn't even have to ask anyone to consider participating", said Ashreen Mridha, founding member of Deshi Ballers and the event coordinator for the tournament.
The matches were each 10 minutes long with three players on each side. Each team played in at least three rounds, bringing the total number of games played to 26. 
After an intense final match, Team Kawhi of the Tiger was crowned the champion of the tournament, while Warriors Black was the runner up. Jaden DeNeef from team Kawhi of the Tiger was awarded the title of MVP and Umama Zillur from team All Stars won the title of Free Throw Queen during the tournament by scoring 13 baskets in 60 seconds.
When asked about her experience during the tournament, Umama said, "We have been in the basketball scene for about 10 years and even though we are all working day jobs now, we want to continue playing. We love the energy of the tournament and it's been a great experience overall."
The closing ceremony was presided over by Humayun Kabir, President, Gulshan Youth Club; Nihar Siddique, Basketball Convenor, Gulshan Youth Club; Syed Tayabul Bashar, Jahangir Hassan and Naina Parveen from Save & Serve Foundation; and Mahtabur Rahman Bulbul, Former National Basketball Coach among others.
Deshi Ballers is a voluntary initiative by founding members Ashreen Mridha and Gulnahar Mahbub Monika. The group began its journey with the mission of empowering women of all ages through sports. Currently the group is providing training camps for basketball for young girls and is planning to host regular tournaments so girls can stay invested in the sport.
Save and Serve Foundation, is a non-profit organisation that aims to build peaceful and inclusive communities in Bangladesh by encouraging religious tolerance. They also engage in other charitable activities, like their Sports for Life initiative, which promotes fitness, discipline and a healthy lifestyle among the youth of our country.
Even though Deshi Ballers is training women in basketball, they hope to eventually start including other competitive sports in their training sessions. To find out more, visit their Facebook page here: https://www.facebook.com/deshiballers/