"Merci Arsène"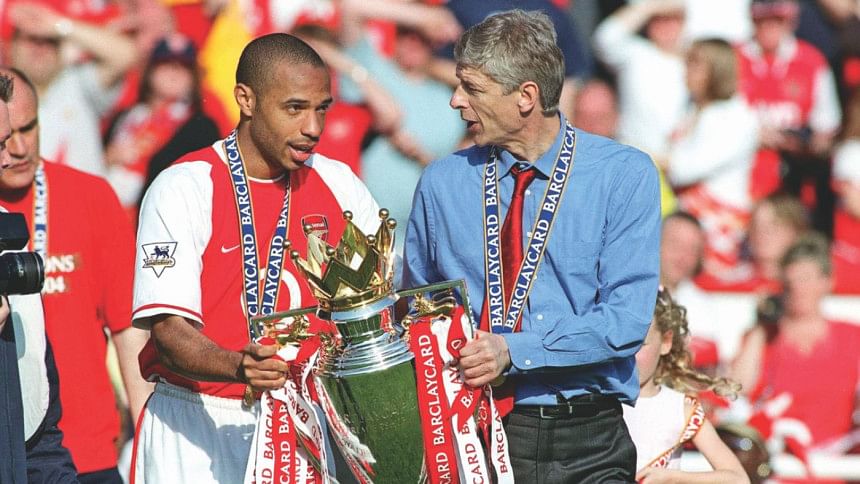 Back in 1996, when a French individual with the look of a college professor was appointed as Arsenal's next manager, the football world was confused to say the least. A man with a surface-level recognition for his work over the years in France and Japan was not who the English media were ready to write headlines about. Arsène Wenger's arrival was greeted with a memorable headline from the Evening Standard, "Arsène who?"
It took Arsène Wenger little less than two seasons to let the English media know who he really was. The managers who took him for granted saw the man freshly off from Japan in a brand new light as he became the first foreign manager to win the double in England.
Now I can start giving you a list of his accolades but I'm afraid that'll do nothing to highlight what this man meant to the club, to the players, and what this man meant to an entire generation of football fans.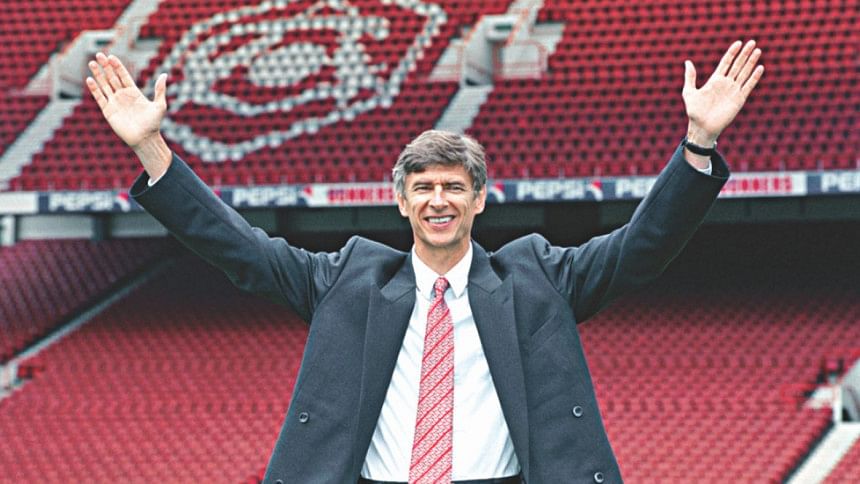 Arsène Wenger's contribution to English football went beyond a new tactic even though his brand of football removed the ever familiar "Boring Boring Arsenal" chant that haunted the team. His preference for technical footballers over the traditional physical ones that were dominant throughout English football was something that was always scoffed at. And yet he showed the world what his players could do with nimble steps and a quick one-two passes. He changed the traditional defence-heavy rigid tactics to a fluid, attacking one. He showed through the brilliance of Thierry Henry that you don't need to overpower the opposition defender to score past him, you just need to be more agile. He showed through the flairs of Robert Pirès that you don't need to be the fastest of wingers to speed up your game, and through the sturdiness of Laurent Koscielny that you don't need to have the strongest of tackles, you just have to know where to be throughout the game. Wenger showed the world that a player is not his goals or assists tally, a market valuation, or a big name.
Wenger's contribution to the players is something that is easy to go unnoticed. Over the span of his long and illustrious carrier that had its fair share of barren days and failure, never for once did he let the blame shift to his players. He played the role of a safeguard in front of the cruel and unforgiving English press. The players he did have faith in, Wenger gave them a chance again and again. He went against constant criticism to give the players a chance when he thought it was deserved.
Arsène Wenger's journey is a Cinderella story in reverse. The man who threw away the managerial handbook and set a new standard for those to come, suffered heavily with the change of time. The strict wage structure he tried to maintain through the club to emphasise unity was slowly deemed to be obsolete as clubs with financial backing started to tempt players with money. The transfer market trend is something that Wenger never wanted to adapt to and suffered because of it. Clubs with a bottomless financial backing continued to snatch away the big names in the market while Wenger tried to stick to his philosophy of building his players.
The story of Arsène Wenger is the story of a man who stuck to his ideals and stuck to his players. It's the story of a man who dedicated the entirety of his life to the game and did everything to uphold the image of his club. It's the story of a man who lived and breathed football. Wenger's footstep in the history of football will not be about the trophies he guided his team to. It will not even be about the incredulous feat of winning the league undefeated. It will be about his passion for the game. It will be about his dedication to Arsenal for 22 years. And no amount of criticism can take that away.
When I was young, I used to think Arsenal had gotten their name from the manager. Now that I'm older, I know that I wasn't wrong.
"If God exists and one day I go up there and he will ask: 'Do you want to come in? What have you done in your life?' And the only answer I will have is: 'I tried to win football games.' He will say: 'Is that all you have done?' And the only answer I will have is: 'It's not as easy as it looks.'"
~ Arsène Wenger
Nuren Iftekhar is your local stray cat in disguise; he interacts with people for food and hates bright light. He got Hufflepuff 3 times straight in Pottermore so no walking around that one. Send him obscure memes at [email protected]