The Science of Learning (for Dummies)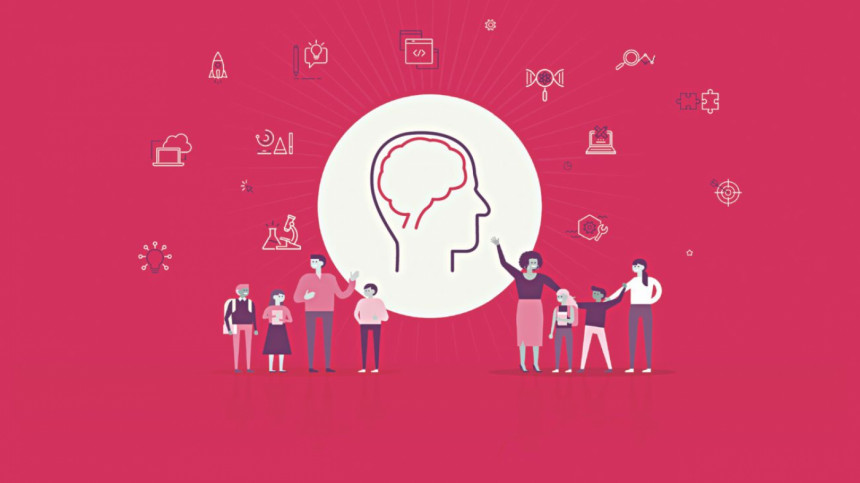 We are familiar with the fact that whether we like it or not, we are hard wired to learn new things. From learning a new language or a new subject to learning that the grass is always greener from the other side—no matter how much we think that our minds cannot take in any more, our minds always find a way to cram in new information.
But the question still stands: How do we learn from all of these experiences that we face in our lives? The answer to this seemingly simple question is not as straightforward as we may view it to be. Instead, there are a few factors involved in this process we all go through so unknowingly.
CURIOSITY
Whether it is suddenly wishing to learn more about a new subject like Physics or Bangla Literature, or simply knowing whether you would break your legs if you jumped from atop a building (which you shouldn't do), you would be "curious" in both situations. This acts as a huge instigator to learn something new. Curiosity is further fuelled by a "reward pathway" in our brains.
The fact that you would learn more about Physics or Bangla Literature, or the broken bones that you would be able to brag about in the later years would stand as a reward for you. You will get the urge to keep pushing until you get your reward thanks to a brain chemical by the name of dopamine, a brain chemical that will excite you.
FEAR
This is where bad experiences come into play. Like in the last example of you breaking your legs, it definitely is not a pleasant experience. Or if you walk into a spooky house that gives you the creeps. Your mind will automatically be triggered into high alert to avoid the consequences learned from the experiences of others, or previous ones of your own. We learn from previous experiences of others and our own to grow an apprehension of such activities.
Triggered and decoded in the section of our brain known as the amygdala, upon the recognition of a threat, we put ourselves into a fight or flight situation. Norepinephrine, a brain chemical responsible for decoding lessons out of fear, plays a huge role in the process of learning from fear, and later etching them into our memories as lessons to avoid threatening situations.
JOY
Whether it is exceling in your academics, learning a new language, winning a competition, or even wooing that dude/dudette you have a crush on, the human mind will undergo a learning phase automatically to get to the goal you are either trying to earn that joyful moment, or trying to uphold it.
Dopamine, that neurotransmitter chemical of the brain, is well-known for its contribution in reward-motivated behaviour. It plays an immense role in motivating a person to strive for the activity that would give them joy, along with the fact that this brain chemical is the reason you keep attending to your primitive needs like eating and seeking shelter. Serotonin also contributes to this, as it helps in one's will to have personal well-being.
UNEASE
Uneasiness, to a certain extent, is healthy for the human mind. It is normal to be questioning oneself about an action before one commits it. Say for example, you were about to jump from a two-storied building. But speculation out of uneasiness makes you come to a conclusion that perhaps breaking your legs would not be as pleasurable of an experience as you thought it would.
Simply put, you would learn through speculation rather than experience. In such cases, it's better to learn through speculation rather than experience. Though many would argue that this decision would be derived from common sense. However, being uneasy triggers an action that would be considered as common sense in such cases. Such anxiety to an excessive amount isn't healthy either, so try not to stop yourself from taking calculated risks or being outgoing.
The sense of uneasiness is triggered by serotonin, dopamine, norepinephrine, and gamma-aminobutyric acid. You can see that brain chemicals involved in this are the same chemicals that make you yearn for your well-being and make you have fear as well. And as pointed out earlier, it helps you avoid impending threats.
SORROW/BEREAVEMENT
Sorrow/bereavement makes us introspective, reflecting on what we have done, what we have lost, or what we could have done.
We do not want to remain in our state of sorrow. Our minds want a stream of dopamine and serotonin to flow through our neurons. In order to achieve that kick of the happy chemicals, we try to keep ourselves busy and come up with new developmental activities.
And if we do not try, we could be walking towards depression. The happy chemicals start drying up more and more until we become unwilling to do anything that would be imperative to our well-being.
In conclusion, the human brain is nothing to scoff at. This immense and complex structure and attributes make us humans, beings that look the least likely to be at the top of the food chain, stand proudly at the top of the food chain. We are yet to discover many more things about the work of our neurotransmitters. And hey, if we do learn more, maybe there'll be more in-depth, dumbed down articles written by yours truly.
Aka is a tiny bleep on the world's radar, and he finds peace in knowing it. Ruin his peace by poking him on akaaraf@hotmail.com