Pros and Cons of Reading Media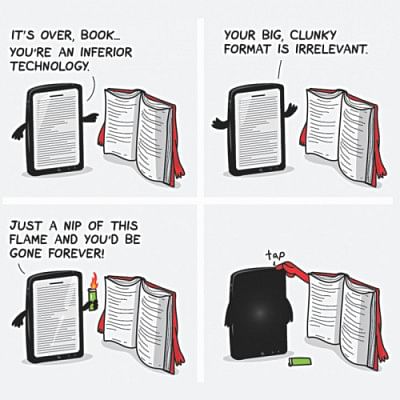 For a bookworm, the ultimate retreat is to grab a book, lie back in a cosy chair and indulge in the pleasure of reading. The concept of reading a book has long been mingled with the sensory feel of holding a book with hands, turning its pages with the ever-familiar relaxing sound or maybe going back a few pages whenever you want. But with the advent of technology, things have started to change. Booklovers have now alternatives to pursue their reading habit that were almost inconceivable just a mere 20 years back. 
Some questions pop up these days: Have paper books lost their popularity? Why the growing inclination for reading e-books? Why are so many people reading on tablets or e-book readers instead of reading actual, real books? Well, it all depends on some vital factors that a modern-day reader has to put up with: portability, availability, utility and storage. All these factors combined shape the preferred reading medium of individual readers: paper books, tabs or e-book readers. Well, here's a comparative analysis to decide for yourself.
PAPER BOOKS
It's the REAL book. You can actually touch, smell and feel each and every word of the book that you are holding in your hands. That's the biggest comfort of reading actual books.
Upsides: For compulsive readers, real books are still the best alternative out there.  You just don't get the tactile sensation otherwise.
Downsides: With modern apartments becoming smaller and interiors getting more and more minimalist, storage of books is a concern. Sometimes we run out of places to keep the books. Also moving around with books may sometimes be cumbersome. It often takes a long time to get hold of a copy of the latest title from your favourite writer, and sometimes you can't – at all. 
E-BOOK READERS: 
Working Mechanism:
E-book readers like Kindle Paperwhite, Nook Glowlight, Kobo Aura, etc. use a technology called the E-ink Technology. The device screen reflects the light from the outside on to the reader's eyes, it doesn't have the backlight like tablets have – so reduces the strain on the eyes many fold. While reading in the dark, the screen illuminates itself–but that's not like backlight in tabs, rather it directs the light towards the screen, not to the eyes of the reader.
Upsides: E-book readers can give the closest experience of reading an actual book. Useful for readers who like to read long novels or books without much illustrations and also who read more than one hour a day. Battery longevity puts e-book readers like Kindle/Kobo way ahead in the race compared to tabs. Charging once can give you weeks of uninterrupted reading liberty. 
Downsides: E-book readers don't support colours. So for predominantly comics and graphic novel readers, e-book readers are a no-no.
TABLETS:
Working Mechanism:
Contrary to e-book readers, Tablets use the backlight technology. 
Upsides: The screen is illuminated uniformly, and due to high resolution display – is a fabulous reading alternative for graphic novels and comics while supporting most of the formats out there. Also lots of customizable apps to enhance the reading experience.
Downsides: The backlight enters the eye directly (unlike the reflected light in case of E-book readers). Reading more than 45 minutes at a stretch can cause blurriness and strain the eyes. Battery longevity is a real low-point too. Reading even with optimization and everything takes a heavy toll on your device.
Both e-book readers and tablets provide you with more than abundant storage – let you carry thousands of books inside a device that fits in your pocket. But hey, don't start thinking that paper books are getting obsolete. After all, nothing can beat the comfort of reading an "actual" book over a mug of hot coffee, right?
Ishtiaq Ahmed is a travel enthusiast who devours fictions, dreams of Paris and writes only when his brain parasites need a place to crash. Can be reached at [email protected]