GAME REVIEW
Sekiro: Player dies countless times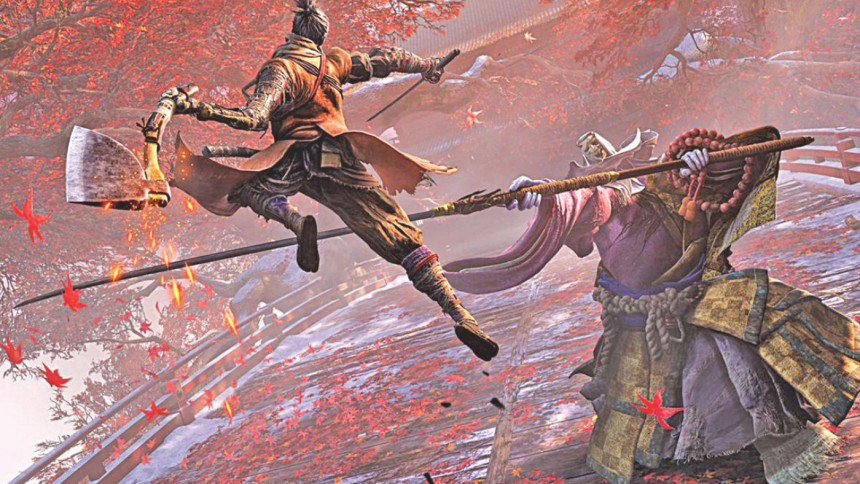 Given that it is a FromSoftware game, I was aware people would struggle with Sekiro: Shadows Die Twice. What I didn't expect was that I, a disciple of Bloodborne, would struggle with it quite so much.
In some places it has more in common with older action games like Onimusha, Tenchu, and Ninja Gaiden than it does with Bloodborne. Combat is aggressive and precise: playing defensively like you might in a Souls game will get you nowhere, as your enemy's posture recovers whenever you back off, but trying to Bloodborne your way through with pure offense won't get you far either.
In Sekiro there is no levelling up. Instead there are skill points, which might unlock a new manoeuvre or passive buff, but will not help you do more damage or take more hits. You have your trusty sword and grappling hook right at the beginning.
The Japanese setting is by far my favourite world from the studio so far. From mountain cliffs to dense bamboo forests and towering villages, the colourful world is gorgeous, vast, and rife with hidden areas, optional boss encounters, and odd characters to interact with. It's a far cry from the gothic, gloomy nature of FromSoftware's previous worlds, and a welcome one at that.
When you die here, you take your friends with you. Core to the game is a disease, Dragonrot, which infects the people you meet every time you fall foul to a samurai sword, or an undying centipede.
Dragonrot serves as an evolution of the heartless masochism you're used to in games like Dark Souls and Bloodborne. When the one-armed wolf protagonist succumbs to his wounds, you can opt to rely on the dragon blood latent in the world to give you an essential resurrection that can turn the tide of battle.
Take the risk and fail, and when you wake up, you may receive an item known as Rot Essence, tagged with the name of an NPC you've become acquainted with in your travels. Maybe they gave you a vital item and you feel as if you're in their debt. Perhaps they provide a vital service that you don't think you could beat the game without. Sometimes, you just regard them as friends who you wouldn't like to see get hurt.
Thanks to Sekiro's punishing difficulty, players actually have to study these intricacies in order to succeed. Only the most dastardly foes reward the player with Prayer Beads, of which you need four to upgrade your health. These are only dropped by bosses as well as mini-bosses. This means that unlike in Dark Souls, farming the grunts is simply never going to cut it here.
The newfound verticality introduced via the grappling hook means you also have to consider the environment around you, and how you can use it to get an edge on your opponents. This is a completely new dynamic that has the unintended consequence of making the player feel far more acquainted and connected with the gorgeous world they're stumbling through.
Enemies lurk with devastating rifles in a sunken valley, guarding the entrance to what can only be referred to as Buddhist Town. Hordes of monkeys rage against you in a thick bamboo forest, an obstacle in your route to safety. Anything can and will kill you in Sekiro. Bloodborne had compromises in this regard, but Sekiro does not, thanks to the Posture system that makes it so far removed from anything you've played before.
Simply put, there is no stamina system, and enemies need to be fatigued first to be killed via deflections mainly or dodging to a lesser extent. It's a genius revolution that tests the mettle of even the most hardcore of Soulsborne players. It doesn't matter if you've got the platinum trophy in every Souls game so far, this game is going to kick your ass whether you like it or not.
Bosses alone will take hours of your time to master, and thank god for the pause system so you can get your faculties in check when the adrenaline starts coursing through your body, forcing you to make silly mistakes. The protagonist Wolf is also voiced and has dialogue options, which feels like it should be a massive point of contention, but it's all grafted in with so much care that you don't really end up noticing it.
It took me a while to understand and accept this, and only then did I start to recognise what Sekiro was demanding from me. It wants focus, concentration, nerve, and courage. Stop dodging and trying to play defensively, and instead stand toe to toe with your enemy and deflect, deflect, DEFLECT!  Stop trying to create distance between you and your foes. Stop thinking that there's something you're not understanding about a given fight, some item or other piece of the puzzle that's missing, and just head in there and get yourself killed until you can anticipate their movements and deflect their every slash. Think like a shinobi. Use the grapple to your advantage or run away and hide when you're overwhelmed. Just get on opponent's face and GIT GUD, otherwise your friendly NPCs rot.
Sekiro is an electrifying power trip that demands a lot from the player, but if you let it grip you it will be hard to pull its rickety wooden hand from your wrist. It's just you and the sword. This makes it more focused and, in my view, much less forgiving than its Souls predecessors. It also makes it more thrilling, if your nerves can take it.
Tamim Bin Zakir aka Shwag_Lord(PSN ID) is an enraged individual who seldom thinks of being generous to others. Feel free to devour his tranquility at niloy.tbz@gmail.com