Notebooks you want and can have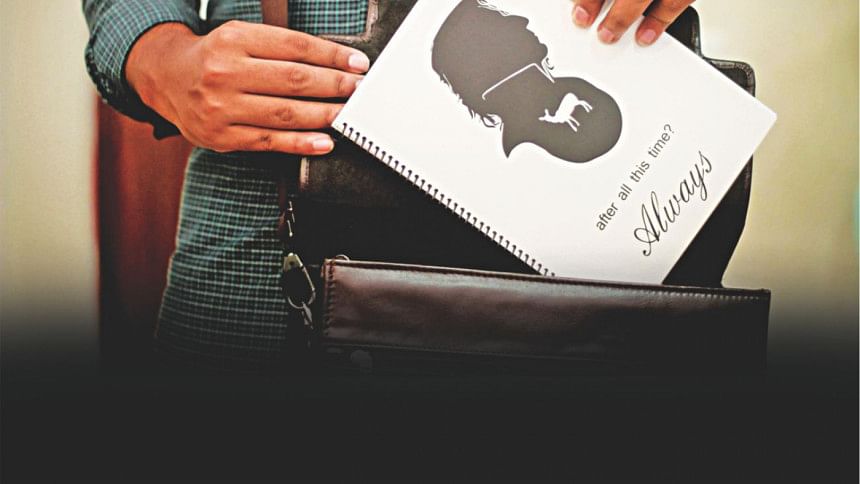 Have you ever felt a little hesitant taking out your notebook in front of others, because it had an odd-looking cover, like a bird or flowers? I know I have. But not anymore, thanks to these online shops that sell cool notebooks with pop-culture references. Let's check some out.
Audacieux
In a very short time, Audacieux has become popular among youngsters as it offers various designs of notebooks and bookmarks. As of now, they have 11 different designs of notebooks that you can buy. They will soon be launching new designs, as well as a new collection of student notebooks that will be widely available. Notebooks and bookmarks featuring Up, Minion, Sherlock, How I Met Your Mother and some football clubs are the most popular among buyers. 
Their notebooks have 200 pages (100 sheets x 2) with spiral binding and matte lamination on the outer and inner covers. The notebooks are 5.5 inch by 8.5 inch in dimension and with 100 gsm paper weight. The bookmarks are 7.5 inch by 2 inch in size, with 250 gsm paper weight and gloss lamination. Each notebook costs BDT 280 and each bookmark costs BDT 80, but you can get some set offers at discounted prices. Audacieux delivers all over Bangladesh. Within Dhaka, the delivery charges are BDT 50, but if your net order is over BDT 300, they will deliver the notebooks to you for free. Check out their collection at facebook.com/ZI.audacieux
Banana
Behind Banana is a brilliant team of creative designers. If I were to describe their line of notebooks in a word, I would say their collection is "hip". They have 7 designs as of now, but they are working on 5 more designs. Some of their most famous notebooks are Monsters, Tape Recorder, Retro Cat, and Sick. You can order the notebooks online, with a delivery charge of BDT 50. However, Banana's notebooks are also available at Yellow Submarine Café (Banani), Candy Floss (Dhanmondi), Vertical Horizon Coaching Centre (Dhanmondi) and North South University's stationary shop (Bashundhara R/A). 
Banana's notebooks come in a large and a small size. The large ones have 150 ruled pages with double spiral binding and are of the standard A4 size, and cost BDT 250 per notebook. The smaller notebooks have 140 plain pages with a book bind. They are 5 inch by 7 inch in size and are priced at BDT 190. Each paper is of 80 gsm, while the covers are 300 gsm. For ordering, visit facebook.com/bananawhat and send them a message there.
Foverós
Foverós describe themselves as the ultimate pop culture notebook store, and their happy customers will vouch for that. They initially started out with 10 designs, paying homage to Harry Potter, Lord of the Rings, Game of Thrones and Friends beside some humorous designs. But they promise that more new designs are coming soon. Their designs like Harry Potter's lightning bolt scar, Professor Snape, the Parental Advisory design and the Doodles design drew the most interest from customers. 
Foverós' spiral bound notebooks have 150 pages (75 sheets x 2) and have dimensions of 7.125 inch by 9.5 inch. The papers weigh 80 gsm, with a hard cover of 150 gsm. Each notebook will cost you BDT 250, but Foverós will be offering discounts as soon as their new designs roll out. Cherry on top – Foverós delivers for free all around Dhaka. Visit facebook.com/foverosofficial to marvel at their collection and order. 
At a time when our lives are dictated by expressive visuals, a well-designed notebook can certainly up our coolness quotient. So check out the online notebook shops mentioned, and get yourself a fancy notebook that can make your friends jealous.