Why I'm Still Not Over Arnob's "Chaina Bhabish"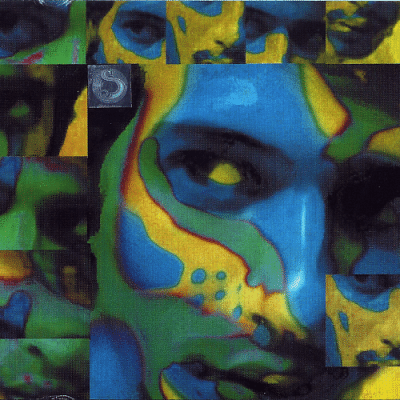 I don't exactly remember when and how I heard the songs from Chaina Bhabish for the first time. It was at the time when CDs were still in and the hype over FM radios was going stronger than ever.
I was still a kid when I witnessed "Shey Je Boshe Achhe" and "Hariye Giyechhi" slowly becoming anthems; songs so spontaneous, fresh and simplistic in their words and ways of expression that it moved almost all the regular listeners of contemporary Bangla music, and a big chunk of people who didn't resonate with contemporary Bangla music at all.
When I saw a physical copy of the album for the first time, the bright colours on the cover caught my young eyes although I was far from realising at that time how the colours in the title track will catch my heart and stay there forever. Even as a grown-up, this song is my way of subtly describing the contentment of finding my muse – a comfortable, warm and fuzzy feeling with all its bright and playful colours, captured in the words and the tune. Songs like "Bebak Bibagi" and "Kono Din" came incorporating visual elements from our seemingly everyday life with such strong imagery and lives of their own, they keep popping up in my random doodles in describing everyday moods till this day.
By the time I was in high school, gone were the days of listening to music accompanied by the trippy visuals of Windows Media Player. We had already discovered YouTube. Sharing music with each other and exploring got a little easier. I finally paid attention to the other underrated songs in the album, sidelining the more popular ones. I was a bit older; I paid more attention to lyrics and the overall vibe that these seemingly less popular songs generated. That's when I finally realised what I was too young to comprehend when I heard this album for the first time. It unknowingly made us realise what we wanted to listen to in Bangla, and for many of us changed how we perceived contemporary Bangla music forever.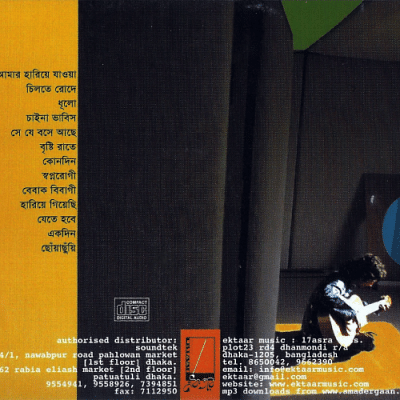 The album introduced Sahana Bajpaie as a brilliant songwriter even before her renditions of the Tagore songs became popular. Shayan Chowdhury Arnob introduced a very distinct style of his own with his very first album, and became our favourite musician, surpassing his talents with every new venture. This was an album so versatile in its contents, yet with an aura of its own with extraordinarily minimalistic musical arrangements.
But that's not where the magic lies. Over the years I realised that the reason why we, as kids, resonated with this album so much despite not understanding much is perhaps that we feel the love and the sheer warmth that it was made with every time we listen to it. These songs warm our hearts even in the coldest and cruellest of times. These songs were my constant companion in my teenage years and as an adult, my go-to songs to gently tuck me in at nights when keeping my eyes open means seeing my entire world crumbling down and closing them means falling deep into a dark pit from where there's no coming back.
As I close my eyes every night lately to find myself falling off that deep pit, these songs work as rays of light that pull me up again, despite all the despair and longing that "Amar Hariye Jawa" generates. "Brishty Raate" became my companion on rain-soaked days at TSC or the confines of my room; "Chiltey Rodey" still comforts me whenever I wake up with an overwhelming feeling of emptiness, and "Ekdin" with hope and love.
It's been more than 15 years of this pure and blissful magic touching our lives, and it still remains my absolute favourite to this day. In times like these, when explaining the whys and the hows of what I've been feeling lately is becoming increasingly difficult, I once again resort to the warmth of the shelter that this album provides me with, and express it in my own messy and chaotic way.
Nahaly Nafisa Khan is a sub-editor at Toggle.