Why do players like Neymar get fouled so often?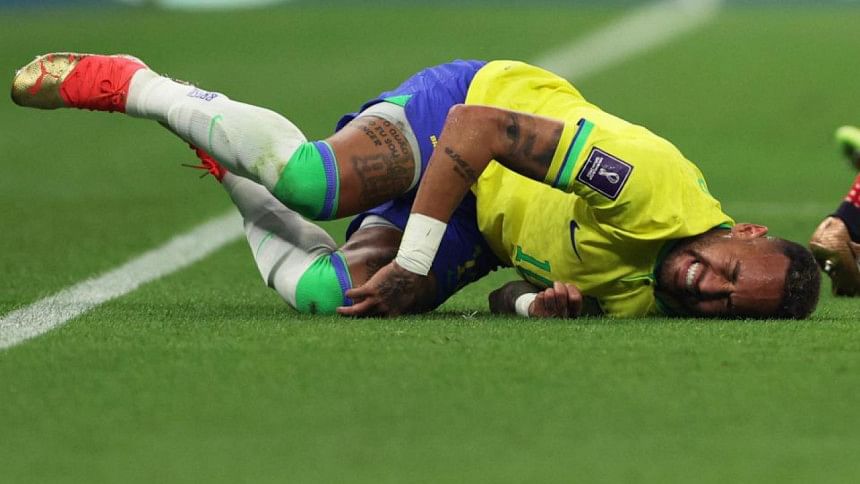 Another World Cup, another injury for Neymar.
After receiving rough treatment from Serbian players, a game where he ended up being the player most fouled, Neymar suffered an ankle injury ruling him out of Brazil's remaining group stage games.
Opposition defenders ganging up on Neymar is nothing new. In fact, it has become a trend in recent years where pacy wingers are targeted for tough tackling by defenders.
A survey by BeSoccer Pro shows that among ten of the most fouled players from 2016-2021, a staggering eight play in the wings. Neymar is fouled the most, followed by Leo Messi, Jack Grealish, Wilfried Zaha, Eden Hazard, and Nabil Fekir among others.
Defenders have their reason to specifically target these players. Wingers' pace throws defenders off guard, especially during counterattacks. All these wingers need is one pass, and before defenders know it, they are left in the dust as the wingers are on their way towards the gaping goal. Helpless, defenders have no choice but to try and bring the attacker down and prevent an almost certain goal.
Most wingers possess a wide range of flair and skills. For defenders, preventing attacks and keeping their goals safe is the aim. To keep attackers from showcasing their skills, wingers are often man-marked out of the game.
In turn, it neuters the opposition's attacking threat, achieving the defenders' purpose in the first place. As the game gets more intense, the tackling and heckling can get rough too, often resulting in as high as 10-12 fouls on a single player per game.
Another factor behind wingers being targeted for fouls is their aura. Neymar, in particular, is famous for his showboating in-game, which often sets him free from a crowd of opposition. Jack Grealish, meanwhile, with his slicked-back undercut, determined looks, calf-length socks, and a catalogue of tricks, flairs and skills on his feet, strikes fear even into the most seasoned of defenders.
These players are tackled down, trodden over, and literally punched away from the ball as defenders look to stop them by any means. The prospect of spoiling the party for the fans, whilst grinding out the results also works as an extra motivation behind their intense defensive performances.
Constantly getting fouled can be demoralising for attackers. Facing potentially career-threatening injuries if they continue, wingers often stop being more direct and instead draw the play out by keeping things simple. It's especially bad for tall wingers, whose centre of gravity is much higher. An innocuous tackle and they might fall awkwardly, causing serious injuries.
Leo Messi is a glaring exception, who, despite being fouled relentlessly, keeps on going due to his short height-induced low centre of gravity.
This takes the X-factor off their game and curtails their freedom on the pitch. Marcus Rashford is a major example who, after bursting onto the scene with his directness, veered off badly in terms of skills (if not productivity) after a serious injury in 2020.
With their maverick put out of order, team tactics collapse as most of the attacking phase might go through that particular player.
What's more alarming is that the players might suffer career-threatening injuries. Even if they recover to take the field again, their sharpness might never be the same again, just like Marco Asensio. After suffering a devastating ACL injury in 2019, Asensio lost much of his flair and sharpness, only regaining a small part of it in the intervening three years.
Against this backdrop, the onus is squarely on referees to protect the stars. Neymar and co often go down on slight touches and roll around on the ground just to make sure the referees notice. Referees should recognise that as well while maintaining order. It's their duty to protect these mercurial talents. If this is ensured, players might stop post-foul theatrics altogether and continue to mesmerise fans with their abilities long into the future.
Inqiad is a passionate Bucks fan and a certified Giannis stan. Contact him at [email protected]