Where the gender binary fails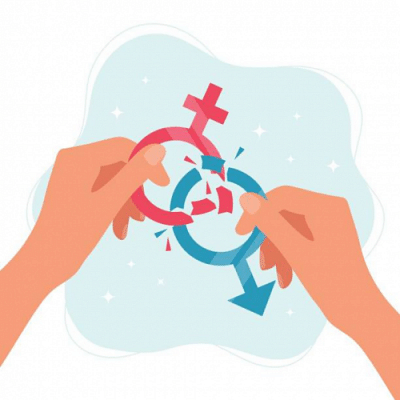 At birth, we are labelled as either male or female. What if the label you have been given does not resonate with who you are? To a cisgender person, adherence to this expectation comes naturally. However, that is not the case for everyone.
Tasneem*, 19, who identifies as a trans woman, shares, "I used to think that my obsession with dressing up in traditionally feminine outfits was weird until a point came when every time I mimicked the mannerisms of masculine men, I felt like an alien in my own body."
Contrary to popular belief, gender is not all about the male or female label. For decades, gender was believed to be an identity centred on social constructs and roles.
The binary concept of gender can be constricting and oppressive to those who cannot identify with one particular gender identity. What the concept of non-binary gender identity does is create space for people by allowing gender to be flexible and fluid rather than definitive and constrictive.
Non-binary gender identity includes people who do not align with their assigned sex (transgender) and also those for whom their gender identity tends to fluctuate depending on context or time, in terms of expression, identity or both (gender-fluid).
Gender identity is not just about expression through performance and behaviour, but about what gender a person associates their inner self with. This is why many non-binary people, when unable to understand or express their gender in a non-conforming manner, feel dysphoria.
Dysphoria is a sense of discomfort in the body of your assigned sex when your gender identity does not align with it. Model and activist Munroe Bergdorf, who identifies as trans, described it as a disconnect between the mental self-image/identity and the body's physicality. She also stated, "My dysphoria often manifests itself in social anxiety and depression."
Zohan Araz Khan*, a 21-year-old who identifies as a trans man, shares the experience of gender dysphoria, saying, "I constantly compare myself and my body with every other cis male body and cis male personality – the socially certified way of looking male, the typical male attitude, each and every masculine stereotype. I keep loathing how my body and I don't align with any of it."
While it has been common discourse that these ideas are media jargon and abnormal, or just people trying to "jump on a bandwagon," many have felt out of place and their bodies long before this conversation saw the light of day.
As Zohan says, "Most people think that trans folks casually choose a certain stereotype to live with. No, it's not just the outfit, the hair, the toys – it's so much more. It's you. Gender identity doesn't hold a person's entire identity, but it still is a core part of it. No matter how much you force and condition a trans person, they'd know where and how they fit and where they don't."
Growing up in a society that believes in strict gender roles can make it hard to see past the constructed norm of binary gender identity. However, there is always room for growth.
*Names have been changed for privacy.
Tazreen's entire existence can be summed up in burgers, books, bad music taste and binge-watching K-drama. Reach her at [email protected]