When parents get better at parenting, but for your younger siblings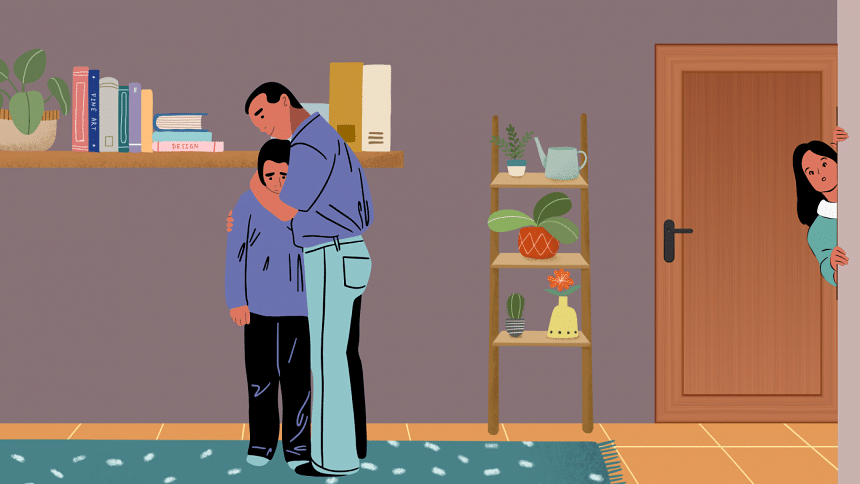 I remember being surprised at the tone that my dad was using while talking about something my brother had done a few days ago. He came up to me and told me to have a discussion with my brother about it.
Suddenly, a thought crossed my mind! He didn't use that particular tone to address something similar that I had done in the past. I was screamed at and not provided with an opportunity to give him a simple explanation about what had happened. 
A sense of guilt and relief enclosed my mind after seeing him act this way.
Guilt, because a part of me may have wanted my dad to be a bit stricter on my brother, in addition to a hint of jealousy because I was the one who had to bear with his toxic ways of parenting, and finally relief, because he wasn't repeating his less-than-perfect methods of parenting.
In such cases, we are supposed to be appreciative of our parents trying to change their ways in order to provide a comfortable space for their children. But, the equation that some of us share with our parents is quite complex.
You might have a good relationship with your parents and regularly engage in any sort of conversation with them. At the same time, you may notice your sibling or any other child not sharing a similar type of bond with their parents. 
Sometimes, parents tend to be a little too tough on one child and less on the other. As a result of tough parenting, one child might distance themselves from the parent or completely block the parent out from their life. If anything, parents should be responsible enough to give that particular child some space and apologise for the way they behaved. 
One cannot expect their child to act nicely with them when they have used harsh methods of parenting which ended up scarring the child for life or made it impossible for them to strike up a proper conversation.
In addition to that, it is also extremely difficult for the child to remove the "tough parent" image from their head when they suddenly see their parents acting better with other siblings.
Here, the question that remains unanswered in the child's mind is, "Why was I the one who was subjected to these harsh parenting methods?" 
The answer lies in the fact that parents are human beings too, they make mistakes and learn from them.
It might have taken them some time to understand the ways in which they will be able to create a safer space for you and your sibling to talk about everything openly, yet at the same time, you have every right to hold them accountable and confront them about their past ways of parenting. 
Parents must remember that in the long term, their behavior will influence the mindset of the child. 
Every child deserves to be treated well by their parents. There should be no form of favoritism present during parenting as it ends up being the root cause of the distance between a parent and child, or even between two siblings. 
Angelina Nodee Francis enjoys cracking self deprecating jokes and running away from her problems. Send her memes at [email protected]