Is Football Coming Home or Going to Rome?
The UEFA Euro 2020 has been extraordinary in many ways. Europe's showpiece national-level tournament gave us a lot of excitement, plenty of heartbreaks, thrills and spills over the past month.
And now, it has almost come to a close.
The final between England and Italy promises to be an intriguing affair. It is also symbolic in many ways for both teams. This final is not only about the trophy, but it is also to show the world that these two footballing giants have finally put their old demons to bed that have plagued them for much of the last decade.
Since winning the World Cup in 1966, England have never managed to get past the semi-finals of a major tournament despite having many talented players over the years.
And then Gareth Southgate happened.
Despite the criticisms he faced, Southgate managed to build a very capable England squad. Team-bonding and harmony, absent in the England teams of before, is now stronger than ever. Coupling that with their extremely talented players, this England team has erased 55 years of pain to put themselves on the brink of international glory. 
The Italian job is even more incredible.
Their national team stagnated a lot over the last decade. A historic low came in 2018 when they missed out on the FIFA World Cup for the first time in 60 years. That prompted a lot of soul-searching and made the previously enthusiastic and passionate footballing nation feel lost.
Enter Roberto Mancini.
Over the last three years, he built an Italian squad with the perfect blend of youth and experience in it. This Italian team has been transformed since that 2018 debacle, with a place in the Euro 2020 final at Wembley a testament of their progress.
England have been a force to be reckoned with this Euro. Their defensive solidity got them to the knockouts, where the attackers really turned up, making England one of the most dominant teams in the tournament. Southgate's preference has been a back three in the big games, and that is the most likely setup for the final too.
Harry Maguire will be crucial in defence for the Three Lions, with the combative duo of Declan Rice and Kalvin Phillips providing the perfect blend of steel and silk in the engine room. The attacking flair of the likes of Luke Shaw, Kieran Trippier, Raheem Sterling, Harry Kane and Bukayo Saka make it a collective effort in the sharp end of the pitch.
And with game-changing options like Jack Grealish, Jadon Sancho, and Marcus Rashford on the bench, England will have a slight upper hand over the Italians.
In contrast, the Italians have been a dominating force in this Euro right from the off. Mancini's tactics have been an exciting mix of attacking flair coupled with defensive solidity. The 4-3-3 has been his preferred formation for much of his tenure.
Additionally, their squad balance is perfect. Giorgio Chiellini and Leonardo Bonucci have been keeping the Italian defence tight with the help of goalkeeper Gianluigi Donnarumma. In midfield, they have the likes of Nicolo Barella, Jorginho and Marco Verratti pulling the strings from midfield for their attacking trio of Lorenzo Insigne, Ciro Immobile and Federico Chiesa.
Leonardo Spinazzola's injury has been unfortunate for the Italians, but a full back combination of Giovanni Di Lorenzo and Emerson still provides enough in attack and defence.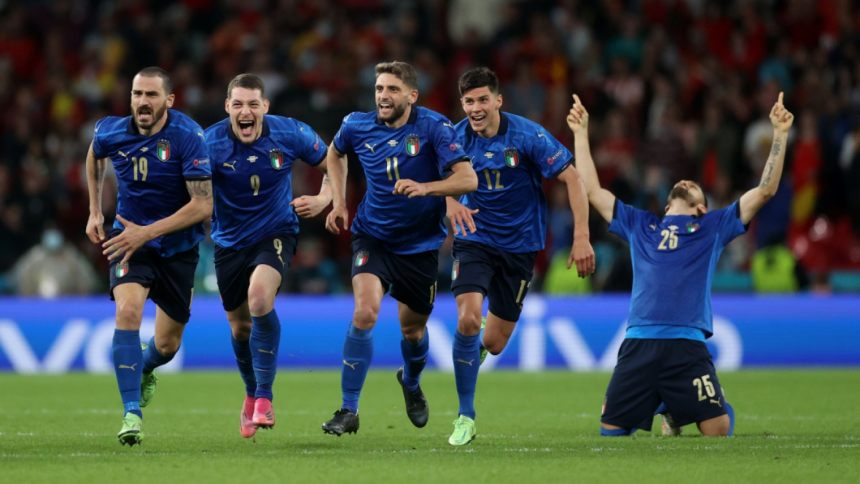 Despite the obvious attacking talents of both the teams, we might be in for a cagey but intriguing tactical battle, with defenders taking the centre stage. Both Southgate and Mancini are not afraid of playing pragmatically to get big results. It might be a tight and tense affair, as both teams are equally capable of snatching the moment.
Regardless of who wins, one thing is for certain – we are seeing the rebirth of two great footballing nations. Both England and Italy have suffered a lot over the past decade, but now, with the vast amount of talent they are producing, and with wise heads like Southgate and Mancini guiding them, we might be in for a truly fascinating final.
Inqiad Bin Ali just loves Man United and football in general. Find him lost in thought at inqiadali007@gmail.com