The struggles of being an ambivert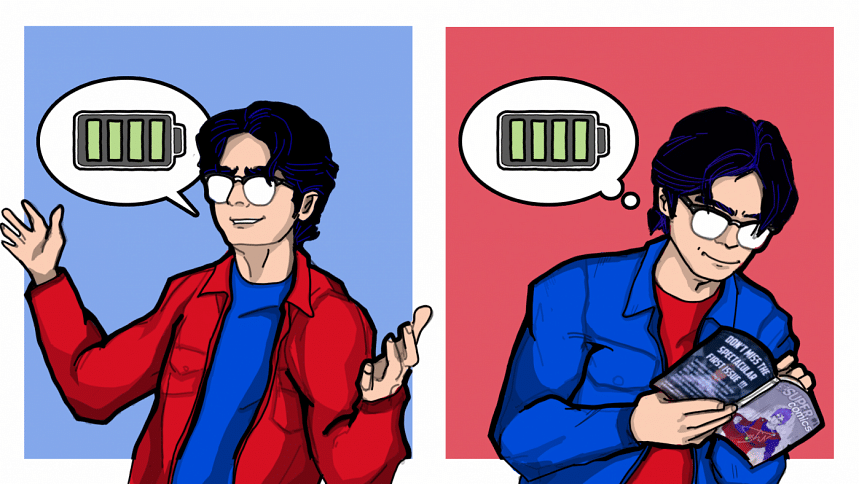 As rudimentary as it may seem, using labels or categorising individuals based on their social preferences offers people a space for inclusion as they try to understand themselves better. For some, their personality cannot simply be contained by the labels of "introvert" or "extrovert". Some people do not completely fall on either side of the spectrum, which is where ambiversion comes along.
On the surface, an ambivert is a person who is not quite extroverted, but not completely introverted either. But of course, there is so much more to it than just being caught in the middle. In a way, it can simultaneously be the best and worst of both worlds. While you may equally feel comfort in socialising and in solitude, there will be times when you feel uncomfortable in either scenario.  
As someone who identifies as an ambivert, I have been confused for an introvert for most of my life. The key difference here is, in most cases introverts do not like to socialise too much, whereas ambiverts do. It is not that we do not want to talk to people, it is just that sometimes we do not really know how to. Due to having a somewhat lonely childhood, socialising does not come as naturally to me as I hoped it would. While I do have a lot of good friends now, sometimes I still struggle to find words or say what I want to say.
Ambiverts may often need to plan how to talk to people, or have issues picking up on social cues. Sometimes it is hard to understand which is more comfortable – talking with others or being alone. One's state of mind affects the dichotomy at the root of it, so sometimes neither option might seem exciting or comforting.
My self-deprecation would make me think that ambiversion is just an elaborate excuse for covering up my social ineptitude, but now I like to think it is more of a strength than a weakness. The flexibility of this kind of personality helps to better adapt to most social situations. There is just as much comfort to be had sitting in silence with your thoughts, as there is in sitting with a friend and talking with them.
Being able to adapt to different social scenarios mean ambiverts can deal with FOMO – the fear of missing out – much better compared to other people. Throughout the years, I learnt how to manage expectations in regards to people and, coupled with the fact that I can be comfortable being alone too, ambiversion prevented me from facing that particular social insecurity for most of my life. Furthermore, I believe this also makes ambiverts more empathetic towards others, as you not only manage expectations for others but also learn to adjust and accept your own qualities.
Again, just like extroversion or introversion, ambiversion is an oversimplification of identity traits and is just a means for expression. You do not need to conform to any particular label to express yourself. In the end, what matters is how you learn to accept who you are and try to be your best self.
Sabil spends most of his time trying to stay as hopeful as possible. You can contact him at [email protected]