For the love of street cricket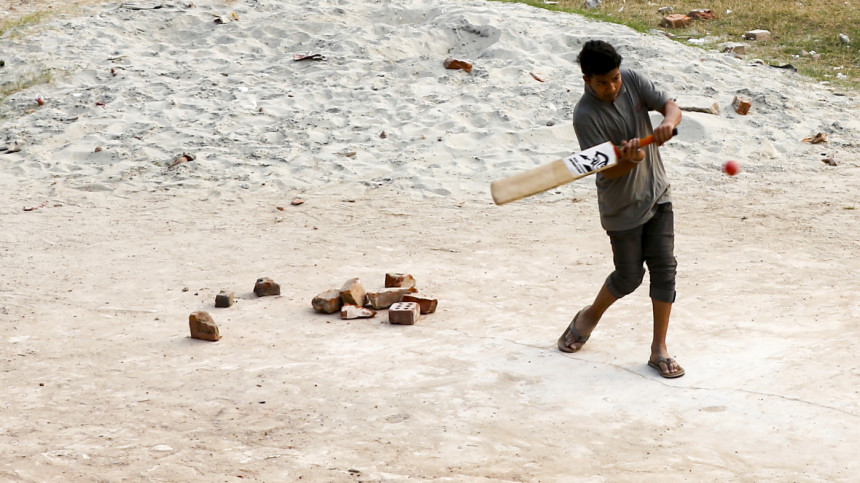 It was a busy, cold Dhaka afternoon at the height of January winter. But this meant little to our protagonists in their pocket-sized Melbourne Cricket Ground.
Taped-over tennis balls, slippers that encompassed imaginary cricket stumps, and a fervour to imitate their favourite cricketing figure. Two bats; the one on the crease clearly better than the other. The younger kid who is just there to field; the slightly older kid who is doing everything. I realised I wasn't just witnessing a one-off phenomenon, but a timeless image.
Dhaka, as a city, is in perpetual love with cricket. The extravagance of the Premier League or glamour of the UCL can't seem to reach the hearts of the ordinary, as much as cricket can. Be it an ordinary match against Zimbabwe, a World Cup closing ceremony, or even an idle noon in BPL, the city's extended love affair for cricket comes at a full display with dozens gathering in front of every electronic store and tong with a TV. This love affair extends to this city's many alleyways and roads with space enough to accommodate a cricket pitch.  
Kids taking up a significant portion of the street to play cricket may seem like an annoyance. Surely, they must be causing trouble for every unfortunate passer-by or vehicle that chooses to go that way.
But the effortless coordination in which everyone playing moves around to make way whenever someone comes by makes up for the disruption. Even the rules for street cricket are set in a way that helps the match blend in with its surroundings. Play too recklessly, and you are out. Break someone's window, and you have to pay a fine. No point in lifting the ball off the ground, as it won't score you some extra points. The ball gets lost, and you have to pay from your own pocket. In many cases, even pace bowling is not allowed due to its risky nature. 
Growing up, I have had my fair share of experiences playing street cricket. Sadly, I never became good at it. If there is a way to complete an innings, misplaying every shot and doing everything wrong, I have probably done it. I even broke my nose, moving around carelessly around a wannabe Gilchrist's line of sight.
Regardless, I still remember playing in the streets so fondly. The endless chattering about no balls, the urge to finish a match before Maghrib seems all the more vivid now.
The reason why street cricket is so popular seems pretty obvious. There aren't enough suitable playing grounds. But throughout the years, street cricket established itself as something more than just a replacement for real cricket.
As the skyline of the city slowly kept rising and the area dedicated to sports and amusement kept decreasing, people's love for cricket didn't stop. As a result, street cricket kept on rising in popularity more and more in the last few decades.
Street cricket has slowly become a testament to this city's love for cricket.
Syed Tamjid Tazwar is terrible at cricket. Send him batting tips at syedtazwartamjid@gmail.com