The history of Shadhin Bangla Football Team
In conversation with Pratap Shankar Hazra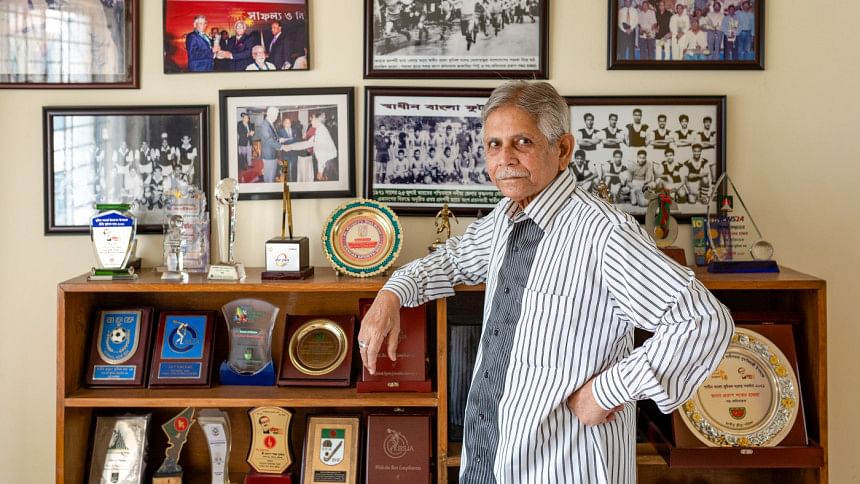 As I waited to interview Pratap Shankar Hazra, vice-captain of Shadhin Bangla Football Team, I was nervous. The memorabilia and photos on display told the story of a man who had been through everything.
Pratap sir emerged into the room soon. Dressed in a chequered, collared T-shirt and trousers, he oozed wisdom and intellect.
"You are younger than my grandchild!" he was taken aback. "If I knew, I would have given you more time," he said, apologetically.
Assuring him that it was absolutely fine, we proceeded into our conversation.
After the Pakistan Army burned down his Armanitola home, he took a long, winding road to Kolkata. There, he planned to enlist with the group of fighters under Hafizuddin Ahmed, but fate had other ideas.
"Hafiz's senior Towfiq Elahi saheb (current energy advisor to PM Sheikh Hasina), told me I wasn't eligible for service," he said.
"Next evening, Shamsul Haque MP approached me with a proposal of creating a football team of refugee players."
For Pratap sir, making a competitive team wasn't an issue, but he asked, "Why?"
"I will tell you everything. But this team is as important for the Mujibnagar Government as the frontliners," Shamsul Haque had replied.
Pratap sir later found out how D.P Dhar, then-Indian PM Indira Gandhi's political advisor, and the Mujibnagar Government planned to utilise the team.
"Indian Muslims believed Hindu infiltrators instigated the trouble in Bangladesh. Our job was to debunk Pakistan's propaganda and garner their support," he said. "We selected football specifically because it can attract thousands with the help of these boys, while in concerts, success is only limited to the few who attended."
The following day, a meeting in Theatre Road resulted in the formation of the Bangladesh Krira Somity, and, over the course of the Shadhin Bangla Football Team's existence, they took care of logistics, accommodations, food, hospitality and gear supply for the players.
"Shamsul Haque was the president, so I went as his special guest," Pratap sir said. "As an introvert, I was shaken in the presence of so many politicians. I was asked to draw up an acceptable budget in three days. Keeping everything in mind, I made it similar to Mohammedan's, which got accepted swiftly," he added.
After this, he devoted himself to assembling the team. Thankfully, most players were based in Agartala. Pratap sir added the talented Zakaria Pintoo and referee Nani Boshak to the committee to represent footballers' interests.
Although the Agartala players enthusiastically signed up, their clubs declined to release the players, even after seeing Mr. Dhar's decree. The clubs only agreed on condition they played an exhibition against Tripura XI. This proved to be Bangladeshi football's first ever game, unofficially. After that, they used Shadhin Bangla Betar to summon Pintoo from Balurghat and announce trials for team selection.
"The response was overwhelming. We selected 27 of the 70 players," he said, before adding, "Kazi Salahuddin and Shahjahan, two brilliant young footballers, turned up later, as they had to flee enemies. Knowing their abilities, we skipped their tests. Coached by Nani Boshak, the team increased to 30 footballers."
Training in their Park Circus base, belief grew among the players. Their moment came on  July 26, 1971, when Shadhin Bangla Football Team took on Nodia XI. The game was almost called off though.
"Nodia declined to hoist the Bangladesh flag and sing our national anthem, as we weren't a FIFA-authorized team," he said.
"D.K. Ghosh, D.C. of Krishnanagar, ultimately saved the day. He realised how cramped the small stadium was, and any untoward incident would result in a deadly stampede. As a sign of approval, he himself hoisted and allowed us to run a lap around the stadium flying our flag," Pratap sir added.
"The game was end-to-end. Nodia boasted some top West Bengali players. We took the lead twice through Salahuddin and Shahjahan, but they pegged us back to draw 2-2."
It was the perfect result – an amicable beginning for everyone involved. To cap it off, the local papers covered the game well, just like the Bangladeshi officials desired.
The second game was far more challenging. Up against Mohun Bagan's Gostha Pal XI, it was a baptism of fire for the brave men, losing 4-1 in soddy, slippery conditions.
"We were happy because Gostha Pal is from Faridpur, so the Bangladeshi link was intact. Indian icon Chuni Goswami played the second half, so this game received even bigger coverage. By then, everyone knew of us."
Things happened fast after that. Our footballers followed this up with 3-0 and 3-1 wins against Vivekananda XI (Narendrapur) and South Calcutta XI (Robindro Sarobar lake). The game at Durgapur Industrial Belt was a high scoring draw, but it was crucial as it had a big Muslim community.
"The support from the Muslim community was incredible. All teams boasted players from Mohun Bagan and East Bengal,  but Durgapur goalkeeper Arun Banerjee is the toughest opponent we came up against. A model professional."
At this point, we took a small break in our conversation. I found out that he was a student of History in Dhaka University, he was a distinguished hockey player and cricketer too, winning four first-class championships with Mohammedan in 1978.
Back to proceedings with football, and he fondly remembers the game in Chapra Zilla. The game against Chapra Zilla XI ended a feisty 2-1 win, but that's not what this game is famous for.
When checking into the hotel, they found a group of men interrogating players. They were verifying if the players were Muslim or not. They even asked Pratap sir to recite verses of Quran, only to apologise later as they found out he is Hindu.
"Zakaria Pintoo and I just stood-by, watching the comedy unfold," Pratap sir laughed. "Then, their leader came and said the group thought this team was a Hindu team. They soon realised how the Pakistani propaganda fooled them."
In total, the Shadhin Bangla Football Team played 16-recognised matches, winning 12, drawing three and losing one, all against technically superior opponents. They were passionately cheered on by Indians. The newspaper and radio coverage further gave them exposure in the world media.
The last match was in Mumbai, against the mighty Maharashtra XI, boasting top Indian players, Bangladeshi officials implored the players to keep the scorelines respectable. Even the captain of India's cricket team made a cameo.
"We won 3-1, although we couldn't play well in the second half," he said, smiling beamingly.
It was November by then, and the players could sense victory coming soon.
Pratap sir remembers December 3, 1971 very fondly.
"Indira Gandhi gave a speech. At one point, a person informed her that Pakistan attacked India. She assured us that India was ready to fight back. We didn't feel any fear. Instead, we finally realised liberation is near."
And that's exactly what happened. After victory in December 16, 1971, our government recognised the Shadhin Bangla Football Team as freedom fighters.
"The spirit within our team was one of unity and passion. We went out and enjoyed ourselves, and even donated money generated to the war effort."
"We prioritised Bangladesh and never doubted the war's outcome," Pratap Shankar Hazra continued, "Never forget about the sacrifices which got your Motherland's freedom. We laid the foundations. Now, the onus is on you, the young ones, to build our nation."