The diary of an inflation-hit newlywed in Dhaka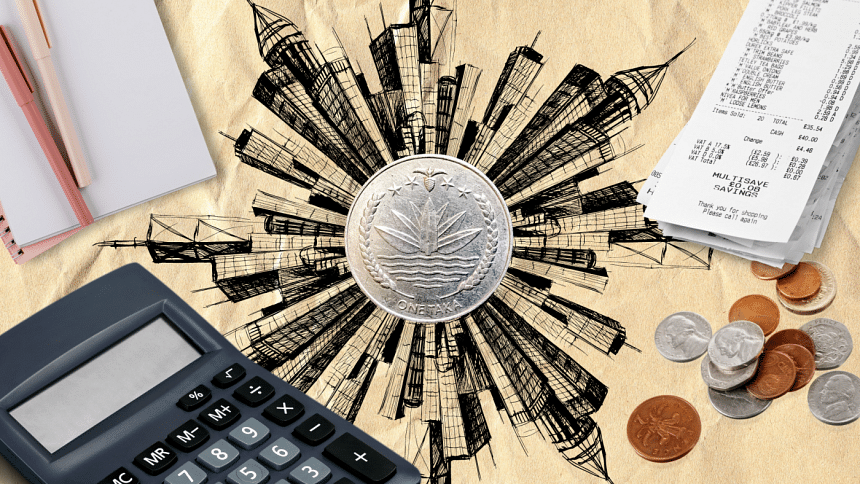 With the prices of daily essentials reaching new heights, sustaining a life in a metropolis as competitive and as expensive as Dhaka comes with new challenges every week.
Being an unemployed newlywed only adds to the list of struggles that every new couple faces. Speaking from experience, life for me was much simpler before the world was consumed by the dreadfulness of the coronavirus pandemic. I only had to ensure that I had enough to cover my room's rent of around BDT 5,000, fuel for my bike, and food, which cost me another five grand.
With freelance opportunities often presenting themselves, acquiring the basic necessities was definitely easier in the past. Not only did freelancing cover my daily essentials, but the amount I earned also sufficed for small trips or other such recreational luxuries every now and then.
However, after inflation hit the country, keeping up with rent, food, and other utilities has become almost absurd within the income we generate as a family, despite my wife holding a decent job.
Staples such as rice, which used to cost us about BDT 60 a kilo, now are being sold for almost BDT 100. Being able to get all the items that my wife puts in her grocery list within our budget has been next to impossible for the last three months.
Just last week, after paying all our EMIs, rent, and utility bills, we were left with just around BDT 4,000 to cover my wife's travel expenses to work and other personal small but necessary expenses, such as mosquito repellent.
With the prices of fuel and essentials skyrocketing, and only one person having a fixed monthly income, we are compelled to choose less healthier food options while also suffering from health complications in turn with nothing left for medical emergencies. 
While I am sick and tired of waiting for my turn in job interviews for permanent positions, consultancy payments have also been reduced due to foreign funds being cut down.
On top of that, salary increments are becoming a myth in a nation where the graduation rate beats employment opportunities on a regular basis. Employers simply don't feel the need to do anything to keep their existing workforce happy.
While we continue lingering on the small savings from before, despite being young and in love, my wife seems to have given up on her dreams. Sacrificing small wishes, like getting a small one-pound cake for my birthday, also seems like a big financial blow on her salary account.
Meanwhile, theft and other mishaps only adds to her disappointment.
I still remember my mother-in-law's words from our wedding day – you two are young, educated, and earning. You will build a good life together. However, our present seems to be in completely misalignment with her prophecy.
Even though we made the decision that we were ready for this institution as mature adults, it seems that we have to stop weaving dreams that are now "too big" and "far beyond our capabilities."
The writer is a disappointed young graduate, struggling to cope up with the challenges of life. You can share your comments with him at [email protected]