The 5 stages of grief are now 7 because of inflation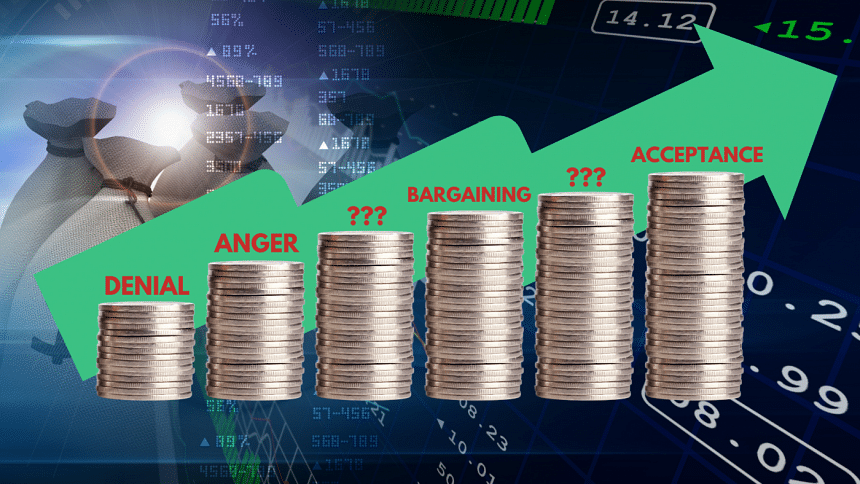 Given how the world is progressively turning into the dystopian wet dream of the unsavoury element of society, scientists have revealed that merely 5 stages of grief are not enough to deal with the current state of inflation. Now, scientists speculate that 2 additional stages have emerged within the population struggling with the rise of inflation.
Naturally, one might ask, what exactly are the two stages? Unfortunately, scientists themselves are stumped as to what the new stages might be as the research has been inconclusive thus far.
Dr Dogi Dog, one of the lead researchers at OOPS (Obscure Observational Pseudoscience Society), stated, "We tried to gauge what exactly it is that the people are feeling in between anger and bargaining and then again between depression and acceptance. We gathered a group of people aged between 22-40 in a room to observe what they're feeling but so far we can only describe the phenomenon as 'the vibes are astronomically off.'"
Dr Dog further stated that the candidates were shown some charts during the experiment to observe how their brain chemistry was affected. The charts, which showed price hikes of basic necessities such as groceries, were shown to the candidates when they were on the cusp of anger and bargaining. According to the researchers, the candidates' brain seemed as though they wanted to self form aneurysms rather than think about buying vegetables in this inflation-riddled country.
To get up close and personal with the new stages, we reached out to the people. One of our respondents, Jannatul Ferdous, mother of two cats, has been greatly affected by the inflation due to her cats' dependency on That Good Stufft™. If she tries a local brand, her cats stop sleeping on her bed, which has a drastic impact on her mental health. 
"It's honestly hard to describe," said Jannatul when asked about the 2 new stages she feels whenever she has to spend BDT 5,600 on two bags of processed "meat" chunks. "It's almost as if I feel like I'm completely alone in this entire universe and the inflation rate brings me back to Earth with a backbreaker."
On the other hand, Shadman Sakib talked about how his daily commute gives rise to the newly discovered 7 stages of grief. "It starts with denial when my Uber driver talks about how difficult it is to buy food for his family. I try to drown out whatever he's saying but it doesn't work, which leads to anger. Then, before I can bargain with him for a quiet car ride, I suddenly lose myself and think of how tiny we are in the grand scheme of things. I do eventually try to get him to stop talking so that I can bask in the existential dread, and when he doesn't, I become depressed. But then, before I can accept it, I just think of how much I'm spending on Uber and feel too grounded. Like, this is our reality, you know? We can't all have quiet car rides. That's life."
Dr Dog predicts that more stages may be added soon given the state of inflation, until eventually the stages themselves will be replaced by a scale ranging from Venezuela's crisis to Germany just before the Second World War.