Thakurmar Jhuli characters as everyday people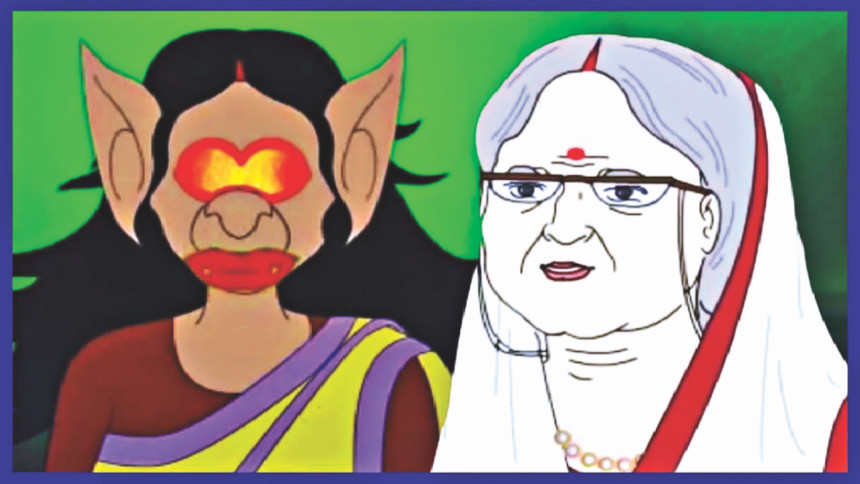 Thakurmar Jhuli was one of the best things to happen to this generation. We've learnt the value of morals, friendships, and love through the intricate stories Thakurma narrated to us. This is an ode to the remarkable characters we've come to love throughout the years.
Bhitu Bhoot
This person probably buys into everything you could possibly ever say. It doesn't matter if it's absolutely ridiculous and totally made up, they're here to accept your word as the word of God. It's funny because they like to believe that they're intimidating and smart, when they clearly aren't anything but whiny 24/7. However, they probably have a sweet soul somewhere inside.
Shakchunni
The one girl in your friends' group who has zero chill. She's loud and not afraid to flaunt it. She's mostly busy naming the kids she's going to have with the guy she had a crush on for a day. Honestly, she just wants someone to love her and make her feel wanted. More importantly, she's ready to do anything for her loved ones, even if her tactics seem overdramatic at times. Her fierce personality coupled with her bad decisions make her greatly loveable, but she's cursed because she has her eyes set on the one man she can't have.
While you like to believe she's harmless, you secretly fear she's behind the disappearance of said crush's girlfriend. To identify a shakchunni around you, look for neon purple eye shadow and that iconic laughter.
Bhoot Dadu
The wholesome kid who'll do anything to make you smile. He's an absolute sweetheart and we don't deserve his existence. He'll build you a house and give you teddy hugs. We must protect and cherish him at all costs.
Teko Bou
We all know who this is. The girl who goes back to her abusive boyfriend and worships him, after he literally does everything possible to hurt her feelings. She talks about a lot of issues with depth, things like inner beauty, until she has her own glow up; and then she proceeds to conform to the societal stereotype of being a 'dumb blonde'. This person will probably be okay with her boyfriend cheating on her with another girl. In fact, she'll call the girl 'sister'.
Lastly, she talks to plants.
Brahmadaitya
This is the kid no one has the guts to go up and talk to. He might look scary and big but once you get to know him, he just wants to help. It's a little worrying when he disappears with his shady friends in the woods at night and plays funky beats from 2010; but you'll learn to love him regardless.
Bamun
This man is the epitome of perfection with his swinging tiki and manly moustache. There's no individual who compares to the great Bamun himself. This character will go to any length to care and provide for his family, be it walking up to a 30 foot-tall monster in the middle of the night or fighting green monsters to get to the city. He also denounces toxic masculinity any chance he gets, to cry in the middle of the woods every now and then. Most importantly, this man is brave and kind. He saved a tiger knowing that it may eat him later; and when that very adversary arrived, he managed to escape with his wits and patience. We've nothing but endless admiration for Bamun and his contributions to society. He's the man we aspire to be, but could never live up to.