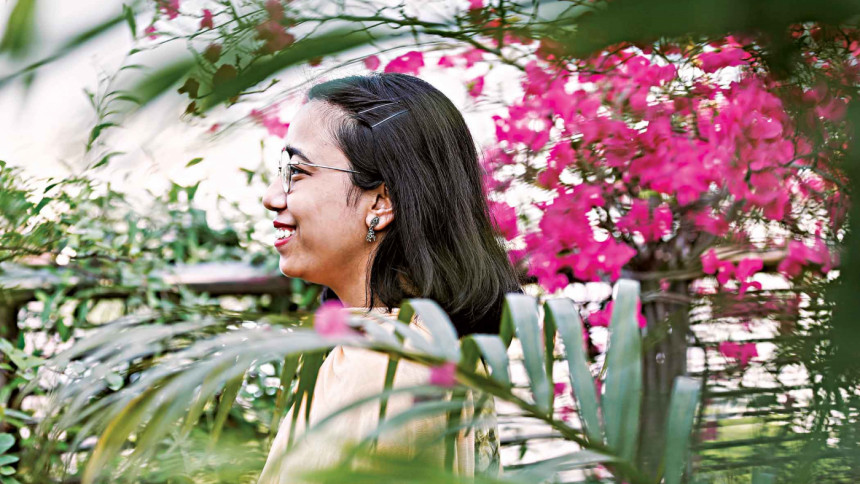 I have always worn my hair short. From bowl-cuts to bob cuts and voguish pixies to wispy side-swept fringes, I've tried it all. Short hair is a statement on its own and over the decades, it has broken various gender norms and classical connotations. But some days, the Mia Wallace-esque hair you're trying to pull off ends up making you look like Lord Farquaad.
Taming these tresses of stress can be a pain when the tiny hairs stick to your sweaty forehead. Here are five versatile hairstyles that will make you look like a million bucks.
BEND THE TREND WITH BUBBLE BRAIDS
This is a fun way to give dimension to any hairstyle. This hairstyle has bombarded our feeds with its resurgence and needless to say, it's super easy and low effort. Part your hair your preferred way and take a section of hair from the crown of your head. With a clear or colourful elastic band, tie the strand of hair at the root. When you're done, you can take a few strands of hair from the side and tie it again the same way, spacing them a couple of inches apart. Prolong the process until you're happy with your plaits. Tease the "bubbles" so that you get a cute, fluffy pigtail. Do the same on your side and rock this insta-worthy hairstyle.
GO BANANAS WITH BANDANAS
Whether you are having a bad hair day or looking to spice up your everyday look, bandanas, and scarfs are a great addition to your look book. The simplest way is folding the scarf/bandana in a triangular shape and tying it towards the nape of your neck, keeping it a few inches away from your hairline. You can fold the bandana and wear it as a headband, knotting the ends into bunny ears, or sport a casual sporty look. Pull out a few sections of hair from the sides to frame your face, and soften up the look a little. Mix and match to create endless possibilities.
FEEL FIERCE WITH A FAUX HAWK
Bring back the 80's with a modern twist on the mainstream punk – mohawk. If you're tired of the cutesy looks and want to try something edgy and cool, a faux hawk is your call. For this, pull back all of your hair as tightly as you can to the back of your hair and braid it starting from your hairline towards the back. You can braid the sides of your hair to add a little texture. If you have shaved sides or a pixie, faux hawks become easier to achieve with hair products.
SASS UP YOUR STYLE WITH SPACE BUNS
Looking for something effortlessly cute? Space buns will give you the best soft rounded vibe. Flaunting these half-up, half-down mini-buns makes you stand out from the generic crowd. Hairstyles with bangs and tendrils make this style look more flattering.
ELEVATE YOUR ESSENCE WITH ACCESSORIES
Butterfly clips, barrettes, and sparkly headbands – these dainty embellishments are back better than ever. Short-haired people can never have enough of these in their arsenal. Be it braids, ponytails, or up-dos, hair accessories can make any coiffure appear wonderfully whimsical.
Anyone can pull off short hair. If you're still thinking about chopping your hair off, you know what to do.   
Farnaz Fawad Hasan spends most of her time dreaming about chicken nugget castles. Tell her to snap back to reality at farnazfawadhasan@gmail.com