Is Roar too loud for TV or just loud enough?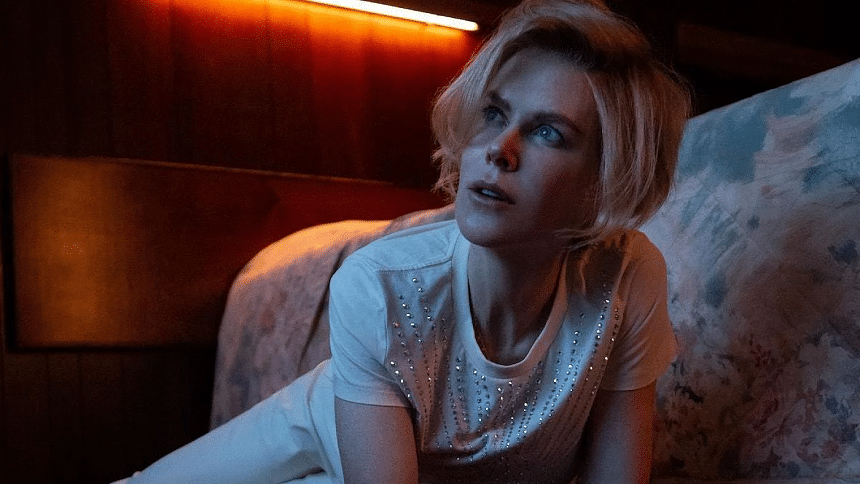 Roar, Apple TV+'s latest eight-episode anthology series, boasts a stellar female cast, including A-list actors like Nicole Kidman, Cynthia Erivo, Alison Brie, Betty Gilpin, Meera Syal, Issa Rae, and more. The series showcases a collection of genre-bending stories told through these women's eyes.
Based on the eponymous short-stories collection by best-selling author Cecelia Ahern, the series is insightful, bizarre, and poignant. Roar promises to show an insightful and hilarious portrayal of what it means to be a woman today, featuring a unique blend of magical realism, speculative fantasy, and futuristic worlds.
From Merritt Wever dating a duck to Alison Brie solving her own murder as a ghost, Roar has it all. Without spoiling the show's entire premise, let me just say, it gets weird and intense fast.
Each standalone episode is an amalgamation of all the injustices and microaggressions experienced by women from all walks of life. We see each woman go through a transitional, life-changing event, as they rage against their circumstances and attempt to figure out who they want to be. As Nicole Kidman describes it, "Each instalment is about women who either feel, or are unheard, or unseen."
Each episode title neatly summarises the following episode, leaving little space for the viewers to wonder what it's about.
The "Woman Who Was Kept on a Shelf," revolves around Betty Gilpin becoming a literal trophy wife, doing nothing but sitting on a shelf to be stared at and admired like a trophy.
In "The Woman Who Ate Photographs," Nicole Kidman finds herself consuming photographs from her childhood to relive and hold on to those fleeting, nostalgic memories, all while taking care of her own mother who is losing her memories from dementia.
And in "The Woman Who Slowly Disappeared," Issa Rae literally turns invisible as she starts feeling unseen and unheard in a room full of white executives trying to commercialise the trauma of her black experiences.
While the show sounds brilliant in theory, it falls short in a couple of places. The episodes tackle some hard-hitting, heavy topics, the least of which include the complications of motherhood, all-consuming nature of a toxic relationship, feminism, invisibility of race, sexual abuse, misogyny, and even death and old age. However, with discussing such heavy themes always comes the risk of not taking it seriously enough.
Following the formulaic approach to blending fantasy with reality that's reminiscent of the Twilight Zone and more recently, Black Mirror, Roar attempts to portray their feminist issues through a semi-fantasy lens, which can sometimes result in the plot failing to connect with the audience.
As impressive as the concept and premise are, the execution sometimes feels lacking. The show is so hell-bent on proving its self-defined role as "darkly comedic feminist fables", that it sometimes struggles to be more than just that.
With its stellar cast, out-of-the-box plots, and experimental storytelling, the show is just different enough to stand out. Roar is absurd, quirky, fantastical, insightful, motivating, and grotesque, but it certainly does what it set out to do – leave an impact.