Reminiscing Eid card stalls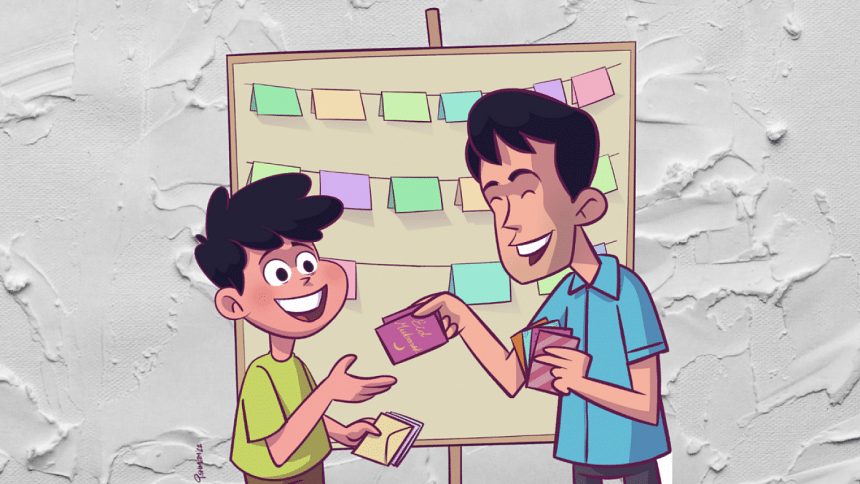 As Eid approaches and I wander down memory lane, I realise how the internet has stolen a piece of my childhood. Back in the day, instead of sending inanimate Eid greeting texts and soulless GIFs, generated by a string of binary digits, we would exchange paper cards with glittery designs, Disney princesses, and superheroes. We used to be more alive and our lives were more vivid. I couldn't perceive when we began to lose this longstanding tradition, but as Eid cards faded into oblivion so did the culture of pop-up Eid card stalls.
These stalls were mostly run by local kids, who would open the shops after school hours with their friends. Some of the stalls were delightfully simple–comprising of just a table and a few chairs; others boasted a bamboo framework with striking fabrics. The adolescents and teenagers of the area would flock to these stalls, eagerly thumbing through stacks of Eid cards to handpick the best one for their loved ones. As the prime business hour was usually the afternoon, the shop owners would sacrifice their playtime in exchange for selling Eid cards. For a few days, the stalls stood, serving as a lively meeting place for the kids who ran them and their friends.
It was the year 2006. I, a mere 7-year-old, along with my sister, set up our very own Eid card stall. But ours was a bit different. When our father saw the spark in our eyes for putting up a stall, he bought us hundreds of cards with a variety of shapes and designs to sell.
Our stall was very basic: a tea table positioned in front of our house's entrance gate and ropes affixed to two poles for card display. It was hardly an ideal location for a card stall, requiring us to wait for hours before catching a glimpse of a potential customer. Thankfully, the support of our family members and neighbours kept us from throwing in the towel.
One memory that sticks out vividly was the day when a particular card caught a customer's eye. It was our favourite card, one featuring a classic crescent moon and stars. Although we had put it on display, we had no intention of parting with it. The customer offered to pay any price we demand but we weren't going to sell it. A heated argument ensued, with us explaining why we couldn't sell that card even though it was on display. Eventually, we were able to persuade him to choose another card instead.
For us, the stall experience was more about adventure than business. We virtually had no costs so all the money we could make was ours to keep. Having a card stall was cool because it meant we could pick from hundreds of cards to gift our cousins and friends.
When I look back, I wonder how in the span of a decade and a half, artificiality swallowed up a tradition we held so dear to our hearts.
Samin Yasar Anabil pretends to be a philosopher. He claims to be friends with overthinking. Tell him to stay sane at [email protected]