Rashford finally fulfilling his sky-high potential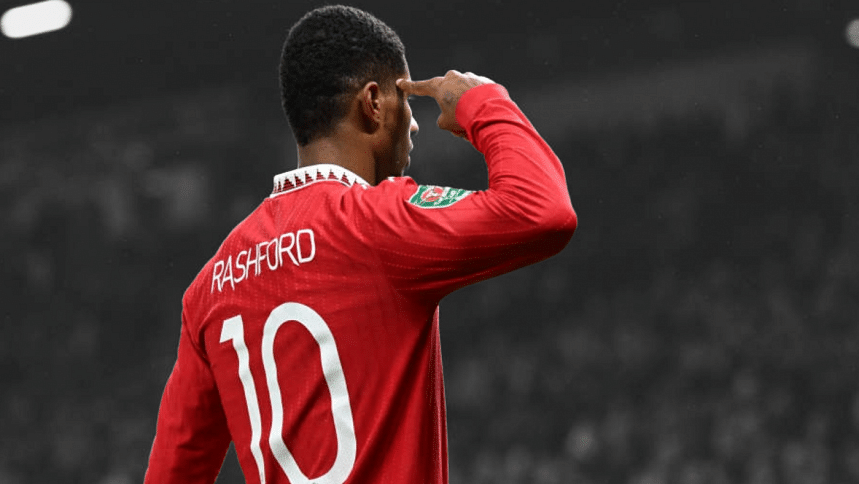 Barely a year ago, it looked as if it was all over for Marcus Rashford at Manchester United. A year later, Rashford is now United's saviour. He has finally realised his potential this season, producing world-class performances consistently and coming clutch in crucial moments. Fans are still in awe of Rashford's audacious skill in the leadup to his Carabao Cup-winning goal against Newcastle, where he flawlessly executed a two-footed flick whilst airborne.
As a United fan, Rashford's monstrous season comes as no surprise to me. I knew he was special from the get-go. His Premier League debut against Arsenal sets the benchmark for youngsters hoping to make it at the highest level. Watching him take on defenders with the ball, the 11-year-old me was convinced that the hype around him was real.
Breaking into a Manchester United team in great upheaval, Rashford's early development was hindered by toxic dressing room environments and egotistic managers. Nevertheless, his supreme footballing talents were evident from the beginning. The way he adapted his game under Jose Mourinho, Ole Gunnar Solskjaer, and now Erik ten Hag speaks volumes about his creative genius. His technical nous is complemented by his ability to put in match-winning performances. Be it scoring in debuts and Cup Finals, launching knuckleball free-kicks, or plundering a Champions League hattrick off the bench, Rashford has done it all. 
However, what he lacked was consistency, until this season.
Rashford had some expensive home tutors over his career, but it's the unheralded Benni McCarthy who finally got the assignment right. McCarthy's tactical tips, endurance training, and shooting drills got Rashford firing on all cylinders this season. In an interview with Sky Sports, Rashford said how McCarthy gave him one-on-one sessions to pinpoint and rectify his weaknesses.
The results are staggering. Rashford has finally become the complete attacker he promised to be. No team is immune from Rashford's golden touch this season.
In years gone by, many became lifelong Manchester United fans watching the likes of Beckham, Scholes, and Rooney. For my generation, that mantle belongs to Rashford. He is my idol. Rashford puts the team's demands over anything. His passion is underlined by the fact that he performed nursing various injuries for two years because Manchester United needed him.
But that's not all. The way Rashford took on the British government to ensure underprivileged children will get free school meals during the pandemic is inspirational. In Rashford, we are talking about someone who never let money, fame, and accolades inflate his ego, nor forget his roots. 
Rashford's comeback story this season is inspiring in every way. If anything, Rashford has shown us how perseverance, hard work and determination can help turn around the grimmest of situations. Supported by his family, fans, and coaches, one thing is for certain – prime Rashford is just getting started, wreathed in all his glory.
Inqiad is the CEO of Rashford FC. Contact him at [email protected]