Racism against Vinicius Junior: La Liga should be ashamed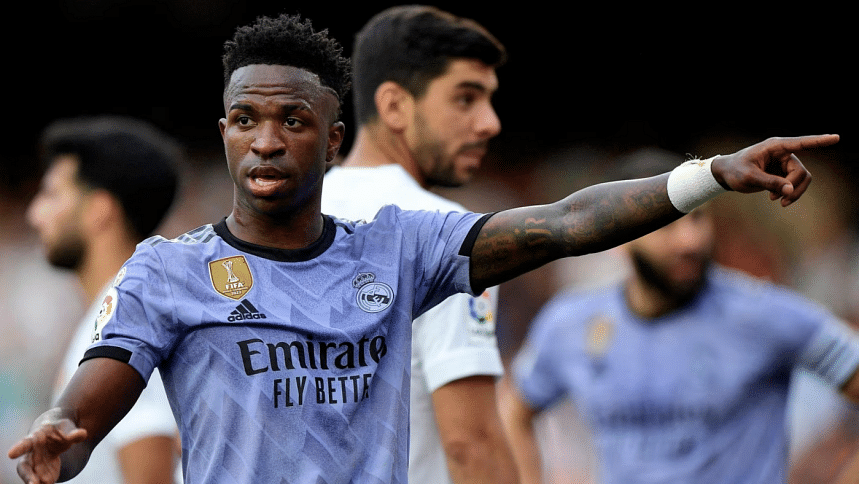 Here is a mind-blowing stat. La Liga president Javier Tebas says La Liga has seen nine instances of racism this season. Real Madrid's Brazilian winger Vinicius Junior has been involved in eight of them. 
In a season where Vinicius has been incessantly targeted for racist attacks, the worst came in the encounter away at Valencia yesterday. This time, Valencia fans explicitly chanted "Vinicius, die!" The referee didn't even bother to get things under control, and instead (controversially) red-carded Vini as tempers flared in the end.
Before we delve further, a bit of context is necessary.
Vini Jr. has always been known to be one of the most passionate players on the field. He has a knack for contesting every refereeing decision. Vini also gets into arguments with opponents regularly. As a neutral or rival, this seems deeply cheap and infuriating.
The reality is starkly different. Refereeing in Spain is marred with inconsistency. Add to that Vinicius's knack for flair, he ends up being the most-fouled player in many games. Exposed badly by the referees and running the risk of sustaining serious injuries, he is left with no option but to resort to theatrics and bickering to make his point.
Another influential factor is the lack of leadership in the Real Madrid squad. Videos circulated in social media after last night's farce in Valencia show Madrid players timidly asking Vinicius to stop arguing. Even club captain Karim Benzema was a mere bystander as a Valencia fan kept on abusing Vinicius. Naturally, Vinicius has to stand up to defend himself.
This is a far cry from the days of Sergio Ramos, Pepe, Cristiano Ronaldo, and Casemiro – leaders who could have ensured justice yesterday seeing the appalling scenes.
All of this shows La Liga's systematic failure in tackling racism. Premier League clubs have independent authority in dealing with racist fan behaviours. In contrast, La Liga has no power over such legal procedures. These cases are referred to the judiciary system. Hate crime laws are already murky in Spain, and the investigations often fail to identify culprits. As the wait for justice drags on, racists get emboldened, as their actions rarely result in meaningful punishments.
In the aftermath of the game, Vinicius accused the entire Spanish people of being racists in a tweet. Generalising racism is unacceptable, but Tebas broke all boundaries of logic with his replies. Instead of condemning the racism, he referred to the two meeting dates that Vinicius missed where La Liga was supposed to "explain their position".
This exchange shows an institutional failure of epic proportions. La Liga clearly knows the racism problem exists, so why have they sat in silence as this young man suffered? Why have they not tried to take a harder stance to eradicate racism from their league? They preach inclusivity, then why can't they protect players' rights?
If the club, teammates, or even the league counselled and guided him properly, Vinicius might have developed better discipline and persona. This could have prevented the horrible things the 22-year-old endured.
If this continues, Vinicius might break down mentally and even become disillusioned from football. Seeing blatant racism in one of the world's biggest leagues might even discourage youngsters from pursuing football altogether.
There is nothing sadder than seeing talents go to waste, much more so if it means racists win.
References:
1. CNN. (22 May, 2023). Vinicius Jr is being racially abused during La Liga matches. Why is nobody being punished?
2. Fox Sports. (21 September, 2022). 'We will destroy you:' Ugly racism scandal engulfs Spanish football as PM speaks out.
Inqiad is the CEO of Rashford FC. Contact him at [email protected]