The last dance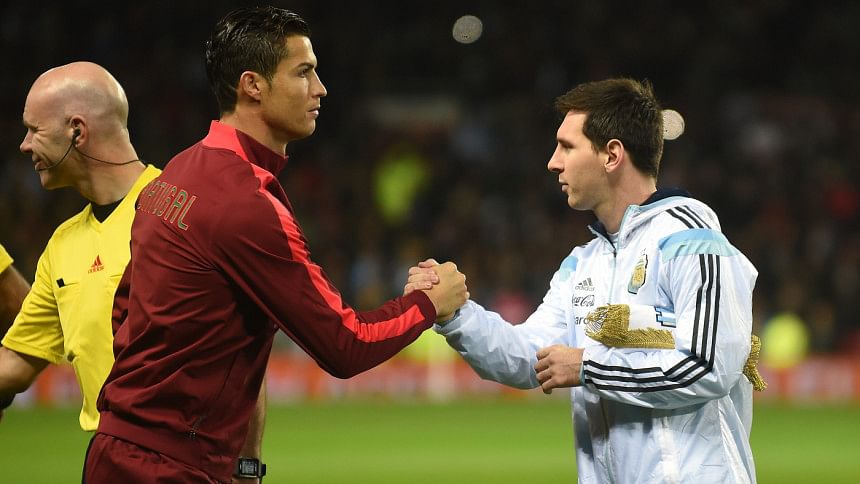 For over 15 years, the footballing world has been split in two. It had become almost impossible to not compare the genius of two players christened by each's fanbase as the greatest of all time, fondly abbreviated to 'GOATS': Cristiano Ronaldo and Lionel Messi.
There is a generation of fans whose love for the beautiful game began with a lightning Ronaldo stepover or a mystical drop of the shoulder from Messi. As the World Cup begins in Qatar on November 20, the world will again wait for the two legends to grace the biggest stage of all, perhaps for the very last time.
Messi has already announced that this is going to be his World Cup swansong. "There's some anxiety and nerves at the same time," the 35-year-old Argentine said in an interview with ESPN about a month before the World Cup. "It is the last one."
And it would be foolish to think even a defier of the ordinary like Ronaldo will be able to headline the 2026 FIFA World Cup after turning 41.
Captains of their respective sides, both Ronaldo and Messi will be appearing at their fifth World Cup, putting them alongside only a handful -- Lothar Matthäus of Germany, and Antonio Carbajal and Rafael Marquez of Mexico.
For both these greats who have already attained celestial status in the eyes of their fans and even neutrals to some extent, this World Cup might be an opportunity to set the bar even higher for anyone dreaming of touching their level of supremacy.
Between them, Ronaldo and Messi share over 1,500 goals, 570 assists and a total of 71 major trophies.
While such astronomical figures help pundits and fans skew their cases in a particular direction during heated debates, what could finally cement 'GOAT' status is acquiring the right to hold aloft the trophy that every footballer dreams of getting their hands on.
Ronaldo and Messi's World Cup journey started together, in Germany in 2006. Fittingly, their journey could culminate together as well in Qatar after 16 years.
But a lot has changed during that period. The days of a lanky 21-year-old Ronaldo, with the No. 17 shirt, playing second fiddle to Luis Figo, have been banished to history. As have the days when a teenage Messi would be called from the bench to boost the attack with bursts of talent.
Understandably, they go to this World Cup far removed from their peak. But despite that, the hopes of their nations are still pinned on them, not least because of the way they have transformed from players to leaders over the years.
In terms of goals in the World Cup, Ronaldo may have an edge with seven goals in 17 appearances compared to Messi's six goals from two more caps. But it is Messi who has had more impact, scoring the winning goal in every group-stage match and taking his side as close as till the 113th minute of the final in the 2014 World Cup in Brazil.
From that vantage point, the Portuguese will have more to prove. Given how things have transpired recently for the Portuguese star -- with the 37-year-old enduring the most difficult phase of his glittering career and finding match time hard to come by at club level -- it will be an increasingly steep task for even someone as seasoned as Ronaldo.
But being at rock bottom with everyone thinking they have finally seen the end of Ronaldo might actually work in his and Portugal's favour. If his astounding career is anything to go by, the only thing Ronaldo loves more than scoring is proving doubters wrong. And he does that by doing what he is best known for, stepping up and scoring those goals when they matter most.
Again, Messi's case is the opposite. He has looked reinvigorated every time he has taken the pitch recently with Argentina, who head to the quadrennial event on the back of a 35-game unbeaten streak, only two short of Italy's all-time record 37. Despite Messi not being at his absolute best at PSG, he has led the way for La Albiceleste, scoring 22 goals, including nine goals in his last three matches, during this period.
Who will finally come out on top in the middle eastern nation? Will Messi be able to transition his and Argentina's staggering run till the referee blows his whistle in the all-important final at the Lusail Stadium? Will the world see another typical Ronaldo turnaround?
Or is it going to be a glorious crowning for someone else?
As the greatest show on earth approaches, arguments will be made and debates will be held over this issue. But whichever way it may pan out -- through the emergence of new heroes or the coronation of the old ones -- this World Cup, more than anything, will probably be known for the last dance of two of the greatest that the sport has ever seen.