Plan International Bangladesh organises "Girls Takeover" programme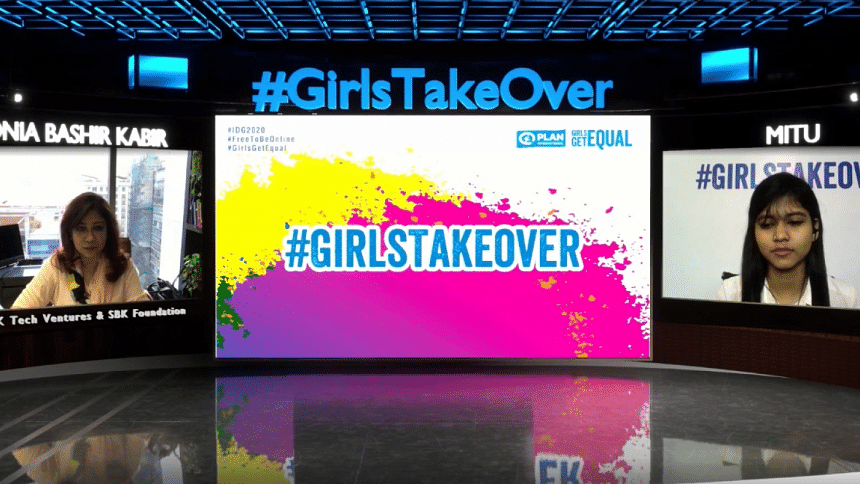 For International Day of the Girl, Plan International Bangladesh resumed their Girls Takeover programme where this year, two youth activists, Mitu and Reneka, took over the positions of important personalities for a part of the day, and asked for commitments from them on what policy initiatives they want taken. Plan International's theme for the next 10 years is girl's rights and equality and this year's particular theme is online freedom. Therefore both positions that were "taken over" aligned with the IT sector. 
Mitu took over the position of Sonia Bashir Kabir, Founder of SBK Tech Ventures and SBK Foundation on October 13. Because of Covid-19, this year's programme took place in the format of a virtual dialogue where Mitu, who has been a youth activist since her school life, spoke to Sonia Bashir Kabir about problems women face online. 
"Plan International was taking applications to participate in the programme," says Mitu. "I applied and was selected for this event. At the end of the event, the commitment I asked for was the development of an app where we can report online harassment and law enforcement officials can then take swift action within 24 hours. So I asked if Ms Kabir's company could create the platform for the app and she was very enthusiastic about the idea so hopefully we'll get to work on the app in the future."
"Through this event I want other young girls to see that their work can bring a change. A lot of people can't accept that girls can speak up when they are being harassed online. As a result girls don't even have the confidence to speak up or believe they will get justice. I know that if I speak up I'm not only speaking for myself, I'm also speaking for the 1000 other girls who don't have this platform."
Reneka took over a top executive position in Telenor Group on October 26. She says, "I got the opportunity to attend the Telenor weekly general executive meeting and bring up my ideas. I believe that the tech industry can't be male dominated and as per the SDGs (Sustainable Development Goals), women cannot be left behind."
"I asked for the commitment that we should conduct more research in rural areas and collaborate ideas with targeted and marginalised people. We also need to increase the participation of girls in the digital world and implement policies to make the digital world safer for us. Since we are in the middle of the fourth industrial revolution, there is no alternative to creating a safe online space where everyone can use the internet."
Reneka who has also been an activist since her school days continues, "Like in real life, harmful gender norms are practiced online too. The problem is that we are taught how to behave in real life but parents also need to teach their children how to behave online. "
"I want to motivate other people and want other girls to benefit from my achievements. The Girls Takeover program gave me this platform and I wish other girls would see this and stand up for their beliefs too."